Man Alleges NYPD Officers Shoved Him Out of Subway After He Asked Them To Wear Masks
A New York City man alleges he was shoved off of a subway platform by a pair of New York Police Department (NYPD) officers Tuesday after he asked them to put on masks.
Andrew Gilbert, 27, was standing on the platform at the 8th Street Station in the Greenwich Village neighborhood when he approached the two NYPD officers, neither of whom were wearing masks, Gilbert said.
After asking the duo to put on masks, the pair of officers reportedly ignored his request and pretended that they couldn't hear what Gilbert was saying.
"The male officer was playing dumb and claimed he couldn't hear me," Gilbert told AM New York Metro. "I kept asking him over and over, 'Do you know it's illegal not to wear a mask?'"
After a while, the officers then confronted Gilbert, saying that he was "being disruptive," Gilbert said.
"I guess [that] is their key word for doing whatever they want if they declare you disruptive," Gilbert continued.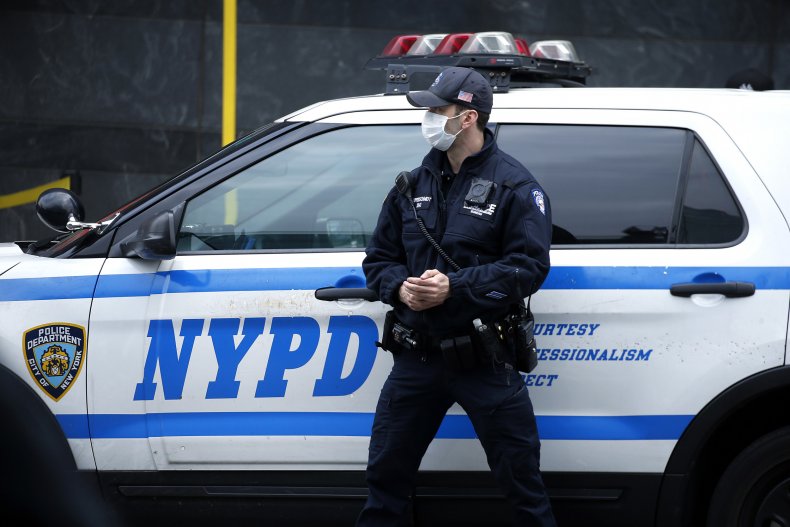 At that point, Gilbert alleges, one of the officers grabbed him by the shirt, saying that "he just walked into me, grabbed me and pushed me" towards the street level, ushering him towards one of the emergency exits.
"He grabbed me by the shirt and pushed me over to the emergency exit and slammed me through it, and was yelling at me how, 'If you're not going to ride the train, you can get out.'"
The incident was captured on video by another subway passenger, Victoria Hall, who posted the footage to her Twitter account.
"He was just trying to find out why the police were not putting their mask on and the police were just being hostile," Hall told Mediaite. "That's not right."
After being forced off of the subway, Gilbert can be heard demanding the officers' badge numbers as the pair are seen ignoring him and returning to the platform area.
New York City's Metropolitan Transportation Authority (MTA), per a state ordinance, requires that people congregating in interior subway stations wear masks, and violators can reportedly face fines of $50.
While the rule has been in effect for the majority of the pandemic, the MTA said that it issued just 41 violation summonses in the previous year.
Gilbert told the New York Daily News that he has started to call out members of the NYPD when he sees them patrolling without masks, and that he often runs into police officers on the subway who are not masked up.
"Recently I started doing short videos whenever I see that and ask why the cops aren't wearing masks," he said.
However, Gilbert said, this is the first time that an NYPD officer has ever been physical with him.
In an email to Newsweek, the MTA stated that "it's up to the NYPD how to address allegations that its officers have violated rules. We anticipate that anyone who is in public transit will wear a required mask for the safety of themselves, fellow New Yorkers, and transit workers."
An official for the NYPD reportedly said that the incident is under an internal investigation.