A man has "apologized to all Italians" after attempting to make spaghetti using a retro Pasta Maker 2000, which turned into a disaster.
Zachariah Porter was out shopping at Savers when he spotted the vintage machine on a shelf for $10—but he snapped it up for just $8 as he had a 20 percent off coupon.
Unable to resist the bargain, he took it home with the hopes of cooking himself a delicious dinner later that day. But Porter, from Massachusetts, ended up massacring the meal, as he shared his six-hour ordeal on his TikTok account, @zzzachariah.
The hilarious cooking fail, uploaded on Saturday, has amassed more than 9 million views as people admitted they were in stitches watching him struggle.
Initially filming the appliance on the shelf, Porter remarked "she looks dusty," as he said: "Still got the styrofoam. It's ten fricking dollars I'm getting it. I'm not sure it has all the pieces, because the instructions only come on a VHS tape. Oh look 1990, she's 31 years old and she looks beautiful.
"So I first have got to find out if she'll even turn on, then I've got to figure out how to watch a VHS tape in 2021. And then I've got to figure out how to make a pasta shape for this pasta."
After comparing the illustration with the machine—as he was unable to watch the tape—the 26-year-old realized he was missing a few key pieces, namely the circular attachment with holes to make the spaghetti shape.
But he improvised and headed to a homeware store, saying: "I have an idea. Shower drain spaghetti."
He waited with baited breath to see if it was still working, updating followers: "Good news is it does turn on, the bad news is I turned it on with this in it. So this broke. It's basically a custom measuring cup for all the ingredients for the perfect recipe and I broke it."
After washing everything Porter, a comedian, taped the broken measuring cup back together, and also duct-taped the drain cover to the machine, replicating the missing piece. And he was in luck as he didn't have to find a VHS player, saying: "I found the instructions on YouTube."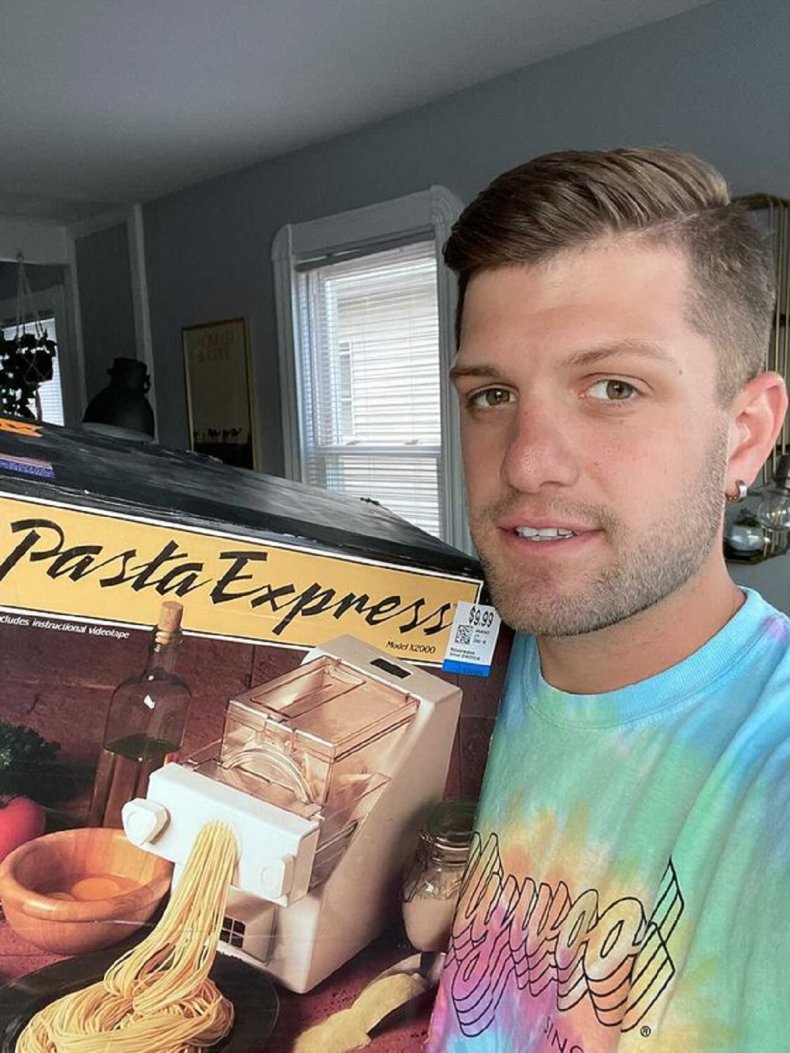 He filmed the ingredients on the counter, saying: "Almost three hours later, we begin. So we're doing two cups of flour, a little bit of salt, four eggs and a little bit of olive oil."
But as the vintage machine got to work, Porter, who confirmed he's never made pasta before, compared his dough to the instruction tape, admitting: "This is not looking good. Mine doesn't look like that. It does not look nice, but we're going to see."
It seems his DIY drain fix wasn't strong enough for the dough, which saw the machine falter, as Porter tried holding it, bending it and re-taping it with no luck.
"I'm just going to hold the edges as hard as I can. And see if it works. I am on the verge of tears. I'm doing everything in my ability to make spaghetti," he said unhappily.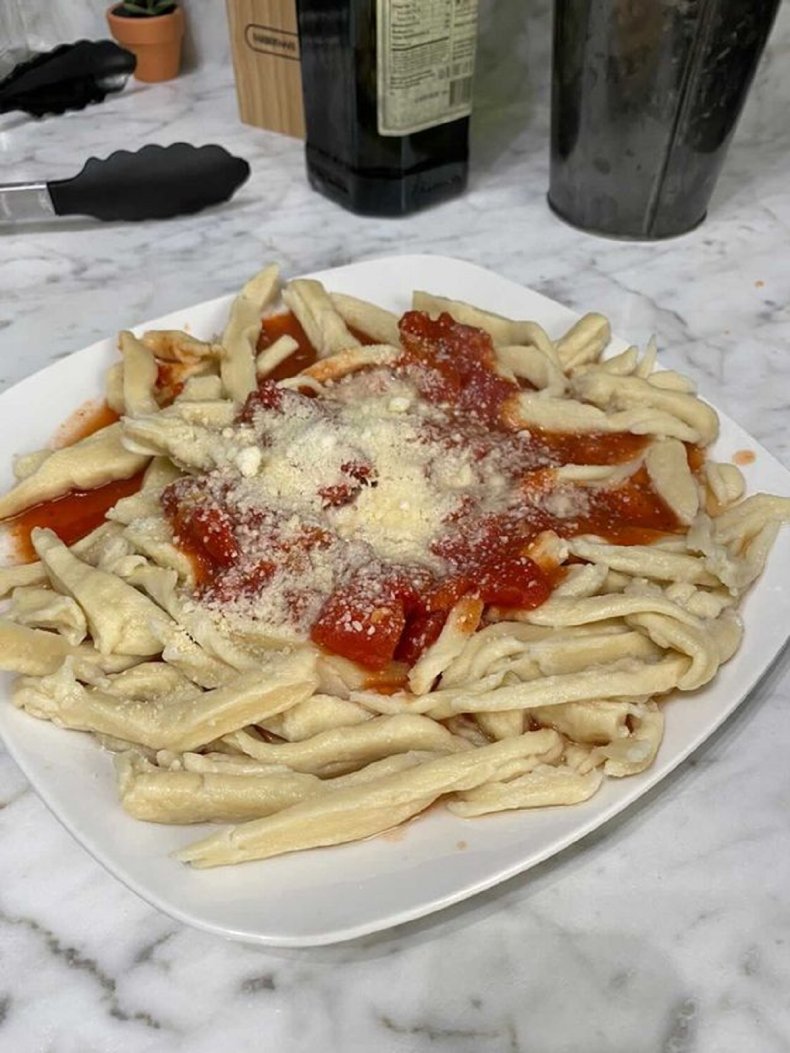 Refusing to be beaten, he resorted to trying to make pasta the traditional way—by rolling out dough and cutting it—using a pizza cutter.
It's safe to say his finished product wasn't as thin and uniform as pasta from the packet. He filmed himself dishing up his meal, popping some tomato sauce and cheese on his homemade spaghetti, sharing snaps to his Instagram, Zachariahporter.
Porter glumly admitted: "I just want to apologize to all Italians. No need to twirl these noodles. It tastes like clay."
Speaking to Newsweek, Porter confirmed the food was so bad he couldn't finish it. He said: "I was so upset by the end that I tossed it in the trash. It was literally play dough by the end. I followed the instructional video that thank god someone uploaded to YouTube. But it was dry and dense with no flavor.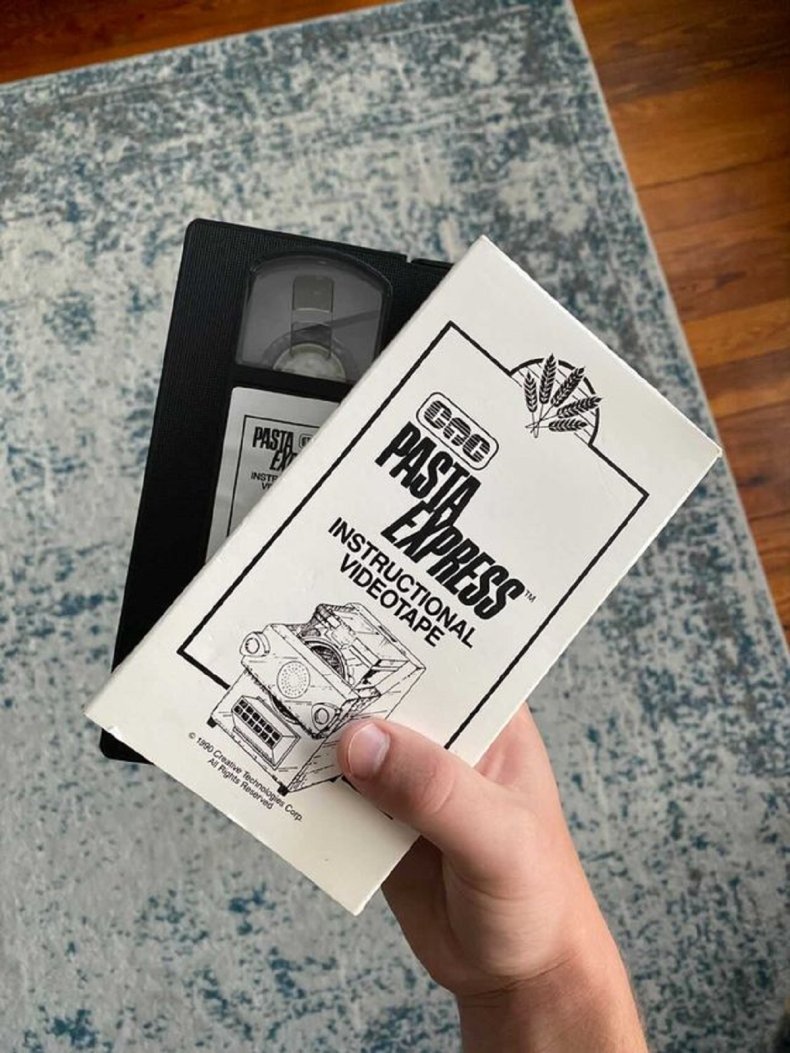 "Apologies to all of my Italians out here really cheffing it up. I salute. It was a healing process to throw it all out. The pasta maker, the food, the mess. It was a stressful six hours."
Numerous people commented on the now-viral video, as Matt Adlard said: "This was TOO good! I had no much hope for the pasta express."
"Please submit this to Cannes Film festival—I was gripped from start to finish," Matty Sirois joked.
Cassidy Michelle wrote: "This was such an adventure."
While Brandon Hardty commented: "Does anyone in the comments have a spare academy award we can just give this."
And Maggie added; "This is the funniest video I've seen in so long. When you showed the plate of pasta, I peed myself."