Man Arrested After Growling, Taking Mask Off and Screaming 'Joe Biden' on Flight
A Las Vegas man was arrested after taking off his face mask, berating the flight crew and other passengers and screaming "Joe Biden" during a flight Monday, the Associated Press reported. The man, 61, was cited for public intoxication and disorderly conduct.
A video recorded by passenger Dennis Busch shows the man growling like a dog while pulling the mask onto and off of his face. He also gave flight attendants the middle finger and swore at them, in addition to screaming "God bless America."
The confrontation occurred on an American Airlines flight from Los Angeles to Salt Lake City.
"American Airlines flight 1802 with service from Los Angeles (LAX) to Salt Lake City (SLC) was met by law enforcement upon arrival at SLC due to an unruly passenger. The flight landed safely at SLC where local law enforcement removed the disruptive passenger from the aircraft. We thank our crew for their professionalism and our customers for their understanding," American Airlines said in a statement.
The American Airlines incident is the newest addition to a recent string of confrontations involving unruly passengers on flights. A flight crew on a Frontier Airlines flight in early August restrained one passenger to his seat using duct tape after he allegedly groped two female flight attendants and punched a male attendant, NPR reported. The passenger was charged with three counts of battery.
Another American Airlines crew duct-taped a female passenger to her seat during a July flight after she allegedly bit a flight attendant and attempted to open the boarding door in mid-flight, Nexstar Media Wire reported.
For more reporting from the Associated Press, see below.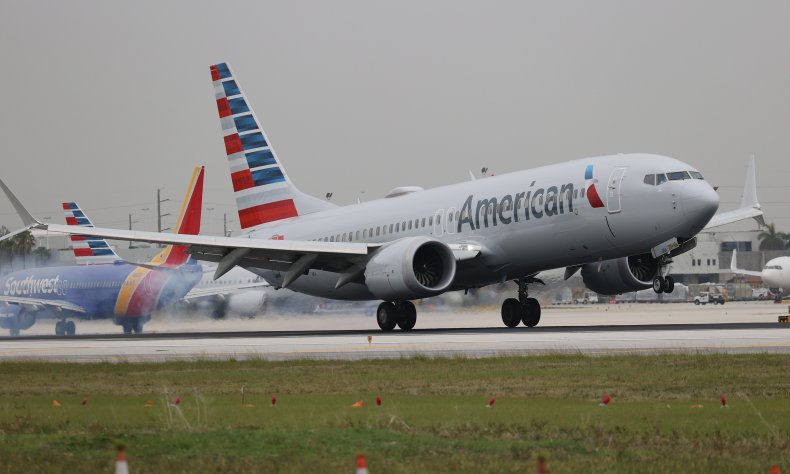 Busch, the passenger who took the video of the Las Vegas man, also wrote on Facebook that the man verbally targeted an Asian woman, saying she and her companion "didn't belong here."
The man was arrested at the gate, then was checked out at a hospital and cited, authorities said. No attorney was immediately listed in court records.
Rowdy airline passengers have racked up a record $1 million in potential fines this year, a toll of the tumult in the sky. Airlines had reported about 3,900 incidents of unruly passengers as of mid-August. Three-fourths involve refusal to wear a mask, and alcohol was a common factor, according to the Federal Aviation Administration.