Man Arrested After Viral Video Emerges of Him Beating His Wife Just Before She Fell to Her Death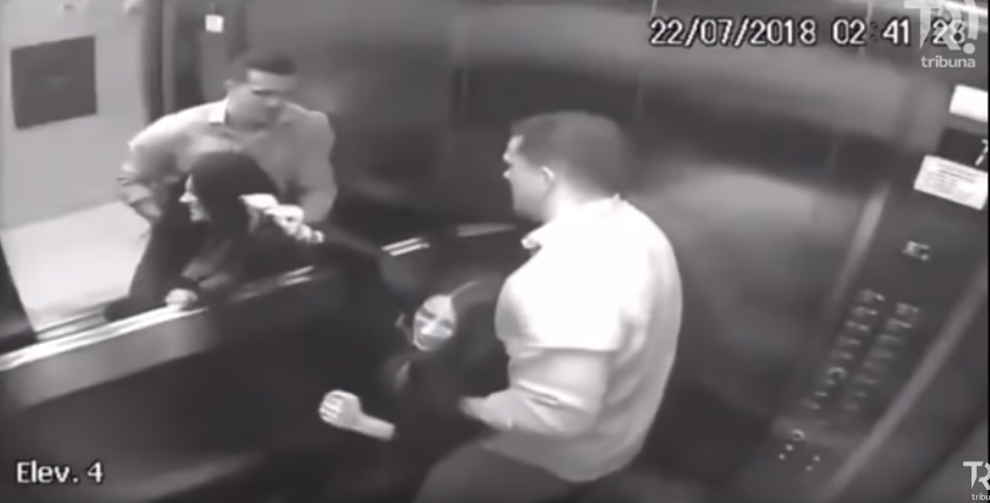 Disturbing surveillance footage showing a Brazilian man beating his wife just minutes before she falls to her death has gone viral, sparking a heated nationwide debate about domestic violence against women.
Luís Felipe Manvailer can be seen manhandling, striking and kicking his wife, Tatiane Spitzner, in the parking lot of their apartment complex before chasing her to the elevator in a surveillance video dated July 22. There, he continues to assault her against a wall for a short while before they exit onto their fifth-floor apartment.
The clip cuts to security footage, taken from outside the couple's apartment, showing Spitzner falling from the building to the sidewalk outside. Manvailer then can be seen dragging his wife's dead body back up to their apartment. He returns to the lift shortly after to clean up the blood.
Spitzner attempts to flee several times during the disturbing ordeal.
Warning: This video contains graphic violence.
Police quickly arrested Manvailer after the incident and questioned him about Spitzner's death. According to the New York Times, he told authorities that his wife of five years had jumped off their apartment balcony.
"The video just reflects the levels of violence we have been documenting," Maria Laura Canineu, from the Human Rights Watch, told the New York Times. "What Brazil has to learn is that most of these cases are preventable. It is very rare that a murder is the first case of violence."
"It's sad, but maybe something this brutal will wake people up to the reality of domestic abuse," Canineu continued. "Maybe it will mobilize them."
The video quickly went viral after it was first broadcast on Brazilian TV program Fantastico on Sunday, prompting several other national television stations to replay the footage.
It also launched a heated public debate about domestic violence across Brazil, a country where, according to a 2017 survey, approximately one third of women claims to have suffered in the hands of a violent partner.
Internet users have taken to social media to speak out about the video and domestic violence with the hashtag #metaAcolher, referencing a popular phrase that suggests others should not get involved with the issues between two people in a relationship.
"For 15 minutes she fought and screamed, but no one in the apartment building she lived in with her violent and abusive husband came to her aid...#domesticviolence #LatinAmerica #domestichomicide #tatianespitzner #metaacolher," Julie Mann wrote.
"#DomesticViolence leaves marks. Not seeing them leaves femicides," another user added.