Man Arrested for Allegedly Trafficking $15,000 Worth of Meth
An Illinois man was arrested Tuesday afternoon by the McCracken County Sheriff's Office after allegedly trafficking drugs.
According to a Facebook post published on the law enforcement agency's page, detectives were conducting surveillance on a known "drug house" when they saw a car leave. Officers conducted a traffic stop when they noticed the plate on the vehicle did not match the vehicle's registration and spoke with the driver, Bradley Hicks.
"During the roadside investigation detectives observed Methamphetamine in plain view in the front seat of the vehicle," the post read. "During a search of the vehicle detectives seized approximately 155 grams of Crystal Methamphetamine and counterfeit currency."
Hicks was arrested and taken to McCracken County Regional Jail. The post reported that Hicks has an extensive criminal history, and the estimated street value of the drugs is more than $15,000.
A representative from the McCracken County Sheriff's Office told Newsweek that Hicks has been previously charged with other drug-related crimes in Kentucky, as well as forgery, criminal mischief and was indicted for theft. When officers conducted the traffic stop, Hicks was not reported as being under the influence.
The representative also said it was likely that Hicks was planning to sell the methamphetamine. The drugs were sent to the state police where they will be tested to ensure it is in fact methamphetamine.
"Typically if you're a user and not intending to sell, you're not going to have more than a few grams," he said.
The representative from the sheriff's office said it is not uncommon for officers to respond to and make arrests related to drug activity in the county, and they are familiar with some of the "drug houses," which are residences with a history of drug-related incidents. The majority of calls involve marijuana, but he said as far as a felony-level drug, methamphetamine is what officers respond to the most frequently.
The Center for Disease Control and Prevention reported that the availability of methamphetamine and the harm it has caused increased in the United States.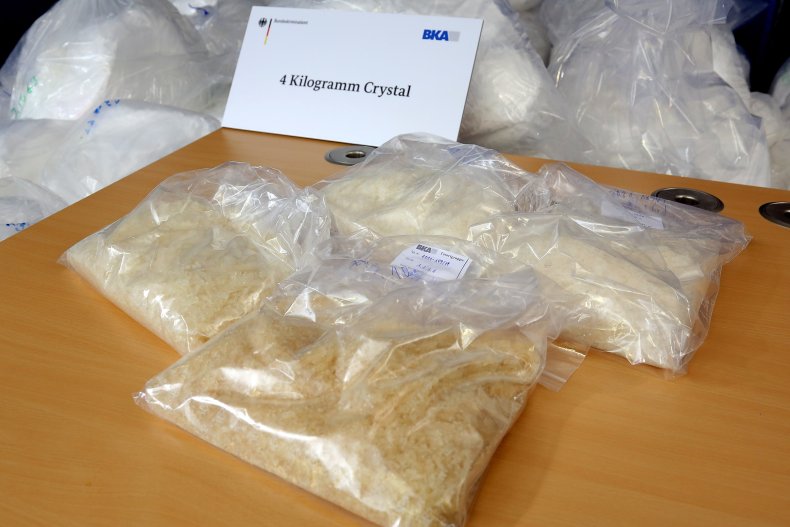 Hicks has been charged with no registration plates, no registration receipt, failure to wear a seatbelt, possession of drug paraphernalia and trafficking in a controlled substance 1st degree 2nd or subsequent offense.
Newsweek recently reported that authorities in Florida seized 916 grams of fentanyl, which is enough to kill 481,000 people. The raid took place on Wednesday in a Palm Coast home, and the owner and a tenant were both arrested on drug paraphernalia charges.