Man Arrested For Allegedly Undressing and Wielding Knife At Jack in the Box Employees
A man was reportedly arrested after he allegedly threatened his local Jack in the Box with a weapon and "acted bizarre" at the establishment in Redding, Calif.
The Redding Police Department posted a news release about the incident to their Facebook page on Tuesday evening.
According to Redding Police Cpl. Regan Ortega, the alleged suspect — identified as 32-year-old Nicholas Tyler Minks — was seen hanging around the entrance to the Jack in the Box early on Tuesday morning. He was reportedly removing articles of clothing while outside, police said.
"Minks was loitering in front of the Jack in the Box Restaurant, undressing and acting bizarre," Ortega said.
Shortly after, employees confronted him about his presence on the property when he revealed at least two weapons.
"When employees went outside and asked Minks to leave the location, he threatened to harm several employees as he pulled out two knives and ran at them," Ortega said.
According to police, the employees were able to barricade themselves in the restaurant and keep Minks outside. However, police said he allegedly began attacking the establishment itself in an attempt to reach the employees.
"Minks kicked the front door and tried to make entry by throwing items at the windows. He then started slashing at the window causing damage," Ortega said.
Police did not say how much property damage was caused or if any employees working at the time were injured.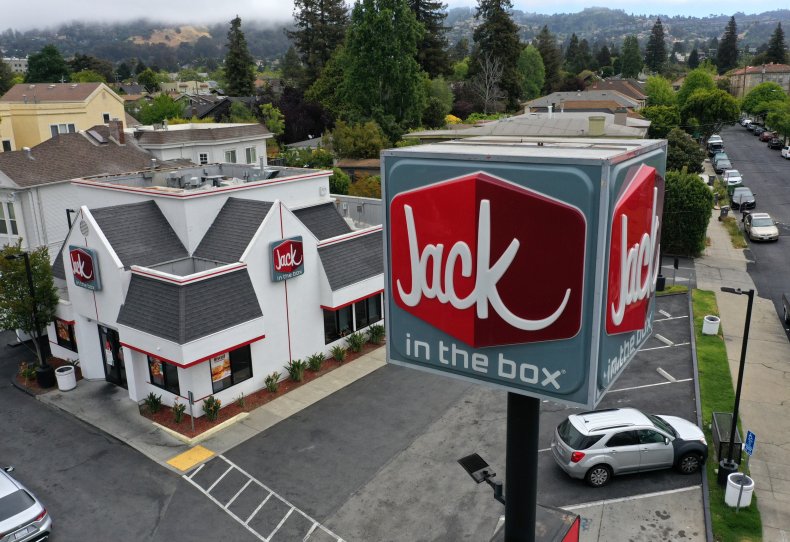 According to Shasta County jail records obtained by Newsweek, Minks was arrested and charged with assault with a deadly weapon, vandalism totaling $400 or more in damage, criminal threats with intent to terrorize and failure to to appear after a written promise.
His bail is currently set at $27,500. As of the time of publication, he is still being held in police custody.
The Redding Police Department has begun an investigation into the matter. Newsweek reached out to Ortega, but she did not immediately respond to requests for comment.
Similarly, a Texas Jack in the Box was also the site of an alleged knife attack in March. A man allegedly stabbed the restaurant's manager multiple times after he was asked to wear a face mask in compliance with their COVID-19 safety protocols.
According to security footage, he pretended to exit the establishment and stabbed the manager with what appeared to be a pocket knife when his back was turned. The manager was taken to a nearby hospital and treated for his arm and upper body injuries.