Man Arrested in Colorado for Punching Cop During Jan. 6 Capitol Riot: Feds
A man has been arrested after being identified as a January 6 participant who punched a Capitol officer.
Avery Carter MacCracken of Telluride, Colorado, was arrested on December 11 after a warrant was issued for his arrest. He faces six federal charges stemming from the attempted Capitol insurrection that happened on January 6. One of these charges is assaulting, resisting, or impeding certain officers using a dangerous weapon or inflicting bodily injury.
According to police officer body-cam footage, MacCracken shoved at least two Capitol police officers during the riots. He is also accused of allegedly punching another officer, leaving a cut on his eye in the process. Another officer said he was also assaulted by MacCracken in an undisclosed way, according to local news station Denver 7.
A Telluride resident allegedly recognized his face in footage and notified San Miguel County, Sheriff Bill Masters, who backed up the identification. In a statement, Masters did not mince words on his thoughts about MacCracken's arrest.
"It's no surprise to those of us who have had to deal with this career criminal that he, along with the other clowns, violently assaulted peace officers who were attempting to protect our Republic," he said. Furthermore, Masters reaffirmed his commitment to helping to bring those responsible for the Capitol insurrection to justice.
I am pleased to see federal authorities continue their obligation and commitment to indict those who committed crimes during that dark day in United States history," he continued.
MacCracken is also charged with engaging in physical violence in a restricted building or grounds, civil disorder, entering and remaining in a restricted building or grounds, disorderly and disruptive conduct in a restricted building or grounds, and an act of physical violence in the Capitol grounds or buildings.
More than 700 people have been arrested for their involvement in the Capitol insurrection. Around 220, like MacCracken have been charged with assaulting police officers.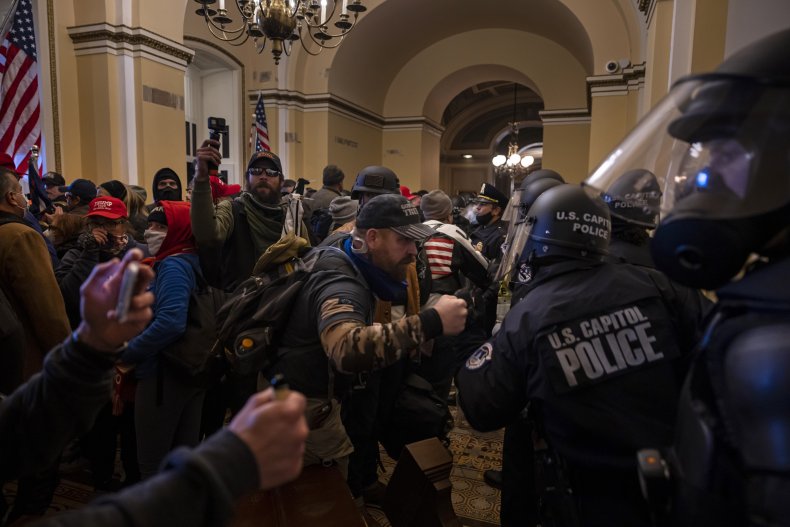 MacCracken was arrested Saturday near Telluride, where authorities said he has been a resident for years, sometimes living out of his car, according to his arrest affidavit. Masters and town Chief Marshal Josh Comte reported seeing MacCracken in Telluride wearing the same clothes shown in images from the Capitol, according to the affidavit.
MacCracken appeared in federal court in Grand Junction Tuesday. He will continue to be detained at least until another hearing scheduled for Friday.
He is represented by a lawyer from the federal public defender's office, which does not comment on cases.
The Associated Press contributed to this report.