Man Arrested for Attack on Conservative Student at UC Berkeley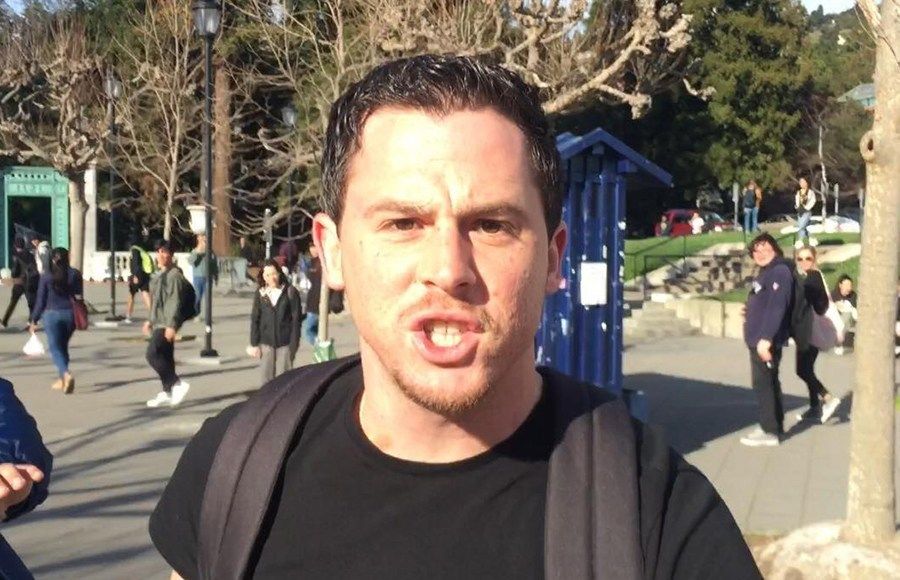 University of California Police (UCPD) arrested a man for allegedly assaulting a conservative activist who was handing out flyers at UC-Berkeley last month. The attack, which was caught on camera, reinvigorated a lingering debate about free speech at the liberal college.
UCPD arrested Zachary Greenberg on Friday around 1 p.m. According to a statement, police believe he is one of two men seen in a video that shows the assault on Hayden Williams, who had been handing out flyers on Feb. 19 in the main campus thoroughfare.
"UCPD will formally present the case to the Alameda County District Attorney's Office for consideration of the filing of criminal charges," campus spokesperson Diana Harvey said in a statement following the arrest. "Once the matter is presented and reviewed by the District Attorney's Office, additional information will be made available regarding a charging decision."
The altercation broke out on Upper Sproul Plaza on UC Berkeley campus, according to UCPD. Williams had been handing out flyers for Turning Point U.S.A, a conservative coalition founded by Charlie Kirk, when he was approached by two men. Williams, 26, is not a student but had been running a recruitment table on campus.
"A physical confrontation ensued when one of the two men slapped the phone out of the victim's hand," UCPD said in a February statement. "The suspect then knocked over the table the victim was at and the two men struggled over the phone. During the incident, the suspect punched the victim several times causing injury to the victim's eye and nose."
Kirk released a statement following the arrest and described the video evidence as "incontrovertible."
"We hope 28-year-old Zachary Greenberg is prosecuted to the full extent of the law for assault with a deadly weapon, which should be considered an act of hate," he said. "Hopefully, this dark chapter will act as a wake up call to those concerned about actual politically motivated hate crimes in America."
Berkeley — which prides itself as the birthplace of the 1960s "free speech movement" — has long been a hotbed for political protests. In 2017, groups associated with white supremacist views descended upon the progressive city after school officials canceled appearances by Milo Yiannopoulos and other conservative speakers due to student safety issues.
The ensuing protests and counter-protests, which cost the city and school millions in damages and sometimes turned violent, pushed the university under a national spotlight. Politicians pontificated on the role of growing anti-fascist movements on campus, while the school repeatedly released statements indicating it was committed to free speech.
In this latest episode, UC Berkeley Chancellor Carol Christ reaffirmed the school's commitment to tolerance and inclusivity.
"Let there be no mistake, we strongly condemn violence and harassment of any sort, for any reason," Christ said in a statement. "That sort of behavior is intolerable and has no place here. Our commitment to freedom of expression and belief is unwavering."