Man Arrested in Florida With 'Arsenal' of Guns, Swastika and Bullet-Resistant Vest
A South Dakota man was arrested in Florida with an "arsenal" of guns, a bullet-resistant vest and a knife with a swastika, according to the Miami Herald.
David Goldammer, 32, was charged with DUI, carrying a concealed weapon and openly carrying a concealed weapon after he was found in Miami Beach with five loaded handguns and a rifle. An arrest report said authorities located a South Dakota permit to conceal carry a pistol.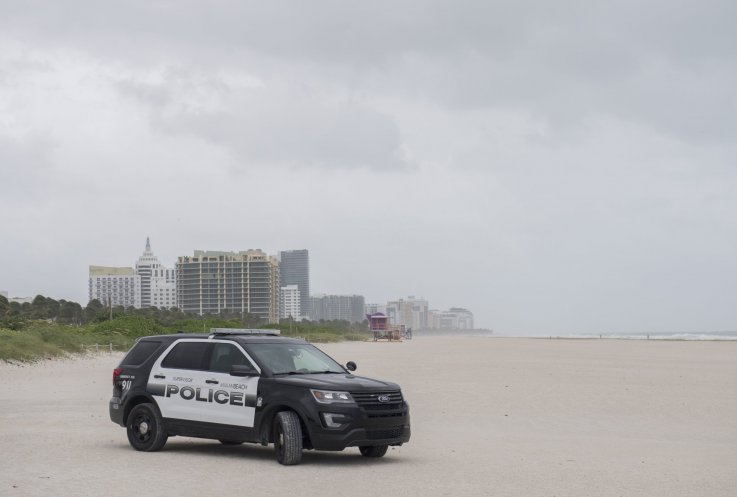 Police found his car blocking an alley. When authorities arrived, they found Goldammer slouched over with his car's engine running. Police said they could see two Yuengling beer bottles and two handguns, according to a local ABC station. The suspect declined to perform a field sobriety test, NBC Miami said. Police said he almost fell when getting out of his truck.
The charges were for the two handguns in the car console and one in his waistband, according to the Herald. "It's not illegal to own a semiautomatic rifle. But it's illegal to open carry in Florida—and as far as police could tell, he did not have a concealed weapons permit," the paper reported.
Miami Beach Police spokesperson Ernesto Rodriguez said Goldammer was not cooperative with the investigation and authorities did not know why he was in Florida.
"What we're doing is investigating why this 32-year-old man from South Dakota was in an alleyway here on Miami Beach, what his intentions were, what his motives were," he said.
"We don't know why he was here," Rodriguez told Miami news station WSVN. "We don't know how long he's been here. Those are all parts of the puzzle that we need to piece together. We need to know where he was before he was in this alleyway on Miami Beach. We need to know why he came to South Florida with this arsenal of weapons. It's a troubling set of circumstances that we're looking to investigate."
Rodriguez said that local police detectives are coordinating with intelligence and personnel from the Bureau of Alcohol, Tobacco, Firearms and Explosives (ATF).
"What's alarming in this case is that it's the early morning hours, it's Thursday morning, and there's a man asleep at the wheel under the influence of an alcoholic beverage with an arsenal of weapons in his possession."
Goldammer is being held on $6,500 bond, according to NBC Miami.
Man Arrested in Florida With 'Arsenal' of Guns, Swastika and Bullet-Resistant Vest | U.S.