Man Arrested for 'Hooliganism' in Kyiv After Alleged New Year's Fireworks
A man was arrested in Kyiv for allegedly setting off fireworks to celebrate the 2023 New Year. The charge? Hooliganism. And he could face up to five years in prison.
The Kyiv Police Facebook page posted a report of the incident, which happened in the lower district of the nation's capital known as Podil.
"Despite repeated warnings from law enforcement, a local resident disregarded the ban on the use of pyrotechnics during martial law," the social media post read. "He now faces up to five years in prison."
According to the police post on social media, there were several calls that many citizens in the "Podilskyi district unknown people were launching fireworks."
Police eventually discovered that fireworks had been launched from a lawn on Konstantinivska Street at an apartment building.
"In the course of search operations, law enforcement officers with the strong support of Regiment No. 1 identified the suspected suspect and conducted an emergency search in his apartment," Kyiv police stated.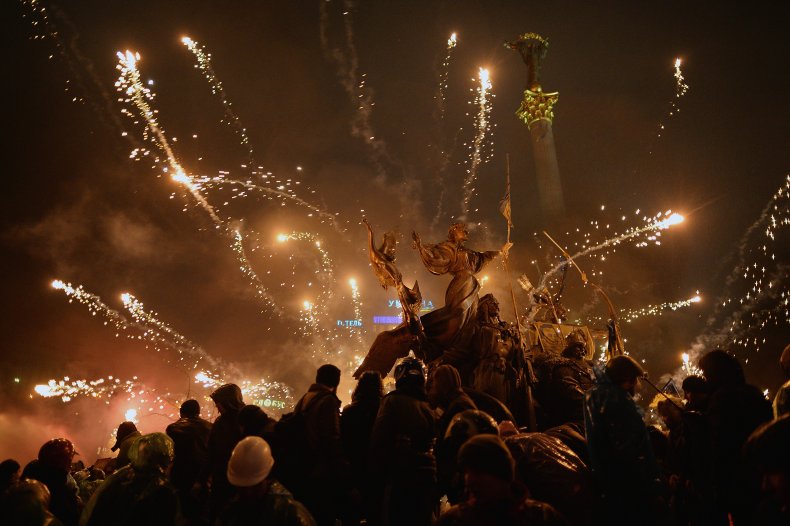 A 47-year-old man named Kievanina was detained for breaking an ordinance implemented nearly 9 years earlier and reenforced again in 2022. It's called a "hooliganism" charge for the act of disturbing peace.
Ukraine banned the use of fireworks in some regions like Kyiv, Lviv and Dnipro after Russia's invasion of Crimea in 2014. After Russia's most-recent invasion in February 2022, Ukraine President Volodymyr Zelensky gave a directive to his Cabinet of Ministers to regulate the use of fireworks while under martial law.
That law, which is No. 7,438 on the books, allows the "use of pyrotechnics only for the needs of the Armed Forces of Ukraine, the National Police and emergency services," according to gordonua.com.
Just last week, the sale and use of fireworks in the Kyiv Oblast were banned.
Russia amassed troops along Ukraine's northern and western borders in late January 2022 while it also conducted military with neighboring Belarus. Russia attacked Ukraine on February 24, 2022 and there have been heavy casualties on both sides. That includes more than 45,000 Ukrainian civilians, foreign fighters, Ukrainian military and about 106,000 Russians, according to the Ukraine Ministry of Defense.
Since the war began, Russia has failed to overtake Kyiv, Lviv and Odesa, but they occupied many regions in the eastern portion of Ukraine.
Three months ago, Russia annexed four Ukrainian regions–Donetsk, Luhansk, Zaporizhzhia, and Kherson-claiming the citizens of those regions overwhelmingly voted for it. Zelensky said called the situations in Donetsk and Luhansk "difficult."
Newsweek reached out to the Kyiv Police Department for comment.