Authorities in Virginia have arrested a suspect who allegedly used anti-Asian racial slurs against two restaurant employees before pushing one of them to the ground, all while skipping out on his bill.
Jordon Bevan, 28, has been taken into custody and charged with defrauding an innkeeper as well as felony assault and battery. While officers were taking him into custody on May 11, he resisted arrest and was subsequently charged with obstruction of justice.
The alleged assault occurred on May 4 shortly before 6 p.m. at the Bonsai Grill in Crystal City, a section of Arlington. When officers arrived on the scene, it was determined that the suspect left the restaurant without paying for his meal.
"Two employees approached the suspect outside the establishment and requested he return to pay. The suspect continued walking away and when one employee began recording him, he pushed the other employee to the ground and ran off towards Richmond Highway," the Arlington County Police Department said in a statement. "The victim of the assault did not require medical treatment."
Restaurant employees told WTTG that Bevan bought $70 worth of sushi rolls. When he left without settling the bill, two employees—a mother and son, both Asian—caught up to him outside the establishment.
Bevan then allegedly refused to return to the grill and pushed the woman to the ground. The son, Henry Kim, then took out his phone and began recording.
"He said, 'You Asians, get out of my face. I don't want the coronavirus from you guys,'" Kim told WTTG. "I was a little bit frustrated, but at the same time it's not the first this has happened to me."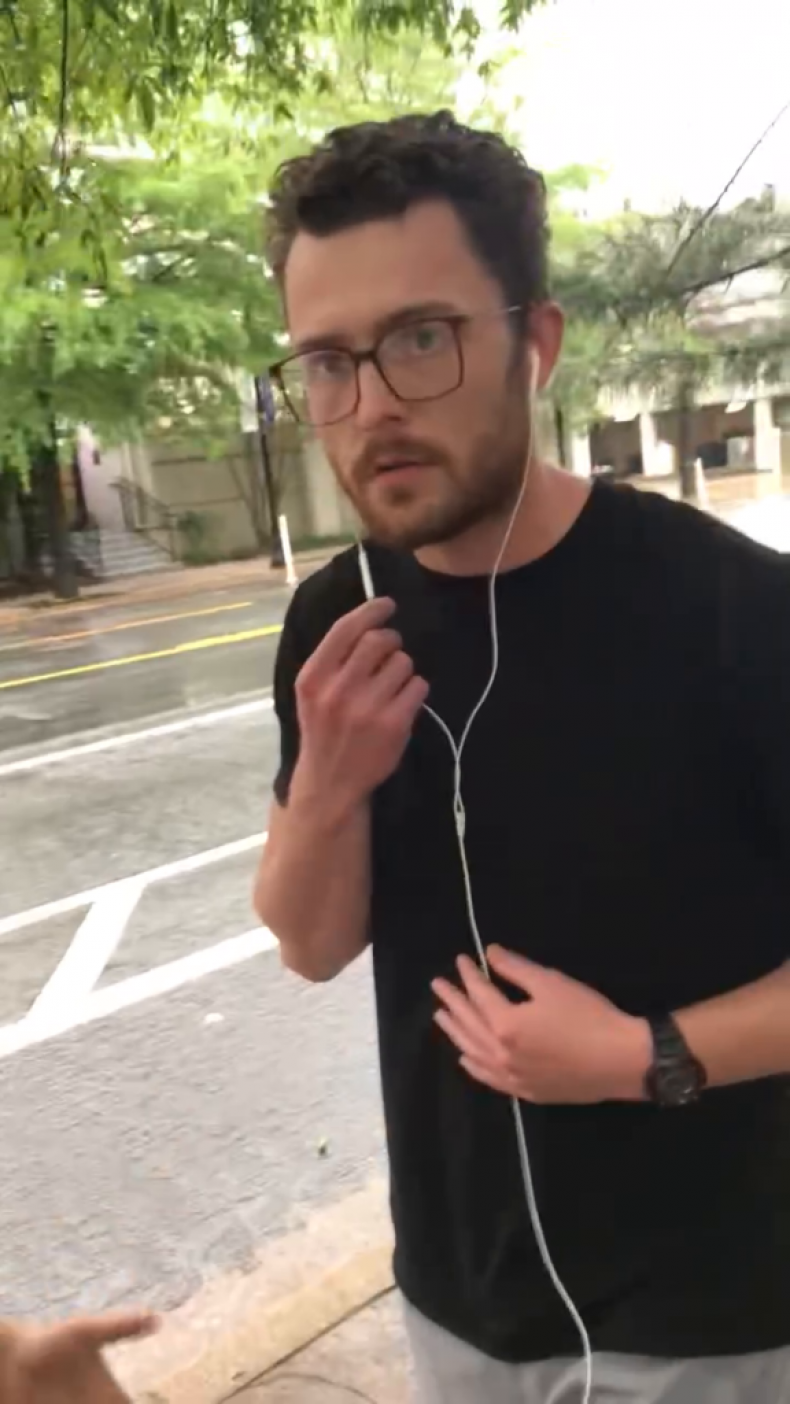 Police said in their initial statement that "in accordance with Virginia law, this incident has been reported to Virginia State Police as a possible hate crime."
Nationally, hate-fueled crimes against Asian Americans have spiked by 150 percent last year. There were 122 incidents of anti-Asian-American hate crimes in 16 of the country's most populous cities in 2020, according to data compiled by California State University's Center for the Study of Hate and Extremism.
Research from the nonprofit Stop AAPI Hate also found that nearly 3,800 anti-Asian hate incidents were reported over the course of one year during the coronavirus pandemic. More than 500 of those incidents took place in the first two months of 2021 alone.
Kim told WTTG that his mom was "doing a lot better" after the incident.
"Thank, God. When she fell down, she was really hurt in the elbows and hands," he said.
This story was updated on May 14 to include additional information about Bevan's arrest from the Arlington County Police Department.