Man Arrested by ICE While Applying for Legal Status With Husband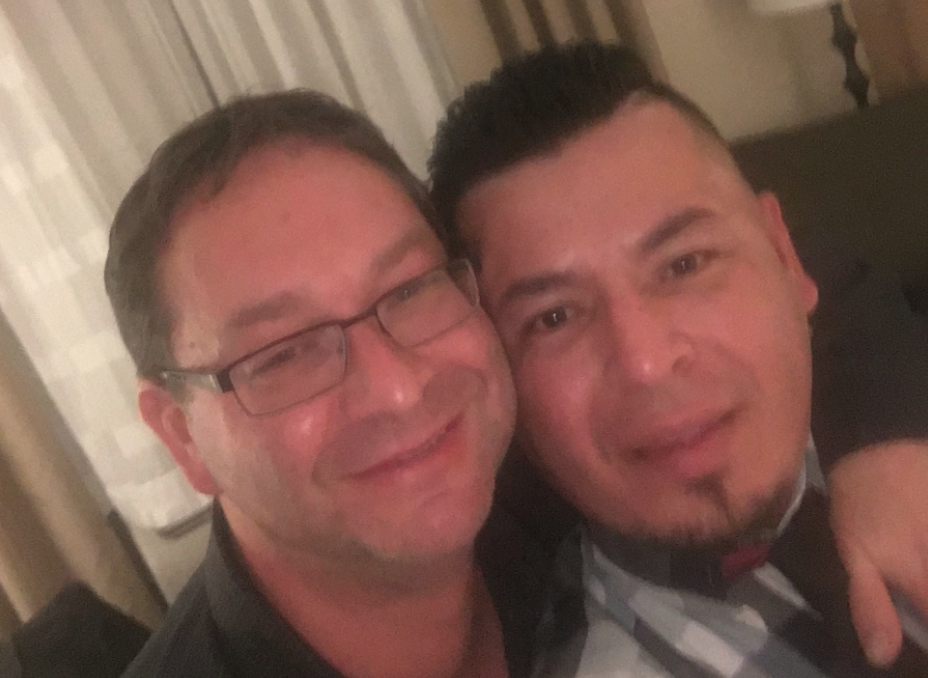 Updated | Paul Frame says his husband, Jose "Ivan" Nunez, wanted to do things "the right way" when he decided to file papers to live in the U.S. legally.
However, the married couple were torn apart three weeks ago when Immigration and Customs Enforcement (ICE) agents interrupted a green card meeting with U.S. Citizenship and Immigration Services (USCIS) in West Philadelphia and arrested Nunez on the spot.
Frame said that his husband had started the process to become a U.S. citizen and that the pair had been meeting with USCIS officers on January 31 to have the validity of their marriage confirmed. The couple thought the meeting would be a routine one until Nunez was put in handcuffs and taken away.
"We went into the meeting, we got the marriage certificate, for which we were approved.... We thought we were going to be in and out in half an hour," a tearful Frame said Monday at the William Way LGBT Community Center in Center City, where he was joined by advocates for the LGBT and Latino community at a press conference demanding his husband's release.
But weeks later, Nunez is still being held at the York County Detention Center, waiting to hear his fate.
While Frame was already a U.S. citizen, his husband had come to the U.S. illegally from Mexico almost eight years ago and had been living as an undocumented immigrant.
The couple met at a wedding in 2014 and were married in April 2016.
The pair's meeting with USCIS to confirm the validity of their marriage had been a routine step in the process to petition for what is known as an I-130 Form, which allows U.S. citizens or permanent residents to apply for a family member to legally immigrate to the U.S.
Frame said he had pushed a hesitant Nunez, who goes by the name Ivan, to apply to become a U.S. citizen.
"I was the one that pushed Ivan to do this. He was a little skeptical, but I said, 'Let's go through the process, let's become legal so we have no worries,'" Frame said.
"We go to the meeting, and they take him out, and this is what happens? My thought is, Who that is not legal is going to go through this process? Who is going to go into fear with what is going on right now?" he added.
Officials at USCIS told Philly.com it is standard practice for the agency to notify ICE when people who enter the office have warrants of deportation or are in proceedings. A spokesperson told the news website the agency's policy is "to fully cooperate with law enforcement partners in the performance of their duties."
Read more: Police who help ICE detain undocumented immigrants could be 'violating the Fourth Amendment,' experts say
Frame and Nunez's story is one of several that have emerged since the Trump administration announced its crackdown on immigration.
Under President Donald Trump, ICE has seen an expansion in its list of priorities for arresting undocumented immigrants. Whereas the agency previously prioritized undocumented immigrants with criminal convictions, it has expanded its focus to those who can be charged and arrested for being in the U.S. without papers.
ICE officials told Newsweek Nunez had previously been removed from the U.S. on August 18, 2010, and said he was currently in ICE custody "pending immigration proceedings."
People who re-enter the country after being removed or deported can be charged with a felony offense, although that is rarely the outcome. In Nunez's case, his attorney, Gonzalo Peralta said no charges had been filed against his client as of Monday.
Advocacy groups present at Monday's press conference, including Juntos, a community-led immigration advocacy group, and GALAEI, a social justice group supporting Latinos within the LGBT community, said people must come together to resist the Trump administration's immigration crackdown.
"We in Juntos believe that ICE's arrest of Ivan during his marriage interview clearly shows that no one is safe under this President, not even those who are 'in line' to get papers, not those in love and certainly not people of color," Juntos Executive Director Erika Almiron told Newsweek.
"We in Juntos are certain this type of arbitrary tactic will discourage many from applying for any forms of immigration relief for fear of being in the same situation," she added. "That is why we must to keep fighting to reunite Ivan and Paul and to work to end the attacks against our community."
A petition calling for Nunez's release has quickly gathered more than 900 signatures.
This story has been updated to include statements from ICE officials and Juntos.