Man Arrested After Stamping on LGBT Pride Flag and Threatening Victim With Knife
A man has been arrested on suspicion of aggravated assault after pulling down an LGBT pride flag before threatening a member of the public with a knife.
Police said the incident occurred after Derek John Arndt, 36, was refused service at a bar in Sioux Falls, South Dakota, at around 10 p.m. on Saturday.
As he was leaving, he allegedly grabbed a rainbow flag that was flying from a nearby building, threw it to the ground and stamped on it before confronting the victim with a knife.
Police spokesman Sam Clemens said: "We had a guy that was inside a bar, he was already intoxicated, they refused to serve him and he got upset. As he walked out, there was a pride flag that was flying outside a building, he grabbed that, threw it on the ground and was stepping on it.
"Somebody confronted him over that, I'm not sure what the words were but confronted him on that, the suspect then pulled out a knife and threatened the victim with the knife and then ended up turning around and walking away."
Clemens said witnesses followed Arndt from a distance, giving updates to police, and a short time later he was found nearby and arrested on one count of aggravated assault.
Police said they would be contacting the owner of a nearby shop—Zambroz, on Phillips Avenue—to enquire about damage caused to their flag.
"That's one of the things we're looking at, if there is any damage to the flag," Clemens said. "Obviously we had the threat with the knife so that was the serious charge. There is a possibility that there could be some other charges."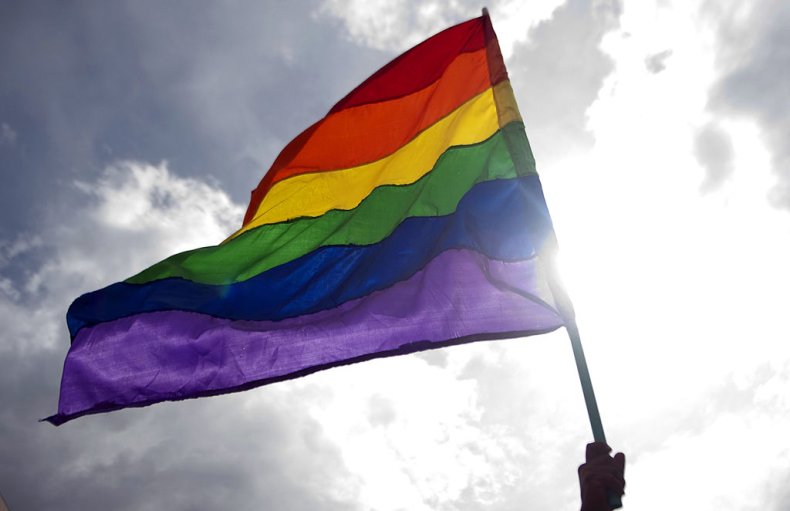 In a widely reported case in Iowa last December, a man was jailed for 15 years for stealing a pride flag from a church and setting it alight outside a strip club.
Adolfo Martinez, 30, admitted during an interview from prison that stealing the flag from Ames United Church of Christ was motivated by homophobia.
"I burned down their pride, plain and simple. It was an honour to do that. It's a blessing from the Lord," he said.
South Dakota recorded a slight increase in hate crimes in 2018—the most recent year for which figures are available.
FBI data showed there were 20 reports of hate crimes in the state that year, compared with 17 in 2017, with most of those being committed in Sioux Falls.
Across the U.S. as a whole, 16.7 percent of all hate crimes are linked to sexual orientation.