Man Arrested for Suspected DUI That Killed Champion Cyclist Gwen Inglis Had History of Driving-Related Incidents
A man responsible for striking and killing American champion cyclist Gwen Erffmeyer Inglis has had a history of driving-related incidents, reported CBS4 Denver.
On May 16, Inglis, 46, and her husband were biking on Alameda Avenue in Lakewood, Colorado, when driver Ryan Montoya, 29, drifted into the bike lane and hit her with his compact sedan, according to Lakewood Police.
Inglis was taken to the hospital where she died shortly after. Montoya currently faces several charges, including vehicular homicide involving DUI.
Montoya previously pleaded guilty to possession of a controlled substance in 2015 following a DUI the previous year, CBS4 reported. Ten years ago, Montoya was charged with underage possession. He was also charged with speeding in 2018.
According to Lakewood Police, Montoya remained on the scene after the collision. He is now held at Jefferson County Jail on $50,000 bail and his first court hearing will be on Friday at 10 a.m.
Inglis was a reigning U.S. road race champion in the 45-49 age group. She last competed on April 24 in Pueblo, Colorado, where she finished eighth in the Steel City Road Race.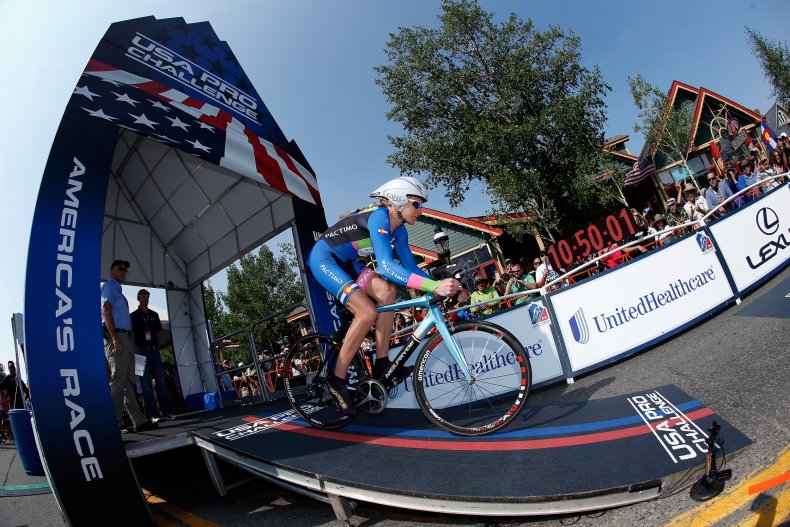 The Bicycle Racing Association of Colorado offered a statement Monday to express its grief, saying that "Colorado cycling lost one of their best."
"There are few words that can express the feeling of loss for any of our cycling community, and Gwen was a particularly special person," the organization wrote. "She was a multiple National and State Champion on the bike and very well known across the cycling community in Colorado. Even more impressive was her character off the bike."
The organization added: "Knowing Gwen, you would immediately be aware of her strongest qualities. She consistently brought joy into all her relationships, and she openly accepted everyone."
USA Cycling also gave its condolences Monday via a tweet: "We are sending our thoughts to Gwen's family during this difficult time."
The Lakewood community gathered around the crash site Tuesday for a ghost bike dedication and to share their stories of Inglis in remembrance. CBS4 reported hundreds of people showing up in support.
"It just hurts," Michael Inglis, Gwen's husband, told the media outlet. "Everything hurts, and it's really enraging, beyond enraging, that in the state of Colorado it seems like people get away with lots of DUI's."
Megan Hottman, the attorney representing the Inglis family, told Newsweek that they see this as a turning point for other cases like this.
"We've asked the D.A. in [Jefferson County] to consider adding or amending charges and including murder in the first degree—extreme indifference—and we liken this case where Gwen was hit by an impaired driver while lawfully riding in a bike lane to someone who drives their car down a sidewalk with pedestrians present—showing extreme indifference for the lives of the humans nearby," Hottman said.
"Cyclists aren't second-class road users. They are human beings, many of whom also drive cars too—and they're out riding their bikes trying to be better people, trying to get to work or to school or to the grocery store, trying to just enjoy a Sunday morning ride with their loved ones," Hottman added. "Gwen's death will count for something good and lasting."