Joe Borgen, Jewish Man Attacked in Times Square, Says Amount of Hatred Is 'Mind-Boggling'
Joe Borgen, the Jewish man severely assaulted in New York City's Times Square on Thursday night during a fight between pro-Israeli and pro-Palestinian protesters, spoke to a local news station Friday about the ordeal.
"They were just wailing on my head, beating on me," he told WABC-TV. Despite a lot of general soreness, he said, he could have been in worse condition. "I guess I could have died."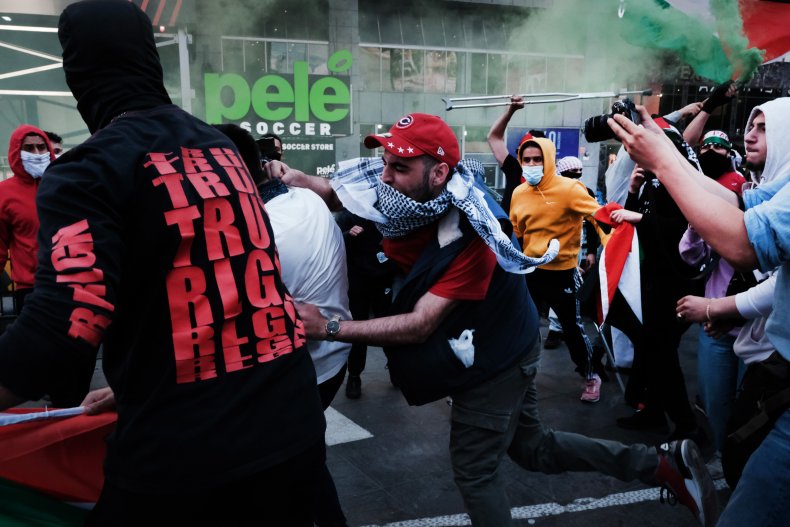 The attack on Borgen, 29, who was wearing a yarmulke at the time of the assault, is being treated as a hate crime. One person is in custody, and police are searching for up to six more individuals. The suspect in custody, 23-year-old Waseem Awawdeh of Brooklyn, was charged with assault as a hate crime, gang assault, menacing, aggravated harassment as a hate crime and criminal possession of a weapon.
Borgen told WABC reporter N.J. Burkett that he was "surrounded by, like, 10, 15 people" who punched, kicked, pepper-sprayed and beat him with crutches. The group also reportedly directed antisemitic comments at him. He was treated at Bellevue Hospital following the assault and released.
New York City Mayor Bill de Blasio condemned what he called the "absolutely disgusting and unacceptable" attack on Borgen.
"We had a man viciously beaten, simply because he appeared to some individuals to be Jewish," de Blasio said in a statement. "We found with the horrible actions and violence against Asian Americans that New Yorkers stepped up, provided information, helped us arrest people. We need your help to stop these antisemitic attacks immediately.... There is no place for antisemitism in New York City."
The New York Police Department's Hate Crimes Task Force is investigating the incident, and Governor Andrew Cuomo directed the state's hate crimes task force to assist as well.
"I unequivocally condemn these brutal attacks on visibly Jewish New Yorkers and we will not tolerate antisemitic violent gang harassment and intimidation," Cuomo said in a statement.
"New York is the vibrant and dynamic home for people from around the world. This tapestry makes New York the extraordinary place that it is. Those of all faiths, backgrounds and ethnicities must be able to walk the streets safely and free from harassment and violence," the governor said.
Police reported that 26 people were arrested during the protests Thursday night in midtown Manhattan. The demonstrations came just as Israel and Hamas announced a cease-fire, ending 11 days of hostility that resulted in hundreds of deaths and demolished buildings throughout the Gaza Strip, as well as deaths in Israel.
"This shouldn't happen to anyone...Jewish, white, Black—whatever skin color, ethnicity you are," Borgen told WABC. "I mean, the hatred that's taking place these days is just mind-boggling to me."