Man Attacked by 'Vicious, Almost Evil' Rooster in New York City
A man in New York City said he was left bleeding after he was attacked by a rooster while walking down the street in Queens on Thursday.
"Just usually walking to head to my bus to go to work, and I felt a peck on my left hand," the man, Leon Suseran, told NBC New York.
"This thing kept coming, so vicious, almost evil...blood was gushing, and I was trying to apply pressure to it and it kept charging at me," he added.
A photo of his injuries posted online by the New York Post showed Suseran's hand bloodied and with a gash. He said he received a tetanus shot and is on antibiotics.
Those who live in the neighborhood where the attack took place said they know about the rooster, and that the bird, and a group of chickens, have raised concerns. NBC New York reported that the group has walked the streets near 169th street in Jamaica, Queens for years.
Suseran said one of his neighbors was attacked by the rooster in June, when the animal bit her ankle.
"I've heard kids can't ride scooters, you can't walk freely. You've got to be careful now of a rooster," a neighbor, who wasn't identified, told NBC New York.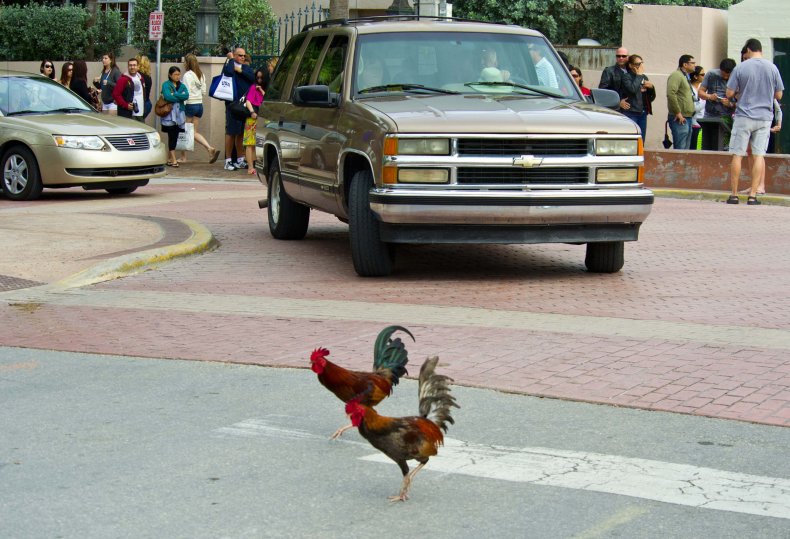 And another neighbor told the television station that parents avoid the area with their children because of the birds.
Following the attack, Suseran said he filed a complaint with the New York City health department.
In response to Newsweek's request for comment, a spokesperson for the New York City Department of Health and Mental Hygiene said: "The Health Department has one complaint on file for this address which we received yesterday [9/30]. We will be sending out an inspector to investigate."
According to New York City health codes, keeping roosters is generally prohibited. Roosters are considered to be in a category of "predatory or large birds" including eagles, hawks, falcons, owls, vultures and condors.
Earlier this year, a different neighborhood in Queens was terrorized by another attacking animal: a squirrel. In January, The Guardian reported that three people in Rego Park, Queens were bitten by a "possibly deranged" squirrel.
"Suddenly the squirrel ran up my leg and I thought 'it's a small rodent, how bad could this be,' so I stood completely still and the next thing I knew the blood started to fly. It was a wrestling match that got very bloody very quickly," Micheline Frederick, who suffered a squirrel attack, told the newspaper.