Man Awaiting Trial Found Dead in Cell, 3rd Death in New York Jail in Past Month
The New York City Department of Correction reported that a 24-year-old in custody at the Anna M. Kross Center on Rikers Island died Tuesday morning.
The detainee, identified as Esias Johnson, is the third inmate at Rikers Island to die in the past month and the ninth in 2021.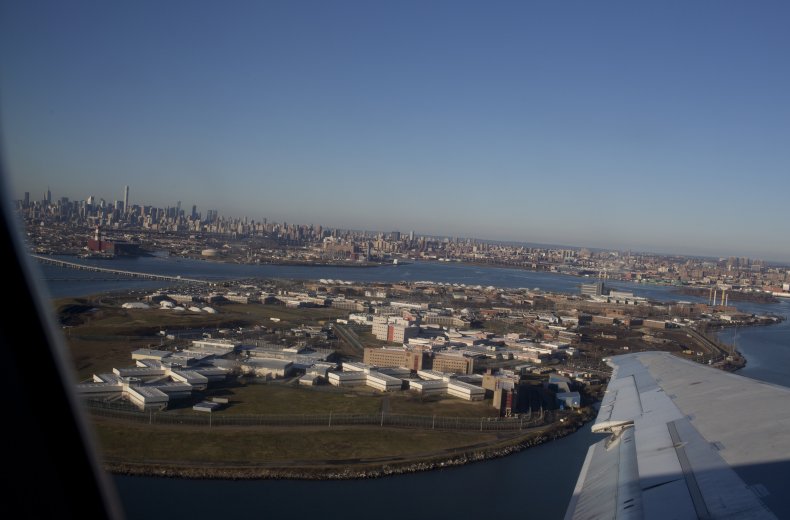 An investigation is underway into the death of Johnson, who was said to be found unresponsive by a correction officer touring the jail at 9:45 a.m. on Tuesday.
Sources said Johnson is suspected to have died of a drug overdose, but an impending autopsy will determine the official cause of death.
"The circumstances surrounding this death will receive a full investigation. We have been in touch with Esias Johnson's next of kin, and extend our deepest condolences," Department of Correction Commissioner Vincent Schiraldi said in a statement.
Jail records show Johnson was due to be in court on Wednesday.
Officials said Johnson was arrested in Queens in August. He was being held at Rikers Island on a fugitive arrest warrant out of New Jersey for making terroristic threats. Previously, Johnson was charged in 2019 with criminal impersonation, making a terroristic threat and aggravated harassment.
"He was a beloved son and brother. We mourn alongside his family, and we join their call for answers," the Legal Aid Society, who represented Johnson, said in a statement.
"The Department of Correction continues to demonstrate that it cannot house people safely. Mr. Johnson is at least the third person to die on Rikers in the last 30 days," the statement continued. "Reducing the jail population is the only way to avoid further deaths and swift action is desperately needed."
The prison facility has seen recent deaths in the last month. On August 10, 25-year-old Brandon Rodriguez was found dead in his cell on Rikers Island with a T-shirt wrapped around his neck. Also, Segundo Guallpa, 58, was found dead in his cell last week on Rikers in what authorities believe was another suicide.
During a press conference on Tuesday, Schiraldi said Rikers is experiencing such problems not from a lack of jail staff members. Rather, he blamed the issues on correction officers calling in sick this past August at a rate of nearly three times higher than in August of 2019.
Schiraldi said 1,416 officers were out per day on average in August, compared with 555 officers calling off per day in August 2019.
"Staff are the heart and soul of our operations," Schiraldi said. "We cannot improve safety until we are fully staffed. When staff do not show up to work, every aspect of our operations suffer—so do the employees who pick up the slack and people in custody."
Rikers Island has long had a reputation of corruption and negligence toward its prisoners. During many periods since its opening in 1932, the jail complex has faced prisoner overpopulation as well as dangerous and unhealthy conditions.
After many years of people calling for its closure, Rikers Island was scheduled to be shut down in 2026 before that plan was delayed to 2027, according to an October 2020 announcement.
Update 09/08/21 1:30 p.m. ET, with comments from the Legal Aid Society.