Man Backed For Denying to Pay Puppy Support in Canine Custody Battle
Commenters supported a man's decision not to help pay the vet bills after his girlfriend's friend brought her dog to his farm and it got pregnant from his dog.
The original poster (OP), known as u/aitapuppy_power, wrote about the situation in Reddit's popular "Am I The A**hole" forum where it received nearly 14,000 upvotes and 1,500 comments. The post can be found here.
The normal gestation period for dogs is between approximately 63 days since conception, or about two months, according to the AKC. While many individuals make a living by breeding dogs, the costs of raising a litter of puppies can quickly add up.
Puppies require specialty food, shots, general veterinary check-ins, and supplies such as a bed, toys, and bowls.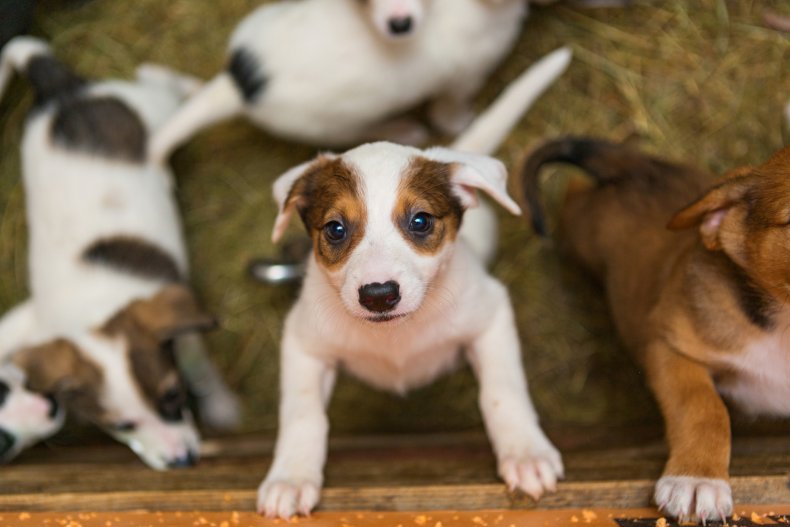 In the post titled "AITA for not paying half towards my dog's puppies' vet bills and expenses?" OP explained that he moved home a few years ago to take over his parents' farm.
"Predator animals are common so we've always had livestock guard dogs there," the post read. "I have 2, they are very well trained and socialized, but I don't allow dogs I don't know on the farm unless I'm there the entire time."
OP added that one of the dogs is a male and not neutered due to "reasons relating to the community" and one is a spayed female.
About four months ago, OP said he went on a work trip for a week and his girlfriend invited her friend Taylor to stay with her at the farm while he was gone.
Before arriving, Taylor asked if there was a room to put her dog's crate in, but OP said she could not bring her dog since he would not be home.
"She arrives, she has her dog. In heat," the post read. "My gf told her she could bring her. I offered to pay for her dog to go to the local kennel since I'd be gone, my gf and Taylor said I was controlling. I told them I just didn't want to leave room for issues."
The day OP was leaving for the trip, he said Taylor let her dog in the yard unsupervised and it tried to squeeze through the gate. He grabbed her dog and brought it back inside before he told Taylor that she had to keep her dog on a leash and supervised while outside.
OP said this caused him and his girlfriend to fight again, but he had to leave for the trip before they could resolve it.
"Taylor left the day I got home. Weeks later her dog had puppies," the post read. "Gf admitted they only put Taylor's dog on the leash when my cousin was over, and let her run the rest of the time."
OP said Taylor's dog got into the dog yard with the male dog, but they stopped her each time they saw her.
"Taylor wants me to pay half of the vet bills and puppy expenses until they're homed," the post read. "She's railing about me to my gf about not having my dog neutered. I refuse to pay."
OP said his dogs are where they are "supposed to be" and it isn't his fault Taylor's dog got in the yard, especially since he told her not to bring the dog in the first place.
"She and my gf can cover the expenses since they went behind my back. Am I in the wrong here?" the post concluded.
Redditor Reactions
Nearly 1,500 users commented on the post, many criticizing the friend for visiting the farm with her dog.
"NTA—she should have listened. Also it's a bit rich of her to complain about your dog not being neutered yet her dog wasn't spayed?" one user commented.
"Is it possible that she wanted a litter of puppies sired by your dog?" another commented. "Taylor is an entitled AH. Your girlfriend is an AH for allowing this to happen."
"That friend knew exactly what she was doing and very likely wanted her dog to have puppies for the money she will get from them," another user suggested.
"This is her own fault, you told her not to bring her dog and she did anyway, knowing her own dog was in heat. She's a moron," another wrote.
OP added in the comments that he paid for a heritage test on the puppies and confirmed they are sired by his dog.
He added that he read through the comments and thought about the suggestion that the incident might have been planned.
"I do plan on asking my gf when she gets home tomorrow. She's known since I moved here why I don't allow dogs I don't know on the farm when I'm absent," OP's comment read. "I've been asking for an answer for weeks about why she decided to go behind my back this time."
"Farmer here who keeps a heritage breed of sheep myself. Not only are you NTA, the fact that you're not getting the answer IS the answer, in my opinion," one user replied.
Newsweek reached out to u/aitapuppy_power for comment.
One man was recently praised in the same Reddit thread after he chose his cat over his girlfriend when she found out she was allergic.
One woman was dragged after mocking her boyfriend for calling his kittens his "babies," and another was criticized for tying a man's dog up outside.