Man Battling Severe COVID Moved to Texas Hospital as Doctors Plan to Turn Off Ventilator
A Minnesota woman's battle to keep her husband on a ventilator months after contracting COVID-19 has bought him more time, albeit in a hospital out of their home state of Minnesota.
Anne Quiner filed a lawsuit against Mercy Hospital near Minneapolis after she was advised that doctors planned to take her husband, Scott Quiner, off a ventilator. A judge granted her request for a temporary stay for the case to proceed and days later, Scott was moved to a facility in Texas, where he remains intubated.
Scott entered the Intensive Care Unit at Mercy Hospital on November 6 after testing positive for COVID-19. The 55-year-old, who was not vaccinated, suffered from low oxygen levels that weren't improving, so the decision was made to put him on a ventilator.
On January 12, Anne was informed that the hospital planned to cease Scott's ventilatory support the next day. She quickly filed a lawsuit against the hospital, seeking an order to bar the hospital from taking him off the ventilator.
"I have advised doctors that I vehemently disagree with this action and do not want my husband's ventilator turned off," Anne wrote in a court filing obtained by Newsweek. "Absent an order from the court restraining Defendant Mercy hospital from turning off the ventilator, my husband will die."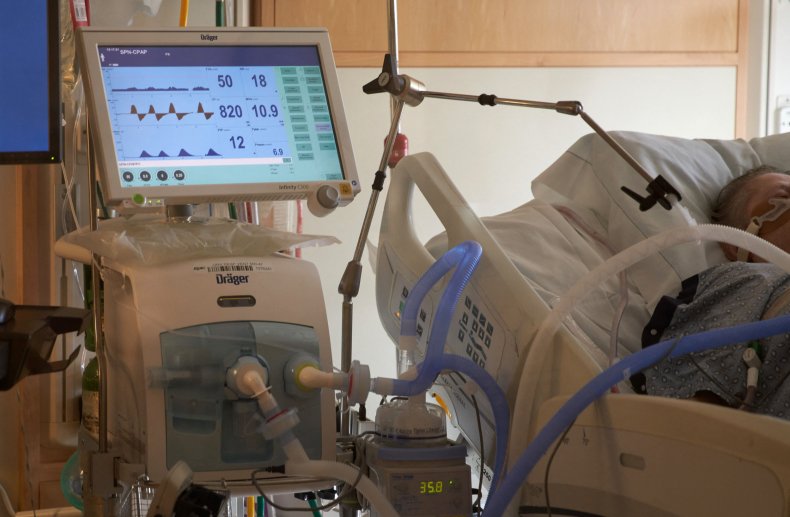 Anne told The Stew Peters Show, a Minnesota-based podcast, that the hospital "basically said they have the authority to do this no matter what I say."
In response to the lawsuit, Mercy Hospital argued that Scott's medical care and treatment were based on the "best available medical science and authority." The hospital told a judge that Anne's position wasn't "supported by medical science" or the state's laws and asked that Mercy be allowed to discontinue Scott's ventilator.
Anne told the judge she was looking for a new facility to take over her husband's care and he was transferred to a facility in Texas over the weekend. Marjorie Holsten, Anne's attorney, told Newsweek Scott was getting "critical care" but declined to say which facility he was at.
Holsten said Scott was "severely malnourished" and is receiving nourishment and hydration. She added that he's being weaned off the sedatives from the ventilator and he's taking "baby steps in the right direction."
"We are all thrilled and thankful to God," Holsten added.
Judge Jennifer Stanfield set a hearing for February 11 and instructed both parties to file documents discussing the legality of removing a patient from a ventilator. The case is unlikely to continue now that Scott has been moved from Mercy Hospital and Holsten told Newsweek that she will likely be dismissing the action.
"The Order signed by the Judge on 1/13 saved Scott's life," Holsten said.
In a statement to the Star Tribune, Allina Health, which operates Mercy Hospital, said it was grateful Anne was able to find a health care facility that could suit their needs. Allina Health added that it "continue[s] to wish them all the best."
Update 01/17/22, 3:25 p.m. ET: This article has been updated with comment from Marjorie Holsten.