Hilarious Moment Man's Beard Is Ruined Thanks to Girlfriend's Dye Job
Trying to do something nice for a partner doesn't always go well, as this unfortunate woman found out when she tried to dye her boyfriend's beard.
Mom-of-one Tammy McIntyre wanted to give her boyfriend a more defined look, and there was nowhere better to start than with his facial hair. McIntyre attempted to tint his beard to make it darker and look fuller.
Unfortunately for McIntyre, the tint was quite a bit stronger than she realized and her boyfriend was left with dye staining his face.
It turns out people can be very particular about who styles their hair and beards, as a 2018 poll by YouGov found that 38 percent of Americans will always see the same person when they get a haircut. It doesn't seem that McIntyre's boyfriend will want to let her near his beard again though after this experience.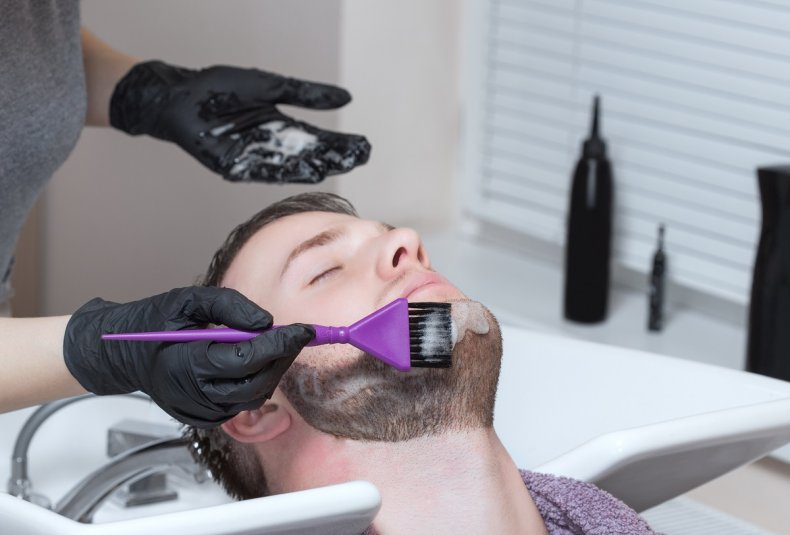 The hilarious video was posted on McIntyre's TikTok account, @tammymcintyre_x on February 1 and has generated 4 million views so far. The caption beneath the video reads: "He let me tint his beard."
Turning your home into a hair salon and doing it yourself is often a cheaper alternative if you're looking to save a few dollars. But mistakes are all too frequent and can ruin everything. Katelyn Ellsworth spoke to Newsweek about the important tips to remember when doing hair tints at home.
Ellsworth, a natural color and extension specialist at The Roslyn in San Diego, California, told Newsweek: "First things first, set a barrier around the perimeter of where is being colored with Vaseline. For example, outside the moustache or beard, right up to it touching the edge of the facial hair.
"The second pro tip would be to use a mascara wand to apply the color in the way the hair grows, brushing the facial hair with color going downward. If color does get where it's not desired, such as on the skin, wipe it off immediately. The longer the color sits on the skin the darker it will get."
If dyeing and tinting are things you regularly do at home, Ellsworth suggests purchasing color stain remover in case it goes wrong again. If you can't prevent it from happening, at least you can reduce how bad it will look.
One final tip that Ellsworth offered was to shampoo the facial hair before the dye is removed. "Lathering up before the water hits it will remove color from the skin that has penetrated through the hair. After this, rinse everything with water thoroughly in the shower, and you are good to go."
Regrettably for McIntyre, she didn't have these tips at hand when she accidentally dyed her partner's face, but at least social media users saw the funny side of it. The video has more than 104,000 likes and over 1,000 comments.
Among the amused commenters, one person wrote "I can't stop laughing," and another person commented: "It's the side eye."
If you have a personal dilemma, let us know via life@newsweek.com. We can ask experts for advice on relationships, family, friends, money and work and your story could be featured on Newsweek's "What Should I Do? section.