A man will spend the rest of his life in jail for beating his pregnant girlfriend in a sustained attack that lasted hours, and included him stamping on her belly and fetching salt to rub in her wounds.
Joseph English Gregory Newton, 31, was found guilty of a string of charges—including a criminal attempt to commit feticide—by a Georgia court on Tuesday, April 19.
Cherokee County prosecutors said Newton had abused his girlfriend throughout their relationship, including an attack back in December 2020. Newton's girlfriend, who has not been named, tried to leave their shared home following an argument, but Newton chased her and dragged her back across the driveway and yard by her hair.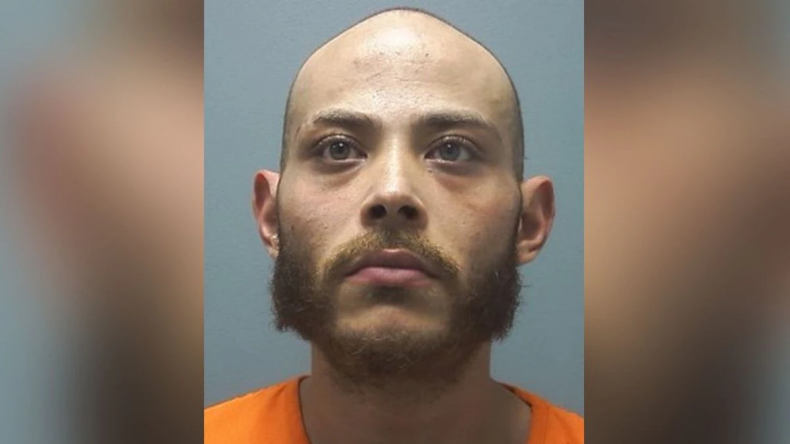 The woman managed to escape the next day, and a family member called the police. But the couple's relationship continued after he was released on bond, despite court orders banning him from contacting her.
The violence escalated and he threatened to kill her and their unborn child during his final attack on her on October 10, 2021. Investigators determined that attack involved Newton punching, kicking and spitting on his girlfriend. He strangled her, dragged her around by her hair, and used objects from their apartment to beat her.
Newton also smashed her head against the floor and stamped on her abdomen. While she was lying on the floor, he poured salt, as well as sugar and coffee grounds, on her wounds.
She was able to escape after Newton fell asleep, which is when she called the police.
When officers found her, she was suffering from swollen eyes and lips, cuts on her arms and hands, and neck injuries. She had to be hospitalized overnight. A doctor who examined the mom-to-be discovered she had suffered a subchorionic hemorrhage of the placenta, but the baby was expected to survive.
Cherokee County District Attorney Shannon Wallace said, per Fox 5: "After enduring a brutal assault, this resilient young woman escaped her abuser and called 911 while driving to a safe place. During that call, she described the events that occurred and, for the first time, pleaded for help. Even though Newton beat her for hours, she had the strength and courage to escape—ensuring that she and her baby would survive."
Woodstock police arrested Newton, who was hiding in the attic of their home.
The two-day trial culminated with the jury delivering guilty verdicts on a string of counts, including kidnapping with bodily injury, criminal attempt to commit murder, criminal attempt to commit feticide, family violence aggravated assault, family violence aggravated battery, four counts of family violence battery, family violence simple battery, false imprisonment, sexual battery, two counts of criminal trespass and tampering with evidence.
A judge sentenced Newton to life plus 10 years to serve in confinement in state prison.
Rachel Ashe, deputy chief assistant district attorney of the Domestic Violence Unit, said in a statement, per Fox 5: "Over the course of their relationship, the victim suffered repeatedly at the hands of this defendant. She never called for help for herself and held on to much of the blame and responsibility for her injuries.
"Tragically, this blame-shifting is something we see often in cases involving domestic violence. Ultimately, the defendant's final attack led her to call for help—not for herself but for her unborn child. Miraculously, she survived this relationship and our hope is that she continues to heal and thrive."
Chief of the Woodstock Police Department Robert Jones told Newsweek: "I'm proud of the men and women who responded to and investigated the case. In partnership with the Cherokee County District Attorney's office, Mr. Newton was brought to justice for his actions against his girlfriend. Domestic violence is never OK. If you or someone you know is living with domestic violence, please seek help in your local law enforcement or by calling the National Domestic Violence Hotline."
Anyone seeking help should call The National Domestic Violence Hotline, a free and confidential hotline available 24/7 that can be reached on 1-800-799-7233 or TTY 1-800-787-3224. The Hotline also provides information on local resources. For more information visit https://www.thehotline.org/.
Update 4/26/22, 6:56 a.m. EDT: This article has been updated to include comment from Chief of the Woodstock Police Department Robert Jones.