Chihuahua's Cute Behavior Wins Over Man Who 'Wasn't a Dog Person'
An adorable video of a beautiful golden Chihuahua puppy has melted hearts online as its owner explains that he's now a "dog person."
In the video, a Chihuahua puppy is filmed playing with toys on his owners bed, jumping around for joy and completely unaware that his owner is there. At one point, the puppy notices his owner filming him and starts doing zoomies around the bed, tail wagging furiously.
The caption reads, "So I wasn't a dog person...Until I met him...."
One user commented, "if your not a dog person just means you've never owned a dog they are the definition of unconditional love."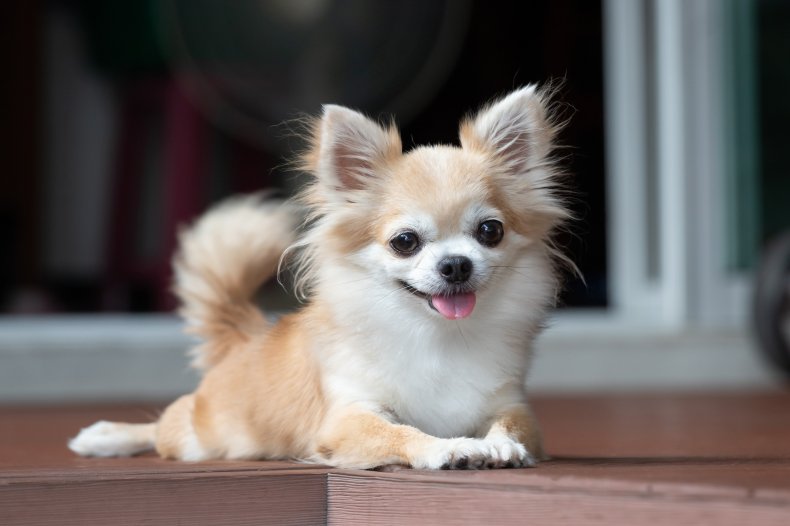 It's well documented that dogs can make us happier, but according to science, so can cats.
Study after study have proved that dogs improve our mood and physical health, and according to a study conducted by Uppsala University in Sweden, dogs can lower our risk of premature death by one-third by reducing the risk of heart disease.
Dogs can lower stress levels and therefore reduce the production of the stress hormone cortisol, which in consistently high levels can cause weight gain, headaches and high blood pressure.
Cats, although known for their aloofness and aggression because they are in an earlier stage of domestication, can also be known to lower stress levels. According to one Australian study, cat owners have better psychological health than people without pets.
Study participants—pet owners and non-pet owners—were given questionnaires to determine whether one demographic was happier than another. The study found that "the cat owners had significantly lower scores for general psychological health, indicating a lower level of psychiatric disturbance, and could be considered to have better psychological health than the non-pet subjects."
Whatever pet you chose, studies have found that animals in general are good for us, "from fish to guinea pigs to dogs to cats," according to News in Health, a monthly newsletter from the National Institutes of Health (NIH), part of the U.S. Department of Health and Human Services.
"Interacting with animals has been shown to decrease levels of cortisol [a stress-related hormone] and lower blood pressure," the NIH says. "Other studies have found that animals can reduce loneliness, increase feelings of social support, and boost your mood."
Users on Instagram were delighted with the happy puppy.
"He has no idea the state our economy is in," joked one user, while another commented, "One: that's awesome. Two: is that lil thing really a dog!? Three: how could you not be a dog guy?!"
Newsweek has reached out to @chaos_the_chihuahua for comment.
Do you have funny and adorable videos or pictures of your pet you want to share? Send them to life@newsweek.com with some details about your best friend and they could appear in our Pet of the Week lineup.