Grímur Atlason is nowhere to be found, though stories of him abound. Whenever I find myself haplessly roaming the streets of Reykjavík, Iceland, through the crush of pink-cheeked carousers who have flocked to the Airwaves music festival, there are always a dozen folks eager to recall sightings of the hulking 6-foot-7 local rock guru.
He's at the hip-hop showcase in the sweater store, insists a sound engineer. No, he's schmoozing with foreign media at a cocktail party, says a publicist. Actually, he's eating a shark, declares a paint-streaked street performer who is probably taking the piss out of me, in much the same way as the piss gets taken out of sharks in this part of the world. (A local delicacy is that fish fermented in urine and drained before consumption; no sensible tourist eats it twice.)
One guitarist points across the street to Stjornarrad, the prime minister's office. "Start there," he drawls between swigs of Gull beer, freezing raindrops clinking against his can. "He's the mayor of Iceland, after all."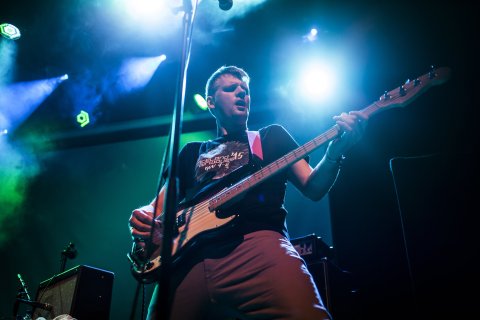 Actually, Atlason's real title is much less formal. He's the manager of Iceland Airwaves, the country's most famous cultural event. The one-time punk brat of Reykjavík's vibrant DIY scene has turned into a globe-trotting unofficial ambassador for his homeland's music. "I play the bass, and I'm a rocker, and I know how to do it, but I was always better at organizing things," Atlason, 45, explains in his office at the Harpa, the capital's opulent national symphonic hall. Black tattoos of snowflakes and anchors peek out from the sleeves of his red sweater. "My oversight, when it's really, really hectic, is similar to maybe taking some kind of drug: I see everything really clearly."
That focus has played a significant role in the expansion of Airwaves since it began in October 1999, when Sigur Rós and the trip-hop band GusGus headlined a concert at the Reykjavik Airport. It was a bid to increase tourism in the country's frigid off-season and flaunt its musical offerings that, despite what many in the international community assumed, included more than just tremulous Björk ballads. Today, Airwaves is more analogous to South by Southwest—a kinetic network of shows in a dozen-plus clubs in downtown Reykjavík, ranging in regality from Gaukurinn, a cramped dive bar with cheap shots and sticky floors, to the Harpa, a towering building with glass mosaic walls. It's such a trendy scene that the festival recently prompted Rolling Stone to dub the entire country "the new Brooklyn," tongue likely in cheek.
Atlason took over Airwaves five years ago and insists on selecting every band himself; this November, the number reached 168 Icelandic acts and 72 foreign ones. "It's a tyranny—I have the final say," he says emphatically, reclining in his office chair, his tan Timberland boots shoving aside errant paperwork on the desk. "The bands have to be crispy, crispy, crispy. They must have aspects to them that make the festival more vibrant, more in all directions."
His lineups work out to roughly 70 percent Icelandic artists, and local musicians play alongside prominent international imports. This year, the Icelandic electro-pop group FM Belfast shared a stage with the British electronic dance stars Hot Chip, and the local orchestral-pop composer Borko opened for American folk smart-ass du jour Father John Misty at the Harpa. Other acts were imported from Japan (the psychedelic punk band Bo Ningen, at the pop-up room KEX Hostel), Norway (the winsome pop singer Aurora, at the cavernous Reykjavík Art Museum) and New Zealand (the dream-folk group French for Rabbits, at the restaurant Iðnó). Around 9,000 ticket holders assembled from similarly far-flung locations—particularly the U.K., U.S. and Scandinavian countries—and not least because past rosters have championed their acts. In past years, Atlason booked Robyn, HAIM, Hozier and Iceland's Of Monsters and Men before they achieved wide fame.
Much of Airwaves's hectic atmosphere stems from its hundreds of "off-venue" concerts, or unofficial shows in unusual locations: bus stations, apparel shops, even swimming pools. One of this year's marquee artists, John Grant of the Denver rockers the Czars (he's now an expat in Reykjavík), performed a swooning set with the Iceland Symphony Orchestra at the Harpa, then popped over to his regular barbershop for a few songs. Scouring downtown for these shows is an addictively challenging hunt and appeals strongly to music industry executives. Icelandic bands first scouted here have been invited to play other international festivals, including Glastonbury in England, Lollapalooza in the U.S. and Roskilde in Denmark.
Sometime after they arrive with fur-lined parkas and wide-angle lenses, and before they depart with nine new psych-rock CDs and a satchel of freeze-dried fish, tourists at Iceland Airwaves will invariably call the country "magical." And even that word can fall short when it comes to describing the brilliant ribbons of green and purple lights that spread across night skies, the seething volcanoes that hulk in the distance and the bubbling lagoons with water as blue as melted crayons. In Reykjavík, the lights of gently sloping clapboard houses glow with perennial yuletide warmth, and smiling shopkeepers will happily answer your questions about puffins.
Many of the festival's venues are much more lo-fi: nonchalant dive bars spackled with fliers and sweat droplets, well-trod carpeted halls with stains that may predate the Vikings. The Gamla Bíó theater is one of the more elegant, with art deco flourishes in its molding, though its backstage is a dim labyrinth of rickety ladders and inexplicable dead ends. Yet it's here, four nights into Airwaves, that Atlason has found a moment of peace. He slumps onto a scuffed couch and plucks at his amber-hued bass guitar; the room's lone light sources—a transparent glass minifridge stuffed with beer and the iPhone at his hip frantically flashing texts and notifications of missed calls—barely illuminate the strings.
"Even if it's punk rock, you have to warm up," Atlason tells me sternly. He glances around the empty backstage hallway. His bandmates are still having a boozy dinner. "Or at least I have to."
He noodles around for a few more minutes, stoically ignoring the phone—it's a rare reprieve from fielding the endless questions, favors, crises and general political glad-handing required of his role. But louder needs prevail: His punk quartet, Dr. Gunni, is about to take the stage for their first Airwaves show in 12 years, and the first since he began managing the festival.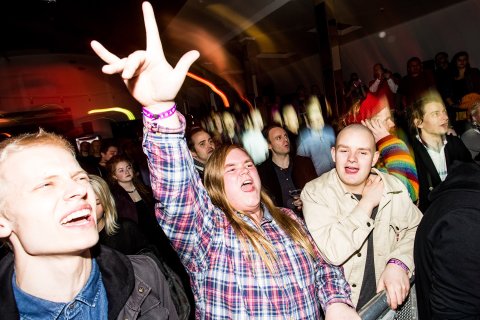 It was Atlason's idea—a way to fête the recent 50th birthday of the group's frontman, Gunnar "Dr. Gunni" Hjálmarsson, a prolific singer-songwriter and music historian. But two days ago, he was lamenting the decision. "When you get me to think about it, I just go, shit," he groaned to me. "It's probably the most stupid thing you ever do, to play your own festival. I have no focus for it."
Hjálmarsson isn't offended. "Grímur says everything that he's thinking; he's not sugarcoating anything," he says dryly. "I think he's manic all the time. You probably have to be, with so much to take care of."
Atlason was an active teen in the Reykjavík DIY scene of the 1980s—a fertile time for Icelandic rock, with the rise of influential acts Stuðmenn and Bubbi Morthens, and the decade in which Björk and the Sugarcubes first demanded international attention. The members of Dr. Gunni became minor cult figures in 2003 with the release of their only album, Stóri hvellur (Big Bang), a raucous effort of surf-inflected guitar and scabrous vocals that nodded to Hüsker Dü and the Pixies. "They made a wonderful, wonderful pop-punk record that unfortunately didn't fly too high," explains Haukur Magnússon, 34, a promoter for Airwaves between 2005 and 2008 and now the editor-in-chief of alternative newspaper The Reykjavík Grapevine. Two members of Dr. Gunni, Guðmundur Birgir Halldórsson and Kristján Freyr Halldórsson, also play in his punk band, Reykjavík. "In 2005, they stopped playing. But they didn't break up; they were just adults with jobs and shit."
For Atlason, that job was working as a social development therapist and record label promoter. But the following year, he took a left turn and became the mayor of Bolungarvík, a small, fishing-heavy municipality in the fjords of northwest Iceland. Then he did the same at the nearby municipality Dalabyggð. Both have populations of around 1,000 people. "I was sort of hunted down to do that because the town wanted to have a promoter for their city," he explains. "But being a mayor in Iceland is like doing 10 jobs at once."
Good training for managing Airwaves. The evening of Dr. Gunni's show, Atlason's airtight schedule falls into disarray; he wants to stop by his favorite swimming center for a dip (a daily routine for most Icelanders), but his father calls and asks him to deliver some alcohol to his house. So off we speed in his hatchback through the steep hills of suburban Reykjavík, streetlights glimmering below us and two bottles of Brennivín schnapps clinking in the backseat.
Atlason has mentioned twice now, in passing, that he entered rehab at age 19. "Before that, my life was going in the sewer. I started drinking at 11," he explains, briefly looking away from the dark road to meet my gaze. He's clearly used to speaking frankly about the topic. "Growing up, my parents were both alcoholics…. It was, for me, the path I was doomed to take. Using alcohol was really good for me. I liked it because I became calm, and that hole in my stomach kind of went away for a while."
He now has been sober for 21 years and has three kids—one from a first marriage, two from his current one. "My children have never seen me under the influence," he says proudly. He parks the car and walks off to his father's house, bottles in hand.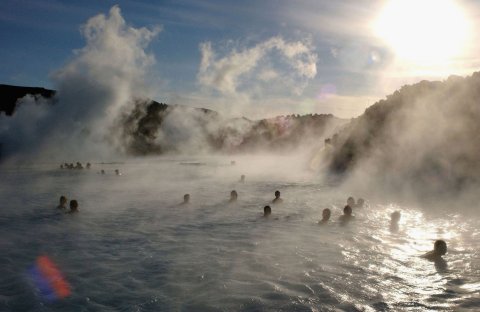 --
When Dr. Gunni takes the stage at Gamla Bíó, it is a moment of little fanfare: the four of them under harsh white lights, squaring off for 50-odd people milling about. Just another one of the many pleasantly scrappy shows at Airwaves, but it's suffused with a sincere, bracing punk spirit; Hjálmarsson howls with guttural vigor—he smacks of an Icelandic Frank Black—while Atlason postures wide-legged and proud, thrashing his head and screwing his face tightly as he churns out rapid bass runs. It's a fusillade set, nine songs in 27 minutes. By the time it's over, the crowd has swelled, and the front row is chanting, "Meira!" (More!)
Afterward, Atlason and the rest of Dr. Gunni convene in the green room. "Wow, you have to be fit for that," Atlason says, mopping his face with his sweat-sodden black Airwaves tee.
"It was not so good sound," says Hjálmarsson.
"But it was fun, wasn't it?" Atlason replies, grinning at Hjálmarsson until he reciprocates. "I thought it was punk and good."
I ask if he would take to the festival stage again. He chuckles. "Probably not, because I wouldn't call myself an artist. Maybe an 'rrrrtist,' if you take the A away." He claps his bandmates on the back and shrugs into his coat. Then he's off, phone to his ear, back into the hectic expanse of his festival.