Man Bites Snake After Being Attacked, Visits Healer and Lives
A man is alive and well after he was bit in the leg by a poisonous snake. In a quick turn of events, the 45-year-old tribal man picked up the snake and bit it's head multiple times before killing it.
The revenge attack happened in a rural village in Odisha's Jajpur district in Eastern India. The man, Kishore Badra, was reportedly walking home from work at around 6:30 p.m. when he felt a sharp sensation in his leg.
"Something bit on my leg while I was returning home on foot last night," Badra told the Press Trust of India (PTI). "I switched on my torch and found it to be a poisonous krait snake. In order to take revenge, I took the snake in my hands and bit it repeatedly, killing the viper on the spot," he said.
The snake in question was a 3-foot-long poisonous krait. The common krait is considered one of the "big four," a subcategory of the most venomous snakes in India, and takes the lead of most venomous. Krait snakes are responsible for inflicting the most human bites in India and Bangladesh. The venom causes paralysis of the muscles and often leads to cardiac and respiratory failure, according to experts.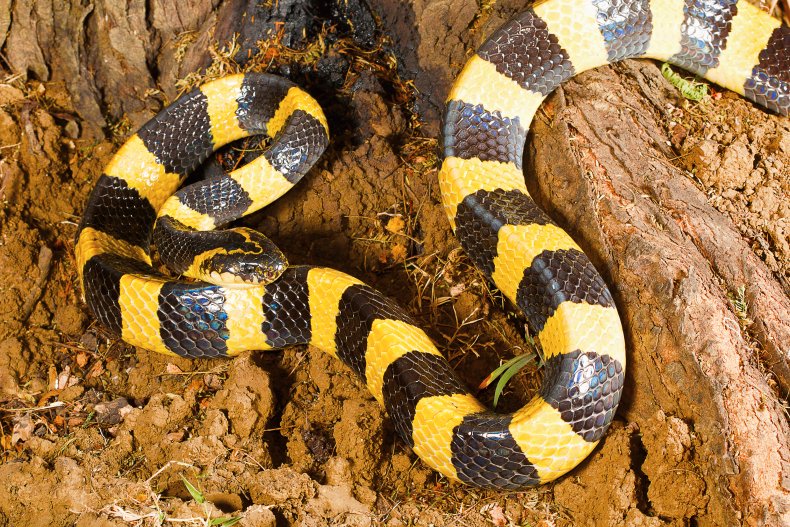 The man then walked to his home carrying the dead snake around his neck to show his wife and friends. He told PTI he felt completely fine after biting the poisonous snake that bit him. His wife and others in the village reportedly told Badra to go to the hospital but he refused.
Instead, Badra visited a traditional healer nearby later that night. "Even though I bit the poisonous krait, I did not feel any difficulty. I went to a traditional healer residing near the village and was cured," he told PTI.
After visiting the healer, Badra went back to his home and fell asleep. Reports said he was doing fine the days following the bizarre incident.
Badra reportedly walked around the village for the next few days, presenting its dead body as proof of his conquest. He later told PTI he believed the healer saved him.
Last week, Newsweek reported on a similar revenge attack. Rama Mahto, 65, was walking through the village of Madhodeh in the Nalanda district of Bihar, when he was bit by a snake.
Reports said the man, who was intoxicated at the time, was sitting outside his house when a baby snake bit him in the leg. The man quickly decided to capture the snake and bite it back before discarding the corpse by a tree.
Mato's family said he was bitten 10 times in the face while he tried to chew on the snake. After the incident, his family urged him to seek treatment but he refused and went to sleep. Unfortunately, he succumbed to his injuries and did not wake up, according to police.