Man Breaks Into Dinosaur Exhibit, Snaps Selfies With Head Inside T. Rex's Mouth, Police Say
Police in Australia said a man broke into a museum in the middle of the night and wandered around exhibits for about 40 minutes, stopping to snap selfies with his head inside a T. rex skull.
The man allegedly entered the Australian Museum in Sydney's central business district just after 1 a.m. local time on May 10, NSW Police said.
CCTV shared by police last week showed the man walking through multiple levels of the museum. He was seen trying to gain access to rooms and looking through storage spaces, police said.
The man was also recorded talking selfies with some of the dinosaur fossils on display. At one point, he was seen apparently putting his head inside the skull of a T. Rex before snapping a picture.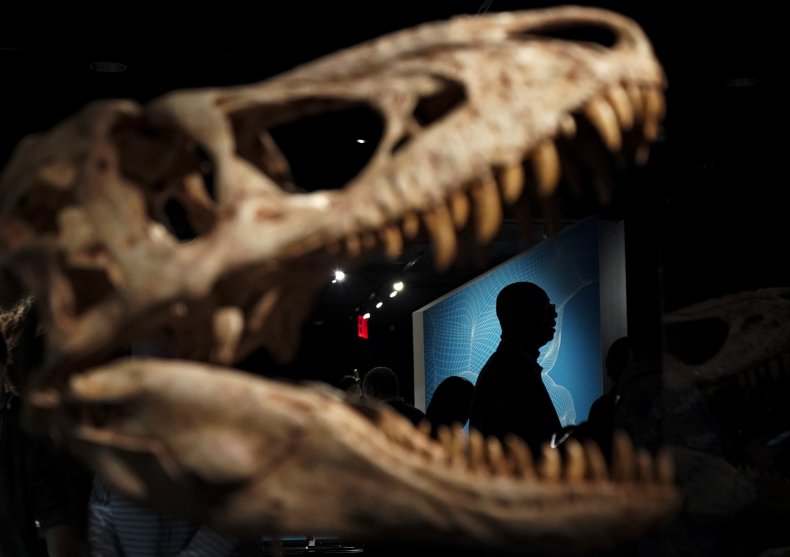 Police alleged that he stole a piece of artwork and a cowboy hat off a stand—believed to belong to one of the museum's staff members—which he put on before leaving the museum.
Officers from the Sydney City Police Area Command were alerted to the incident and launched an investigation to identify the man in the CCTV, NSW Police said.
On Friday, Detective Chief Inspector Sean Heaney said police were taking the incident seriously and it was "lucky" no artefacts were damaged during the break-in, 10 Daily reported.
Referencing Night At The Museum, a comedy starring Ben Stiller, Heaney said: "He certainly enjoyed his night in the museum. If this gentleman is watching, all I can say is it's not going to be a movie producer knocking on his door, NSW Police will be knocking very shortly."
In a news release on Monday, NSW Police said a 25-year-old man turned himself in at Surry Hills Police Station in connection with the incident.
Nine News identified the man as Paul Kuhn, a student from Germany. He was granted bail during a court hearing on Monday on the condition that he surrenders his passport and adheres to a curfew, the station reported.
The Australian Museum is the oldest museum in Australia and boasts an "irreplaceable collection of international standing" that includes more than 21 million objects representing a timeline of the environmental and cultural histories of the Australian and Pacific regions, according to its website.
The museum has been closed to the public since August last year while it undergoes a $70 million ($57.5 million Australian dollars) renovation.