Man Camps Outside Single Mom's House for 60 Days After Neighbors Allegedly Harassed Her
For 60 nights, Anthony Herron, also known as F.L.O.W., has watched over a stranger's house in Long Island. Since he's started camping out, Jennifer McLeggan, the homeowner, said he has become like family to her and her two-year-old daughter.
"We kind of treat F.L.O.W. like he's just a part of the house now," McLeggan told Newsweek. "I know it has to end, but it will be bittersweet when it does."
Herron first heard McLeggan's call for help on July 11 when McLeggan posted her story outside her home in Valley Stream.
"Hello. My name is Jennifer and I am a single mom and Registered Nurse. My neighbors have been racially harassing me since I purchased my home," the note begins.
From throwing dog feces and dead squirrels on her lawn to patrolling the yard with their guns, she goes into detail about how her neighbors have allegedly tormented her since she moved in three years ago.
"I live in FEAR for my life at home," the sign reads.
She tried contacted local police but she was told little could be done if she had not been physically harmed.
"I stopped calling," she said. "When I found the dead squirrels, I didn't call. When I found the human feces, I didn't call the police. What was the point? I called them before and they kind of yelled at me to stop calling. So I stopped calling and put up the sign."
McLeggan had posted the message so that if anything were to happen to her, people would know there was a baby inside the house. But another neighbor from down the block saw McLeggan's sign and posted it to social media, where her story went viral.
"It was just so crazy to see that somebody was going through that," Herron told Newsweek. "It was even crazier to find out that it was Valley Stream."
Herron, a Queens native, decided to drive over and sleep outside her home to ward off harassers. He began live streaming his night shifts as a way to protect himself.
"He only had a flashlight. My neighbors had guns," McLeggan recalled. "I think that's how he started to go live to keep himself safe."
As his followers started watching, more and more people came out to guard the house with him. Others tried to donate supplies like food and water. It even got to the point where Herron received more Capri-Suns than he knew what to do with.
While law enforcement had been hesitant to answer McLeggan's previous claims, they showed up the first three nights Herron camped out to keep an eye on her protector.
"The first couple of nights when I was by myself, they would have three cars out there. Two of the cars would be facing me and they'd have their high-beams on me for eight hours," Herron said.
But with 60 days under his belt, they don't give Herron much trouble anymore.
Since #StandWithJennifer went viral, thousands marched in support of McLeggan, a GoFundMe page raised more than $50,000 for her to purchase a security system, she was granted a restraining order and the Nassau County District Attorney launched an investigation into her neighbors.
On August 17, the couple next door was arrested on charges of harassment, criminal mischief and criminal tampering. But Herron hasn't left and he doesn't intend to — at least not until the couple's upcoming trial.
"I sleep when I can. I know it's not healthy. But the trial is October 9, so we're literally a month away," Herron said. "If I can do 60, I can definitely do a total of 90 that I set out to do."
Although being a guardsman has taken a toll on Herron's sleep schedule (he also works a 9-to-5), he thinks of McLeggan's distressing situation as an opportunity.
"Jennifer has the rare situation where she was warned," Herron said. "You don't always get in a scenario where racists will warn you that they can do something to you. In a lot of instances, it just happens."
"That sign on her door — that's the bat signal," he added. "That's the bat signal for every Black person to say, 'Oh this Black woman is reaching out for help.' To make sure she doesn't become a hashtag, we need to get over there right now and we need to stay there."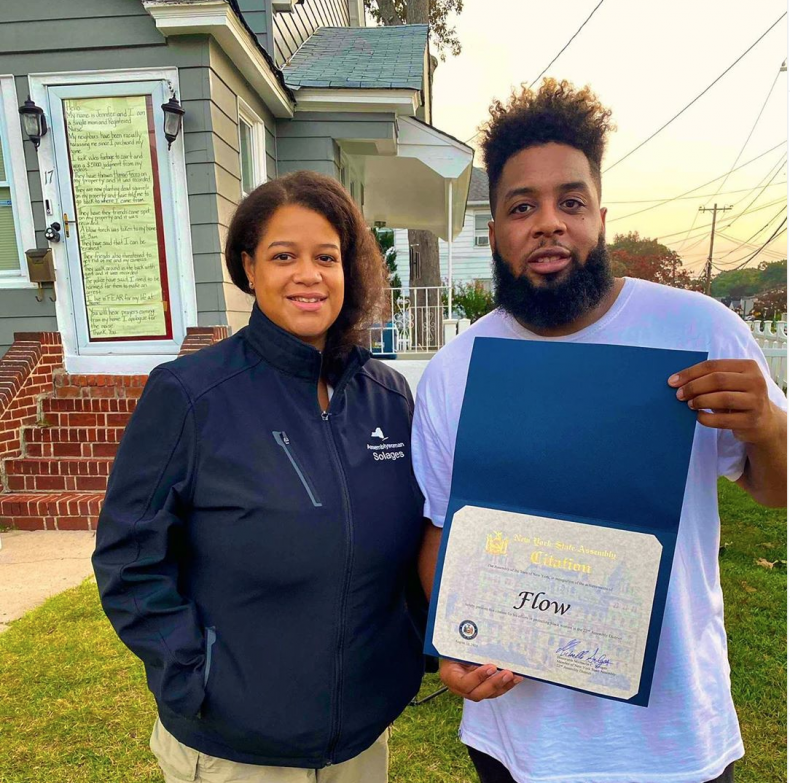 For Herron and McLeggan, the case of Breonna Taylor, a Kentucky woman who died after police shot her eight times while she was asleep, hit too close to home. Both of them mentioned how Taylor's story sounded alarm bells that the same thing could happen to McLeggan.
"If white men with guns can kill Breonna Taylor in her house, how am I different from her? We're both healthcare workers. I'm not really different," McLeggan said. "Anyone can come in my house. It's totally possible that it happens. Then the sad thing about it is that it can happen and then it'll be brushed under the rug. I know that's the reality of my life here."
Although she's unsure of what she'll do if the trial doesn't play out in her favor next month, McLeggan hopes she'll have the chance to watch her daughter grow up in the house that she had worked so hard for.
"I bought this house for my daughter. I bought it so she can group up and have a white picket fence and a yard," McLeggan said.
In the meantime, Herron plans to be there and keep watch, even after the trial. He said he's seen the neighbors around since they've been released but he has no intention of engaging with them.
"I'm not here to antagonize anybody," he said. "We're just saying, the person in this house? You won't mess with them. That's it. We're playing defensive. It's strictly defense, no offense."
In fact, Herron even has thanks to offer McLeggan's alleged harassers.
"Thank you for not doing anything," he said. "That's the one thing I will thank them for. Thank you for not going through with the threats. Now you won't get the chance to."
Newsweek reached out to the Nassau County Police Department, but did not hear back before publication.