A man in Mohnton, Pennsylvania was told he had prostate cancer and that his best course of treatment was to get his entire prostate removed. Then the family was told the doctors "made a mistake."
It turns out Eric Spang did not have prostate cancer. But rather than being excited that he was in the clear, he and his family were devastated due to the fact that Spang already got his prostate removed based on recommendations from various doctors.
Prostate cancer is the second most common cancer among men in the United States with about one in eight men being diagnosed a year, the American Cancer Association estimated.
"I'm sad, I'm depressed," Eric Spang told CBS3. "I have an overwhelming feeling of hopelessness a lot of the time."
Spang and his wife Melissa Spang are both 48 years old and have five children. Before his misdiagnosis and subsequent surgery in January, the Spangs were living a happy life.
It all changed last year when Spang got the results back from a routine prostate screening. The doctor told him his blood test came back with an elevated prostate-specific antigen (PSA), a common sign of prostate cancer. Spang then got a biopsy to detect whether or not the elevated PSA was in fact due to prostate cancer.
Spang's doctors told him that his biopsy came back positive for advanced prostate cancer and together, he, his doctor, and his wife discussed the best action plan. His doctors recommended a radical laparoscopic prostatectomy in which the surgeon would remove his entire prostate gland, not just the affected prostate. He decided to go through with the permanent procedure in hopes that it would save his life.
But what Spang thought was a near-deadly prognosis was actually another patient's biopsy results.
"The error occurred in the preparation and reading of his biopsy. It was another patient's biopsy that was put on those slides," Spang's attorney Aaron Freiwald told a local CBS affiliate. Spang's name was on the slide but they put another patient's results under his name, Freiwald told Newsweek.
The family's attorney, Freiwald, filed a malpractice suit on their behalf. The two defendants being sued are the urology group that conducted the biopsy and issued the prognosis as well as Tower Health, the company that provided lab personnel including the lab manager.
Freiwald said Spang requested another biopsy be done to be certain he did have prostate cancer. His urologist recommended against it even though the doctor told Sprang after the biopsy that his prostate "looked pretty good" and the other tests showed nothing of concern.
"When you add up all those things that were reassuring, at some point why didn't you question the biopsy itself?" Freiwald told Newsweek.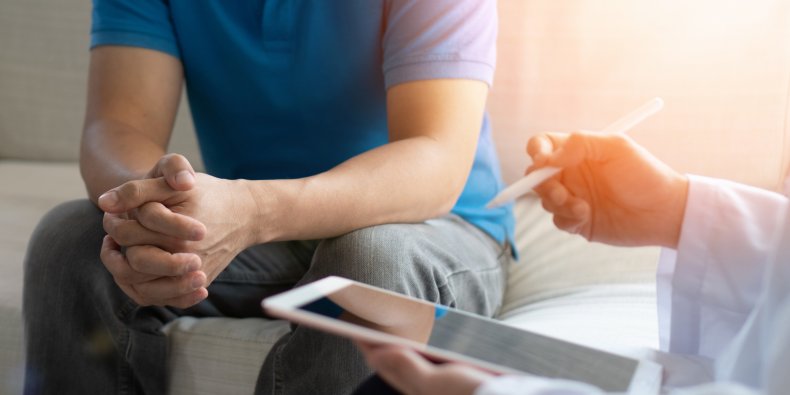 Spang said the doctors involved have taken away his "emotional stability" and his "ability to be a man." He said he suffers from constant urinary leakage and erectile dysfunction due to the surgery.
Now Spang and his wife are worried about the other patient who got Spang's biopsy. CBS3 reported the doctors told Spang that they consulted the other patient about the mix-up and confirmed with him that he does have cancer.
Men over 45 are strongly encouraged to discuss prostate screenings with their doctors and to discuss their family history and risk factors. A screening consists of a blood test that tests for high levels of PSA, a protein produced by cancerous and noncancerous tissue that is located within the prostate gland. Some tests also include a rectal exam which is done in the doctor's office.
But the American Cancer Association always recommends getting a second opinion from another trusted physician or oncologist. While Spang did receive a second opinion from a multidisciplinary team including an oncologist, opinions were formed based on the biopsy screens that did not belong to him.
"In this mix-up, you could get 1,000 pathologists to read the slides, they're all going to say the same thing," Freiwald told Newsweek. "So the real question is not really a second opinion question but first of all why did this horrible lab mix-up happen at all? It shouldn't ever happen, it's completely avoidable if they had been more careful and if they had the right policies in place."
The other doctors recommended he go through with the life-saving surgery based on the information provided by the "mixed-up" biopsy, Freiwald told Newsweek.
"I had faith in the medical team, faith in medicine and I don't understand how this happened," Melissa told CBS3. "We just don't want this to happen to anybody else. Nobody should have to go through this."
Updated 09/23/2021, 1:16 p.m. ET: This story has been updated with a statement from Spang's attorney Aaron Freiwald.
Correction 09/23/2021, 1:16 p.m. ET: This article was corrected to reflect that Spang received a second opinion from a multidisciplinary team including an oncologist.
Correction 09/23/2021, 2:24 p.m. ET: This article was corrected to reflect that Eric Spang is from Mohnton, Pennsylvania.
About the writer
Samantha Berlin is a Newsweek reporter based in New York. Her focus is reporting on trends and human-interest stories. Samantha joined Newsweek in 2021. She is a graduate of Syracuse University's S.I. Newhouse School of Public Communications. You can get in touch with Samantha by emailing s.berlin@newsweek.com. Languages: English.