Man Captures 'Out of This World' Graduation Photo Featuring Lunar Eclipse
Graduating from college is always a huge moment, but this week one man's graduation was made even more incredible by the coinciding lunar eclipse.
On Reddit on Tuesday, Vincent Ledvina—who uses the Reddit handle u/VincentLedvina—shared the incredible image of the moment where he posed below the glowing moon in his graduation cap and gown. With more than 123,000 upvotes and thousands of comments, the image has wowed viewers online.
Living in Grand Forks, North Dakota, Ledvina graduated with a B.S. in Physics on the same day as the lunar eclipse.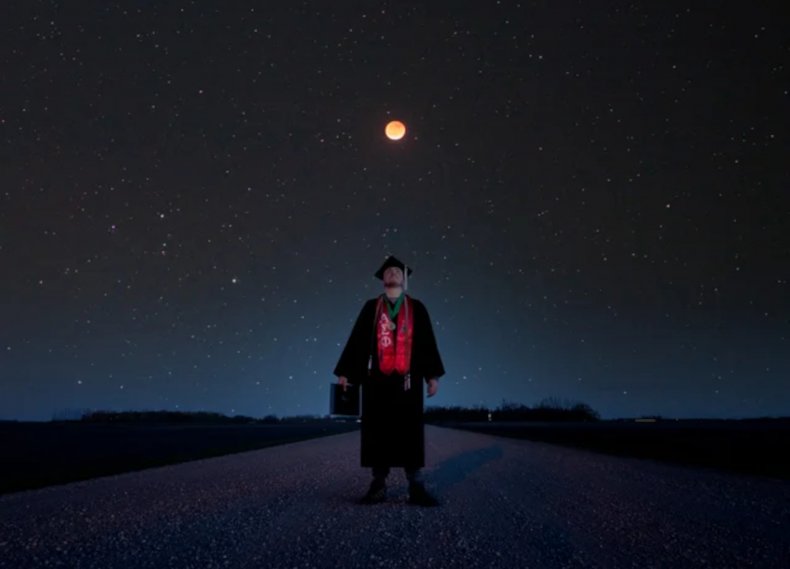 The total lunar eclipse was visible throughout much of the U.S. from Sunday, May 15 until early Monday morning. A total lunar eclipse occurs when the entire moon falls within the darkest part of the Earth's shadow because the Earth moves into a position between the sun and the moon.
Lunar eclipses often make the moon appear red in color because although the Earth is blocking the light of the sun, some light is scattered through the Earth's atmosphere and reaches the moon.
Ledvina told Newsweek: "I felt like the eclipse happening on the same day as my graduation was too good of a coincidence to pass up, so I went out with some friends and my camera and we watched the eclipse from out of town, and I took my grad photo—something that related back to my degree and a unique shot that I don't think will be replicated for a while."
Internet users were in awe of the incredible shot. One Reddit commenter said: "I firmly believe that this is, quantitatively speaking, the most epic graduation photo I have ever seen. Galileo would be proud."
Another Redditor wrote: "This is the most amazing graduation photo I've ever seen," and one user agreed: "It's out of this world."
Those looking to create their own incredible eclipse photograph won't have too long to wait. The next lunar eclipse is due to occur on the night of November 7 and November 8 this year. Visible across much of North America, but particularly in western areas, it will once again feature at least 84 minutes of total eclipse—highly unusual, Timeanddate.com says that these are the two 2022 eclipses are the most balanced in 430 years.
"I'm absolutely floored that people like the photo," said Ledvina. "It's a great way to share my excitement for graduating and passion for astrophysics all in one shot."
"Don't even make a resume when you apply to places just send them this picture I'd hire you," said one Reddit user. Another commenter wrote: "Dude officially won as the best grad photo taken ever."
Ledvina is currently in a graduate school certificate program for space weather and hopes to work in space weather and solar physics. "I plan on completing that in Spring 2023 then I will apply to graduate school and get my Ph.D.," he said.