Man Carjacks Ambulance After Assaulting Crew Transporting Him: Police
A routine ambulance run took a turn for the chaotic on Friday when a passenger aggressively took the wheel.
Nicholas Albano, 31, was being transported to a nearby hospital in a private ambulance in the early morning hours of Friday, according to NBC Washington. At around 2:40 a.m., Albano, of Hyattsville, Maryland, began to assault staff members in the vehicle.
During the altercation, Albano reportedly put one ambulance worker in a headlock and began punching them repeatedly. The driver at one point attempted to help subdue the passenger, but his efforts were in vain and Albano eventually took the driver's seat.
The workers exited the emergency vehicle in Rockville, Maryland, and Albano drove off, according to the Montgomery County Police Department.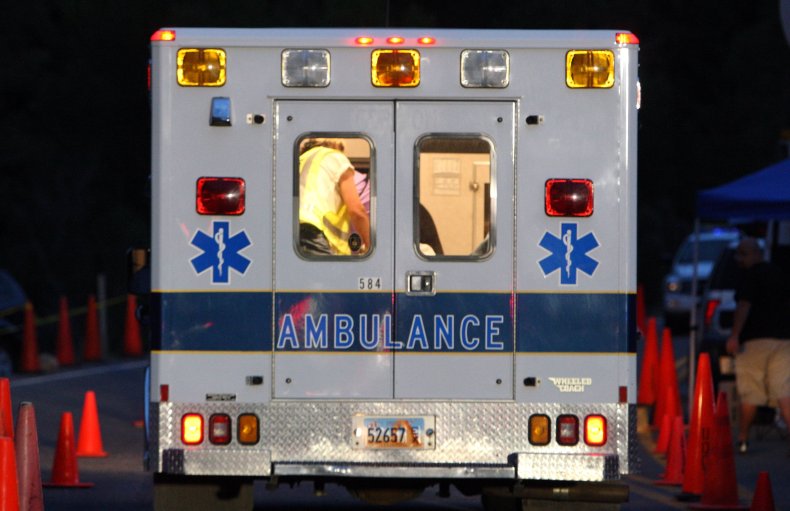 Officers from the department soon began pursuing the rogue ambulance, resulting in an extended chase that crossed state lines. Albano initially fled down Interstate 270, eventually getting onto the Beltway that surrounds Washington, D.C., and later crossing the American Legion Bridge into Virginia.
Authorities were finally able to bring the ambulance to a halt on Route 110 in Arlington, not far from the Pentagon and roughly 20 miles from where Albano initially took off from. The man surrendered to the Virginia State Police and was booked at the Arlington County Detention Center.
As of Saturday, he remained in custody there awaiting extradition back to Montgomery County. He now faces charges of carjacking, first-degree assault, second-degree assault, and reckless endangerment, as well as a few additional charges in Virginia.
Newsweek reached out to the Montgomery County Police Department for a comment on this story.
A similar instance of ambulance theft also played out in Maryland earlier last month. On January 7, the Carroll County Sheriff's Office reported that a Baltimore County Fire Department ambulance had been stolen from Carroll Hospital Center. Police located the stolen vehicle on Route 32 and pursued it for a short time. The chase eventually ended after the ambulance collided with vehicles from the Maryland State Police and the sheriff's office, the latter of which was pushed into another parked car.
Another instance of ambulance joyriding came to a splashier end in New York last summer. In a statement from June 2021, state police confirmed that a stolen ambulance had led authorities on a two-hour chase starting near Utica. The pursuit came to an abrupt end when the driver crashed the vehicle into Irondequoit Bay, a body of water just off of Lake Ontario near Rochester. The driver attempted to swim to a private watercraft docked in the bay, but was arrested soon after.