Man Carries Out 'Magical' Library Proposal for Girlfriend in Viral Video
Marriage proposals caught on camera often make the rounds on the internet for their ability to pull on viewers' heartstrings.
One such engagement between Cellas Hayes and his now-fiancée Mweyeria Offord went viral after he set up what one commenter called a "magical" proposal.
"This girl doesn't know she's about to become a fiancé," Hayes writes in text over the December TikTok video that has now been viewed 1 million times.
The video goes on to show Offord riding in a car to what viewers find out is J.D. Williams Library at the University of Mississippi.
"At the library, she loves books and has a BA in English Lit.," he writes over an image of the building.
He then explains that he sent her on a scavenger hunt using book numbers and inside each book was "specific letters capitalized spelling out 'will you marry me?'" he wrote.
In a 2020 survey, The Knot found 63 percent of couples said the original timing of their proposal changed because of the COVID-19 pandemic. Beyond that, 61 percent of those surveyed responded that "the originally-planned date was further delayed by several months due to restrictions and ever-changing precautions across the country."
Earlier this month, The New York Times reported that nearly 2.5 million weddings are expected to happen this year in the U.S., according to data from the Wedding Report, a trade group in Tucson, Arizona.
The findings estimate that about 20 percent of weddings planned for 2021 were postponed to 2022.
Hayes told Newsweek in an email that he and Offord have been together "technically" for five years, since they were teenagers. He said he has always known he would be with her forever "in some capacity."
"I have always known I would pop the question but the thing I struggled with was 'how,'" he said. "When we had our son, Caspian, the idea really became emphasized, but I still struggled with how."
He said it took somewhere from six months to a year to "mentally prepare" for how he would ask her until the idea for a scavenger hunt popped into his mind. Despite some logistical roadblocks everything happened in the matter of a week.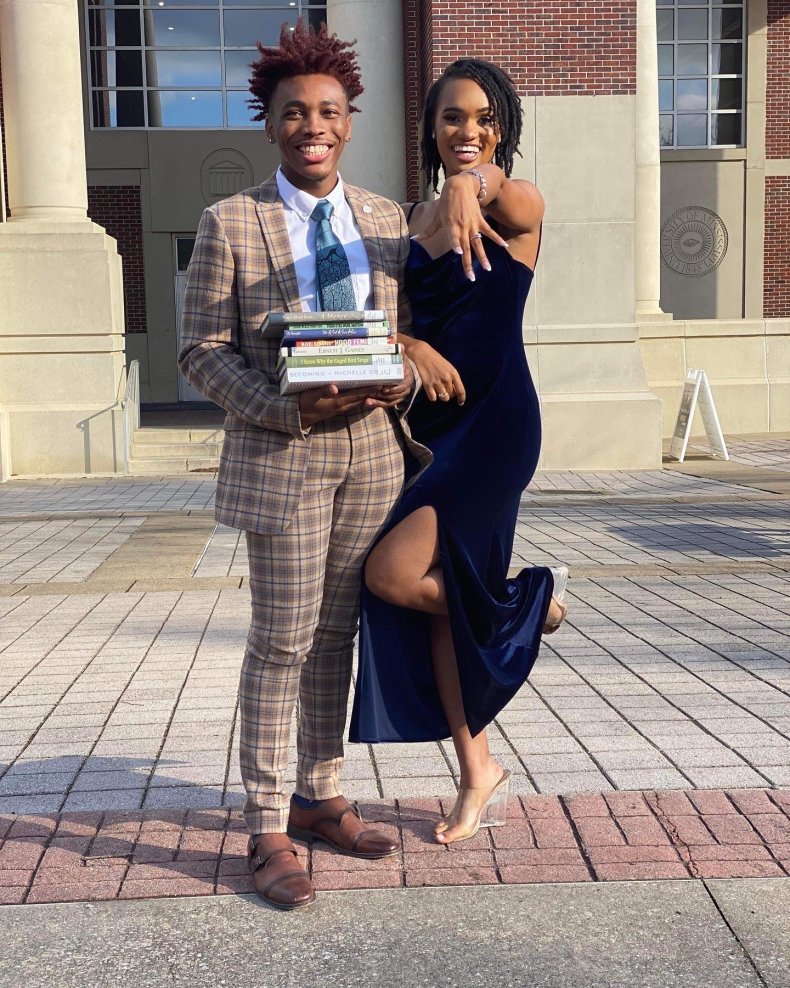 "I bought the ring Monday. I chose the books Tuesday, made the tea dipped notes, and chose a friend for music and to guide her in the library," he said "On Wednesday, I put the notes in the books in the library that morning and proposed that evening at 3pm. Ultimately, I was able to propose in the exact spot we had our first conversation five years ago."
In the video, he shows Offord getting out of the car in dress.
"I look so dumb going inside of there like this," she says as she closes the door.
Hayes told Newsweek he told her they "deserved a nice dinner" which is where she thought they were going.
"She never saw it coming," he said.
In the video, he then shows a montage of images of her collecting the books and reading the enclosed messages. He then shows "the moment she sees me after unscrambling 'Will You Marry Me?'"
The woman walks outside to see Hayes down on one knee outside of the library with Beyoncé's song "1+1" playing in the background.
"Will you marry me?" he asks after she makes her way over to him.
She nods her head while saying something that's hard to make out then says "are you sure? About me?"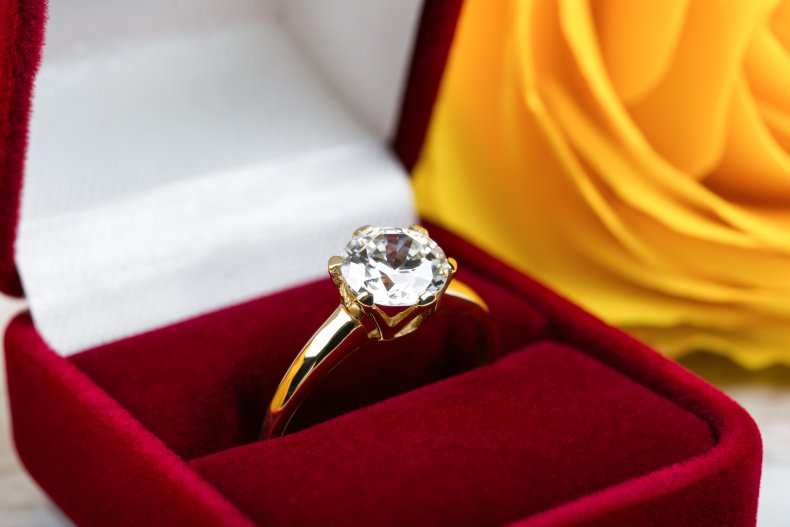 "Yes, YES," she says moments later. "I've been sure!"
Hayes then includes engagement photos of the couple including one where he is holding the pile of books included on her scavenger hunt.
"THIS, THIS IS LOVE," one commenter wrote.
"You thought of every second of this proposal," said another. "Congratulations."