An Arizona man who was allegedly involved in the U.S. Capitol riot on January 6 was identified by authorities by a massive tattoo on his stomach.
James Burton McGrew was arrested without incident on May 28 in Glendale, Arizona, on eight charges, including civil disorders;obstructing an official proceeding; engaging in physical violence and disorderly conduct on Capitol grounds; and assaulting, resisting or impeding an officer.
A criminal complaint filed by the FBI in the U.S. District Court of Columbia the day before his arrest alleged McGrew was seen in photos and videos shared on social media outside the Capitol wearing a white T-shirt and a multi-colored white, gray and black jacket.
Body camera footage from Metropolitan police officers allegedly showed McGrew inside the building at approximately 2:52 p.m. on January 6. The footage reportedly caught McGrew lifting up his shirt to wipe his face, revealing a giant tattoo reading, "King James."
The tattoo was already known to authorities from a booking photo from a 2012 arrest on unspecified charges.
According to the affidavit, body camera video also reportedly showed McGrew aggressively confronting police officers. McGrew was heard yelling "we're coming in here, whether you like it or not" and "fight with us, not against us."
At one point, McGrew allegedly held up his phone and began naming the officers around him, as well as reading their badge numbers.
A few minutes later, the video showed McGrew inside the Capitol Rotunda. When law enforcement officials attempted to push back the crowd, McGrew allegedly "lunged forward to strike an officer."
McGrew initially retreated after hitting the officer but then moved forward again and allegedly struck another member of law enforcement, according to the affidavit.
When one officer told McGrew to "just leave," the affidavit said McGrew responded, "You leave. You leave. This is our house."
The day after the January 6 riot, a "concerned citizen" contacted the FBI about McGrew. The tipster said McGrew planned to travel to Washington D.C. to protest the election results and that upon return he was showing people video of himself inside the Capitol.
On February 26, another person called the FBI and reportedly said McGrew assaulted police officers during the riot. The person also emailed agents photographs of an individual believed to be McGrew inside the Rotunda.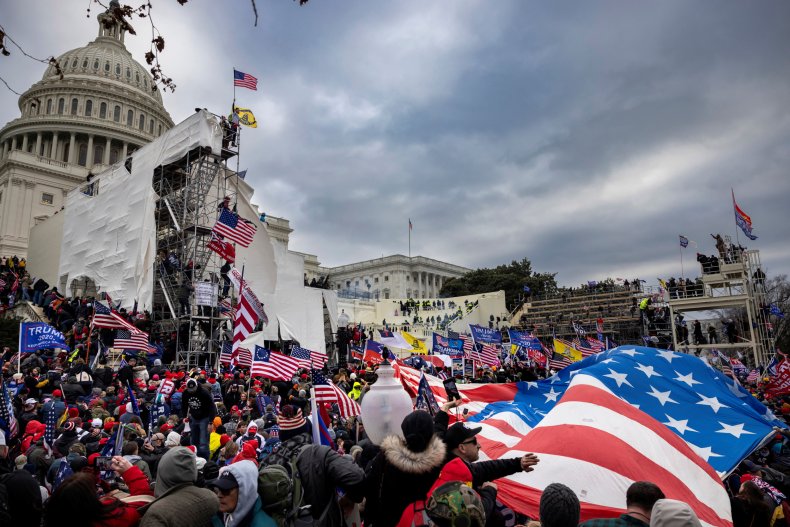 Thousands of Donald Trump supporters gathered in Washington, D.C., on January 6 to protest the congressional certification of President Joe Biden's victory. Photographs of show people clashing with law enforcement, breaching the building and making their way through lawmakers' offices.
Five people died during or shortly after the attack, including Capitol Police Officer Brian Sicknick, and dozens more were injured. Two officers who helped fight the Capitol mob later died by suicide.
Federal prosecutors are continuing to charge participants in the Capitol riot. The Department of Justice said more than 400 people have been arrested so far, and that 100 more are expected to be charged.
Updated 06/03/2021, 2:18 p.m. ET: This story has been updated to include additional information about McGrew's arrest.