Man Charged for Flying Helicopter to Dairy Queen for Ice Cream Cake
A helicopter pilot hoping to satiate cravings for ice cream cake by landing directly outside a Dairy Queen got a sour surprise last week when the Royal Canadian Mounted Police (RCMP) charged him with making an illegal landing.
The unnamed pilot, who was licensed to legally operate the helicopter but not to land it outside the Tisdale, Saskatchewan ice cream shop, was charged with one count of dangerous operation of an aircraft on August 4, according to an RCMP release. The landing, taking place in "a high traffic parking lot," was made around 5 p.m. on July 31. RCMP says that "the helicopter blew up dust and debris through the area, which includes schools, an aquatic centre and more."
After the helicopter landed, a passenger immediately got out and quickly headed to the Dairy Queen to purchase the ice cream cake. While no details were released concerning the identity of the passenger, RCMP said the pilot is 34-year-old man who lives in Leroy, Saskatchewan—which is located about 105 kilometers, or 65 miles, away from the Dairy Queen. Leroy does not have its own Dairy Queen location.
Tisdale Mayor Al Jellicoe told the CBC that he happened to be driving near the ice cream shop while the incident took place and had initially assumed that an air ambulance had landed when he spotted a red helicopter parked outside. He said that he was shocked to see a woman leave the helicopter, cross the street in front of him and enter the Dairy Queen.
"Well, I thought somebody must be hungry," Jellicoe said. "Initially, I thought that's probably not the right thing to do... the parking lot was empty when they landed. I suppose that doesn't make it right."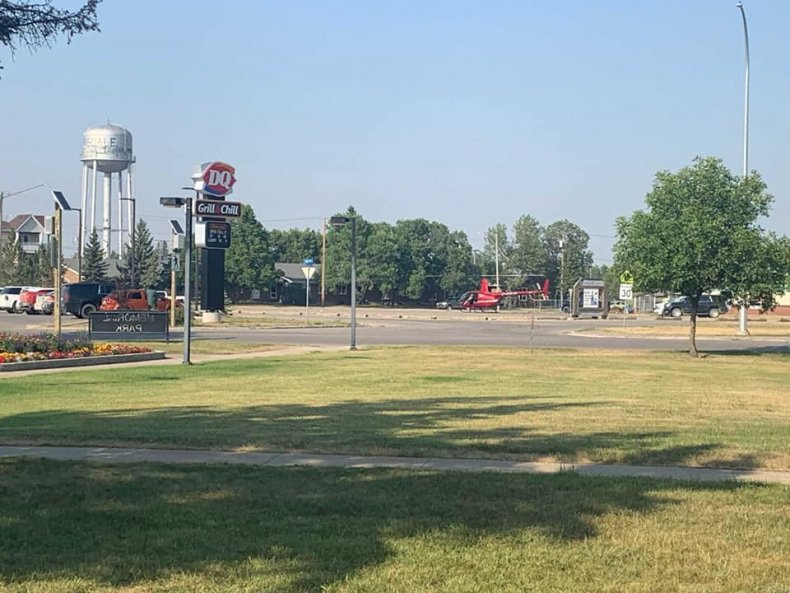 Tisdale Dairy Queen employee Kiara Broeckel told The Canadian Press that store workers were unaware that the helicopter incident had even taken place until the RCMP press release about the man's arrest had been issued. She said some locals had come to the store in hopes of witnessing another landing or to find out if the ice cream cake was good enough to justify a helicopter airlift.
"Apparently they are [good enough]," Broeckel said. "I wouldn't think you would take a helicopter to go get ice cream, but I guess some people do."
Regardless of the quality of the cake, an RCMP investigation determined that the helicopter landing was "not an emergency." The pilot is expected to appear in a Melfort, Saskatchewan court on September 7. He will, presumably, not be arriving by helicopter.
Newsweek reached out to the Tisdale Dairy Queen for comment.