Man Charged in Jan. 6 Riot Faces Charges in Arizona for Allegedly Damaging Hanukkah Display
A man facing charges in the January 6 U.S. Capitol riot was charged with misdemeanors in a separate case for allegedly damaging a Hanukkah display last year outside the Arizona Capitol, the Associated Press reported.
Tim Gionet, a far-right social media personality who calls himself "Baked Alaska," has not yet entered a plea for the criminal damage and attempted criminal damage charges he faces in Arizona.
Though prosecutors have not provided specific details on the charges, one of the people who helped set up the Hanukkah display honoring the Jewish Festival of Lights said that Gionet is seen in a video tearing down a sign. Rabbi Levi Levertov said the targeting of a religious sign was cause for concern, even though it wasn't very valuable, the AP reported.
"It's an attack on an entire community," Levertov said. "That's the way I look at it."
Gionet is also awaiting sentencing after being convicted of misdemeanor offenses for shooting pepper spray at a bar employee in Scottsdale, Arizona, according to authorities. In another unrelated case, Gionet is accused of storming the Capitol with a mob of former President Donald Trump's supporters on January 6.
Gionet livestreamed for roughly 27 minutes inside the Capitol, entered offices inside the building, urged other rioters not to leave and called one police officer an "oath breaker," according to authorities. He also allegedly said he was a member of the media when law enforcement asked him to move. Prosecutors are arguing that Gionet, a former BuzzFeed employee, is not a journalist, while his lawyer said he intended only to film when he went to Washington, the AP reported.
He is facing charges of knowingly entering or remaining in a restricted building or grounds without lawful authority, violent entry and disorderly conduct on Capitol grounds, according to the District of Columbia attorney's office.
For more reporting from the Associated Press, see below.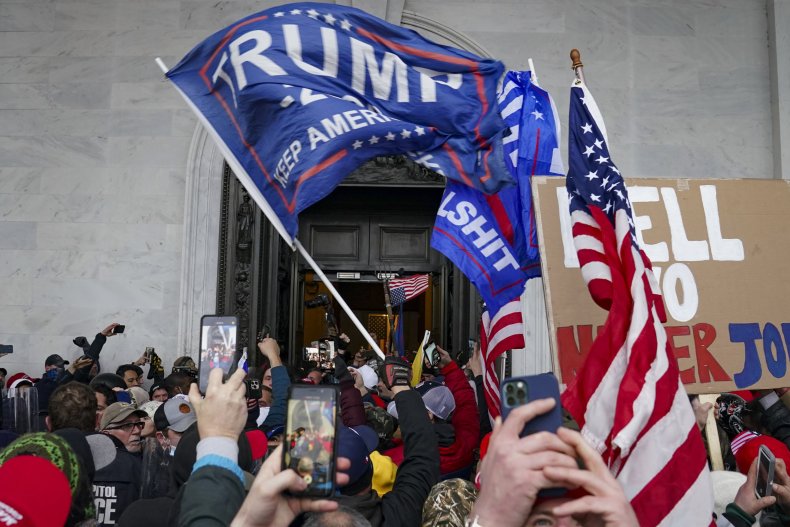 Gionet's attorney, Zachary Thornley, didn't immediately return a call Monday seeking comment on behalf of his client.
The federal court record doesn't say whether Gionet has entered a plea on the charges related to the Capitol riot, though his attorney said in a court filing that his client would be found not guilty if the case goes to trial.
In the Scottsdale case, Gionet was convicted of assault, disorderly conduct and criminal trespassing.
Police say Gionet made customers uncomfortable when he and friends were inside the bar livestreaming video, refused to leave when asked to do so and got into an argument with an employee who pushed him out of the door, leading Gionet to shoot pepper spray twice, The Arizona Republic reported.
He is scheduled to be sentenced on January 13.
In a 2017 interview with Business Insider" Gionet said that he was given the nickname "Baked Alaska" because he grew up in Alaska and that he smoked marijuana at the time.