Man Charged With Murder of 7-Year-Old at McDonald's Drive-Thru Was Awaiting Trial on Other Felony Charges
Marion Lewis, the man charged with the murder of 7-year-old Jaslyn Adams at a Chicago McDonald's drive-thru, was awaiting trial on other felony charges at the time of Adams' death, prosecutors say.
Lewis has two felony juvenile cases pending—one for burglary and looting and another for possessing a stolen motor vehicle. Authorities also said that the 18-year-old was previously convicted in juvenile court on a gun charge, possessing a stolen motor vehicle, criminal trespass to vehicle, burglary to auto and attempted residential burglary.
On Saturday, Chicago police announced the charges against Lewis in the April 18 incident, when Lewis shot both Adams and her father, Jontae, outside the fast-food restaurant.
Adams was pronounced dead from three gunshot wounds, while Jontae survived after being shot in the torso and is recovering from his injuries. Her father said Lewis had threatened him in the past and identified one of the shooters as a member of a gang.
Police say Lewis pulled up behind the father and daughter at the drive-thru before two gunmen stepped out of Lewis' car and opened fire on the Adams; one was armed with a 40-caliber pistol and the other had an AK47-style rifle. Lewis never exited the vehicle, according to police.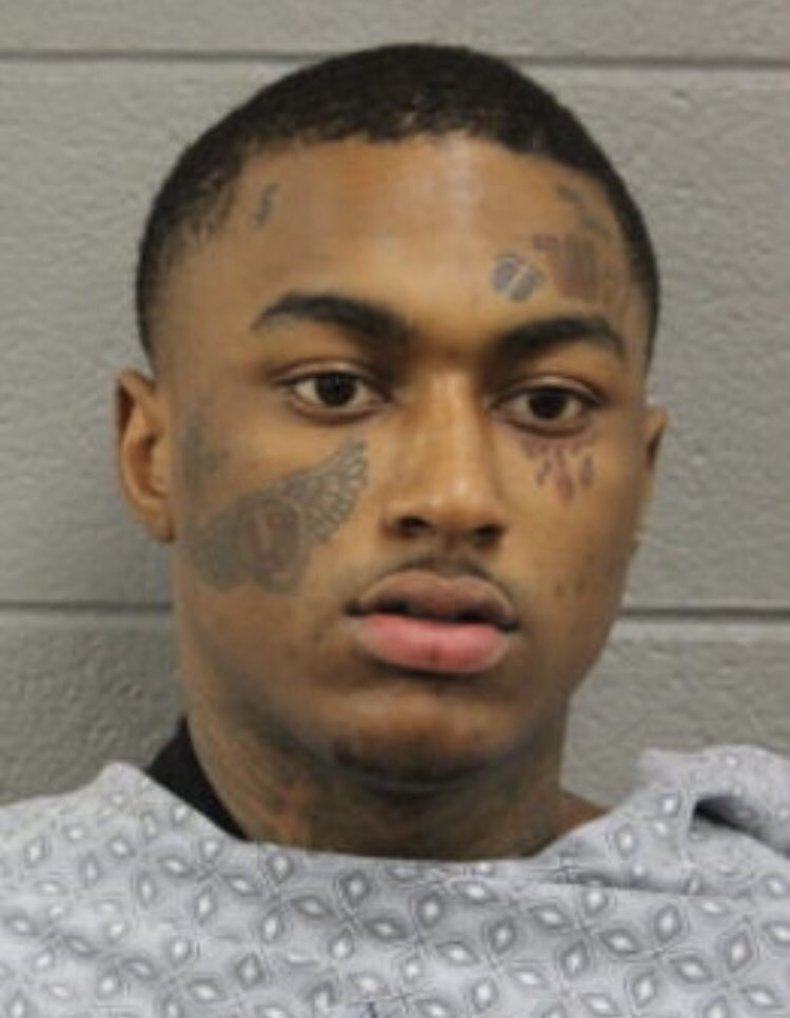 Chicago Police Superintendent David Brown told the press that Lewis was arrested and served a total of 16 felony charges after a car chase last Thursday afternoon.
When officers tried to stop Lewis, he crashed the car and fled the scene. He also ran into traffic lanes on the Eisenhower Expressway and carjacked another vehicle carrying five occupants, including young children. Police fired five rounds at Lewis while he was in the carjacked SUV and took him into custody after he was treated at a nearby hospital.
On Sunday, prosecutors charged Lewis with 18 felonies, including first-degree murder, robbery, aggravated vehicular hijacking, aggravated assault of a police officer, three counts of attempted murder, two counts of aggravated unlawful use of a weapon, five counts of aggravated discharge and three counts of unlawful restraint.
Lewis is the 18th person in Chicago to be charged with killing, trying to kill or shooting someone this year while awaiting trial on other felony charges, according to neighborhood public safety news outlet CWB Chicago.
Brown said police are still searching for more suspects in connection with Adams' death as the department continues its investigation.
"You can run, but you cannot hide. We are going to bring you to justice for this crime. The Adams family deserves nothing less," Brown said, addressing the suspects in question.
The two shooters involved in the McDonald's shooting have not yet been charged.
A judge ordered Lewis be held without bond. He is scheduled to appear in court again on April 29.
Newsweek reached out to the Cook County Court for comment but did not hear back before publication.