Man Charged Over Plot to Poison Wife's Drink With Fentanyl to Continue Affair
Arizona man Dallas Anthony Michaels was arrested on conspiracy to commit murder, after allegedly planning to his poison wife, claim her life insurance payout, and then elope with his mistress. Michaels, 42, was also charged with solicitation to possess narcotics.
The accused is suspected of plotting to kill his wife with a lethal dose of fentanyl, which police say he intended to put in her drink during a trip to California.
Mesa Police received a call from a woman on June 12, who reported that Michaels intended to murder his wife. The woman claimed that Michaels had repeatedly told her about his intentions over the past six months and had asked her to source the drug for him.
Investigators obtained a series of texts between Dallas and the woman, which suggested that he would give his wife an overdose of painkillers in a drink while on a family trip to the neighboring state. One text read that he was "doing it then."
Michaels pleaded with the woman to help him source Fentanyl in a text. "If you come across anything in the next few days please for the love of God let me know, otherwise it's going to be a long thought process on that 6 hour drive," he wrote, reported 12 News.
"If you can grab me 5 MG pills and like an 1/8th of weed, should be like $200. I'll give you $300," another text read.
Police listened to a recorded conversation in which Michaels intended to purchase the fentanyl from the woman and investigators believe he fully intended to carry out the crime.
Subsequently, Michaels was arrested. "He admitted to speaking to the female about killing his wife though he insisted he was more interested in killing himself," Mesa Police said in a statement. "He stated both he and his wife have life insurance policies and he described the overdosing strategy to avoid suspicion."
Mesa police said this was a well-executed operation and praised the officers involved in the case. "It was great and thorough work done by our detectives and the courage and support of the citizen who helped to solve this."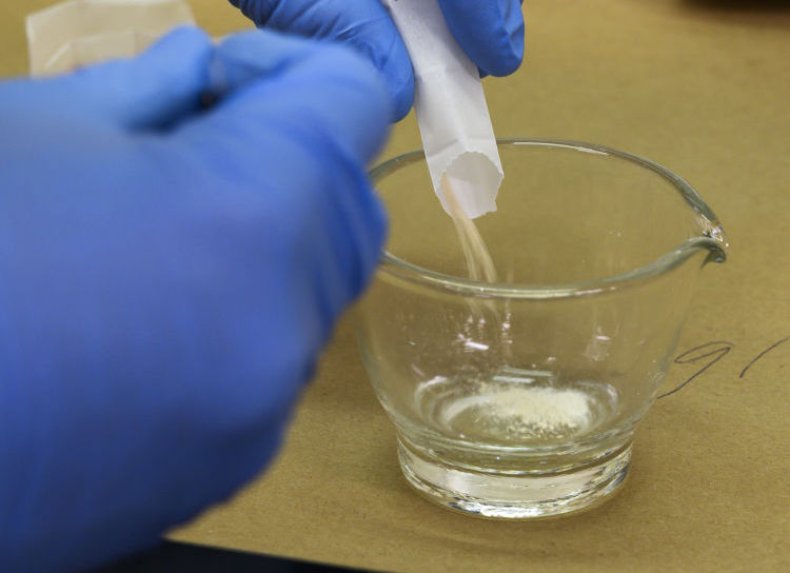 Fentanyl is a powerful synthetic opioid with a similar euphoric effect to morphine but is up to 100 times stronger. It's believed to be far more deadly than heroin.
It is sold on the black market as white powder that mimics the effects of natural opioids, such as opium or heroin.
Fentanyl is sometimes prescribed by doctors as patches, pills, tablets, lollipops and solutions for injections, after patients have gone through major operations or have severe cancer pain.