Man Charged With Raping a Woman on Board a Pennsylvania Train Now Detained
Police on Friday detained a man who allegedly sexually assaulted a woman Wednesday on board a SEPTA train in Upper Darby Township, Pennsylvania.
The man, identified as Fiston M. Ngoy, has been charged with rape, indecent assault and sexual assault, among other charges, according to Upper Darby Police Department's superintendent Tim Bernhardt.
Fiston was taken into custody by SEPTA officers after the incident while the woman was transferred to a hospital to treat her injuries, police said. He is detained in lieu of 10 percent of $180,000 bail, according to WPVI-TV in Philadelphia.
"The victim, I spoke with her this afternoon. She is an unbelievably strong woman. She came forward, she provided a lot of information, and she's on the mend," Bernhardt said.
The attack, which was caught on surveillance cameras, unfolded on the westbound train on the Market-Frankford Line on Wednesday night. A SEPTA worker alerted the police, who met the train at the 69th Street Transportation Center.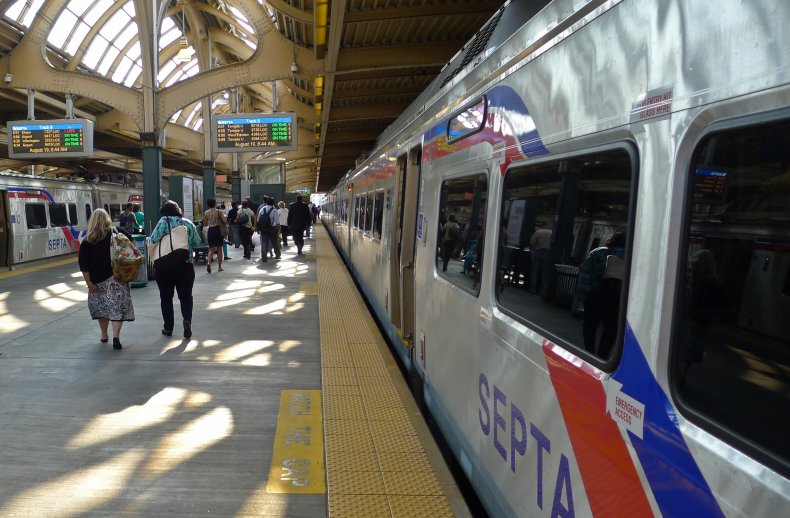 A SEPTA spokesperson told CBS Philly that a police officer found Ngoy on the train partially clothed with the victim present nearby.
Investigators said that the alleged attack happened while other passengers on the train were standing by and "did nothing."
Newsweek contacted SEPTA and the Upper Darby Police Department for comment.
Under the Pennsylvania Statutes, an individual is charged with rape when they force or threaten to force a person to engage in sexual acts against that person's will. Rape is treated as a first-degree felony in the state and perpetrators could be sentenced to 20 years in prison and fined $25,000.
Pennsylvania had a total of 4,351 cases of rape in 2021, according to World Population Review.
A number of rape cases were reported across the state recently. In September, a 14-year-old girl said she was raped and harassed in February by her manager at a McDonald's in Pittsburgh. The girl's family is suing McDonald's for the incident.
The family's lawyer, Alan Perer, alleged that Rice Enterprises, which operates the McDonald's branch in Pittsburgh, was aware that there was surveillance footage that showed the manager, Walter Garner, had groped the girl and other women reported that he harassed them.
"Making comments, making advances, and the response was nothing. They didn't get rid of him. They didn't chastise him. They didn't supervise him," Perer said in September.