Man, 74, Charged With Shooting New Neighbor's Pit Bull Dead: Police
A 74-year-old Maine man has confessed to shooting and killing his neighbor's dog, according to police.
In a statement issued to Bangor Daily News, Fort Kent Police Chief Michael DeLena confirmed that local resident Harold Thibeault had admitted to shooting Moose, a 3-year-old blue nose pit bull and had been charged with animal cruelty.
The canine's body was discovered in the yard outside his family's home on Summer Street at around 4:30 p.m. on Friday, September 30.
According to the news outlet, Moose's body was found by his owner, Dr. Alexandra Roberts, a family physician and obstetrician at Northern Maine Medical Center.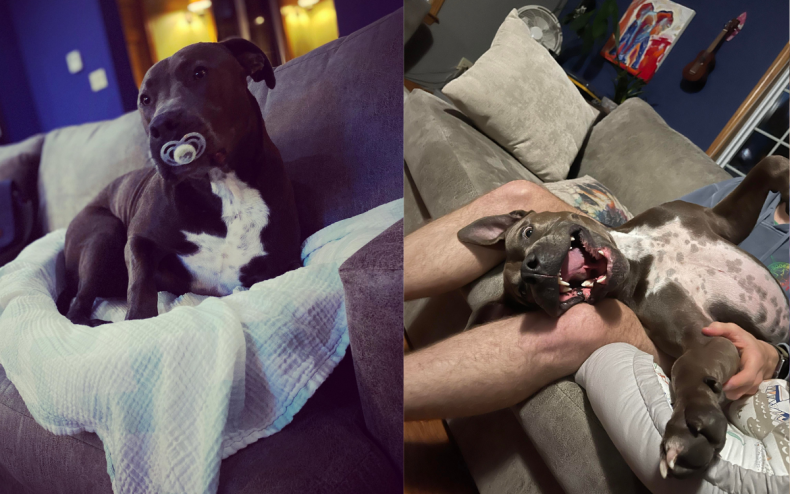 Roberts was reportedly first alerted to Moose's disappearance by her nanny who had been unable to locate him.
Upon discovering her dog's body, Roberts noticed a bullet hole in his chest and contacted the police.
Moose's body was brought to Eastern Maine Emergency Veterinary Clinic in Brewer for further examination. Subsequent X-rays confirmed a small projectile had been shot into the dog's heart.
Roberts took to social media with friend Kellie Jandreau to appeal for help in tracking down Moose's killer, telling followers the projectile removed from her dog's body was thought to have come from "a high-powered pellet gun."
"If anyone heard anything in this area or knows anything PLEASE reach out to me," Jandreau wrote in a Facebook post shared by Fort Kent Police. "We're trying to figure out what happened to give this young family some healing with this big loss."
Within 24 hours, Thibeault, who lives in a government housing complex across the street from Roberts and her family, had been identified as a suspect.
Once questioned, Thibeault confessed to the shooting. The Daily News reports that he was charged with animal cruelty, which is a class D misdemeanor, carrying with it a fine of up to $2,000 and potentially a maximum of 364 days in prison.
DeLena told the Daily News that the investigation is ongoing with further charges pending. "We have zero tolerance for animal cruelty and anyone committing these types of acts will be held accountable for their actions," he said.
Roberts told Newsweek her family, which includes two young children, have been rocked by the incident, which comes just a week after they moved into their new home.
Roberts was especially confused as there had been no complaints about Moose during their short time in the new home.
"Moose was the most gentle, loving, goofy and patient dog. He was loved by everyone who knew him," Roberts said. "Everyone in our neighborhood knew him and loved him. No one had ever complained about him once in the three years we lived here."
"This was an act of senseless violence," she said. "It has devastated my family beyond the loss of our beloved dog. It has violated my sense of security and peace in my own home."
In the wake of the arrest, she took to Facebook to thank local residents for the important role they played in bringing Thibeault to justice.
"The police said he would not have been apprehended if it wasn't for the community coming together to share information and camera footage," she wrote. "From the bottom of my heart, thank you."
However, Roberts also hit out at the "ridiculously low sentence" attached to such a "heinous crime," telling Newsweek: "I plan to work towards changing these laws with our local and state government officials and animal rights groups. This senseless act will mean something."
Newsweek has contacted Fort Kent Police Chief Michael DeLena for comment.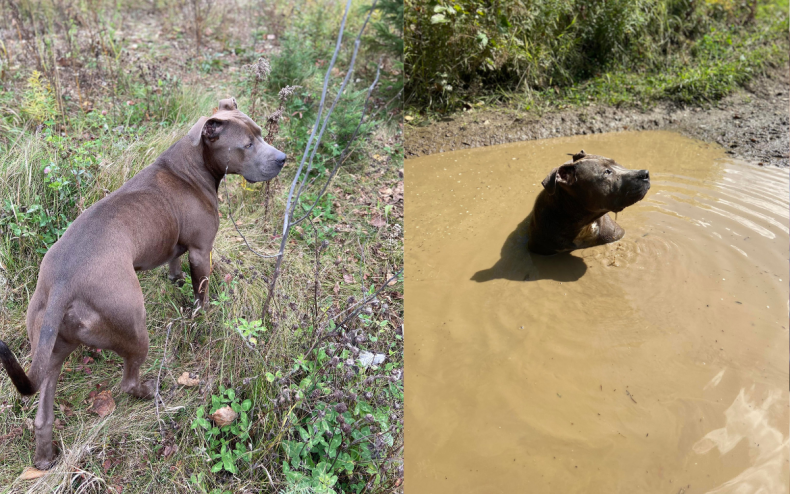 Update 10/4/22 3:30 a.m. ET: This article was updated with comment and video from Alexandra Roberts.