Man Charged With Threatening President Biden With 'Fatal Head Wound'
The U.S. Secret Service has stopped a man who told federal agents he was on his way to assassinate President Joe Biden, planning to "lop off the head of the serpent in the heart of the nation," court documents allege.
Scott Merryman, a contractor from Independence, Kansas, drove to Hagerstown, Maryland, on Wednesday with the goal of meeting with President Biden, according to an arrest affidavit from the Secret Service. While en route, he called the Washington D.C., Secret Service office and told them of his intentions to harm the president, according to the criminal complaint filed on Friday.
Merryman was eventually stopped by the Secret Service in the parking lot of a Washington D.C., Cracker Barrel restaurant.
During this initial interview with Secret Service agents, Merryman allegedly told them that he had been "instructed by God" to give President Biden information from the Bible, adding that he would tell this information to anyone at the White House that would listen. Merryman added that he wanted to tell the president to "turn back to God or go to Hell," and made numerous other biblical references, authorities said.
Secret Service searched Merryman and found a loaded magazine for a .45 caliber handgun, authorities said. However, the firearm was not located, according to the affidavit, and Merryman would not divulge its location, authorities said.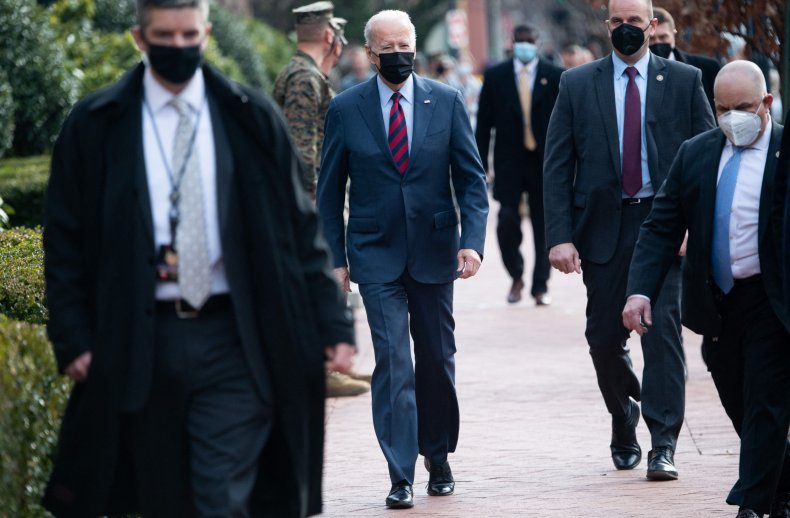 Merryman then allegedly called another Secret Service agent and told him that he had "a bullet with your name on it" while doubling down on his threat to hurt the president via fatal head wound.
During their investigation, Secret Service agents said, they found that Merryman had posted a number of threatening messages on social media from January 25 to January 27. The arrest affidavit included screenshots of these social media posts, one of which stated: "When I get to DC, I'm jumping a fence, I'll see Biden, and in some capacity I'll slay the Anti-Christ."
"I'm coming for you Agents of Death and Destruction ... I'm the one fighting for the souls of America," another social media post said.
A final post also encouraged people to call the White House and threaten the president themselves.
Merryman followed up by then calling the White House switchboard and telling the operator that he was "coming to the White House." The operator then advised the Secret Service of Merryman's call, after which he allegedly continued his threats when confronted once again by agents.
"I'm coming for his sleepy b**ch a** sleepy Joe. I'm talking about President Biden and you can quote me," Merryman allegedly told agents. "I'm coming with three bullets no guns," he said, according to authorities.
Merryman was eventually taken into custody by the Secret Service and charged with threatening the life of the president, as well as interstate communication containing a harmful threat. This is a class D federal felony punishable by up to five years in prison, as well as a maximum fine of $250,000.
However, more severe sentences have been handed down to individuals in the past. In January 2021, a Connecticut man was sentenced to nine years behind bars for threatening to kill former President Donald Trump, as well as other federal officials in 2018.
A 2018 report published in the medical journal Frontiers in Psychiatry states that "literature suggests that 75% of individuals who make threats [against the president] have been diagnosed with a mental illness."
Newsweek has reached out to the U.S. Department of Justice (DOJ) for comment.