Man Charged for Voting as Dead Mother for Trump in 3rd Case of Voter Fraud in Pennsylvania
Delaware County, Pennsylvania man Bruce Bartman was arraigned Friday after admitting to authorities that he had registered his dead mother to vote in the 2020 presidential election for President Donald Trump.
Trump, who lost both the popular and electoral votes to President-elect Joe Biden, has baselessly alleged that election manipulation allowed Democrats to "steal" the election from him. Despite already having certified its election results, Trump's legal team asked the U.S. Supreme Court to overturn Pennsylvania's final tally before Congress meets to formally count the electoral votes in January.
Bartman's case constitutes the third verified instance of voter fraud in Pennsylvania's presidential election. In a Monday press briefing, Delaware County District Attorney Jack Stollsteimer said Bartman committed the crimes in order to help Trump win.
"Bartman, who is a registered Republican, also registered his mother as a Republican," Stollsteimer said. "He has admitted to the detectives that questioned him that he did this to further the campaign of Donald Trump. He in fact cast the ballot of his deceased mother for President Trump."
Bartman used Pennsylvania's online voter registration website to register his deceased mother and mother-in-law as Republicans. Afterward, Bartman requested an absentee ballot for his mother. While Bartman did not cast a vote in his mother-in-law's name, his deceased mother's vote was counted in the final tally. Bartman was apprehended after investigators acted on a tip from social media that a dead person's ballot had been cast. Bartman also voted for Trump in the election.
In a comment to "conspiracy theorists," Stollsteimer said that the team that investigated Bartman's crime consisted of members of both the Republican and Democrat parties.
"It matters not a whit to us who he voted for," Stollsteimer said. "If he had voted for Joe Biden or he had written Donald Duck or Mickey Mouse, we would still be prosecuting this case because this is a violation of the integrity of the American electoral process."
Stollsteimer emphasized that Bartman's arraignment was not evidence of widespread fraud throughout the state.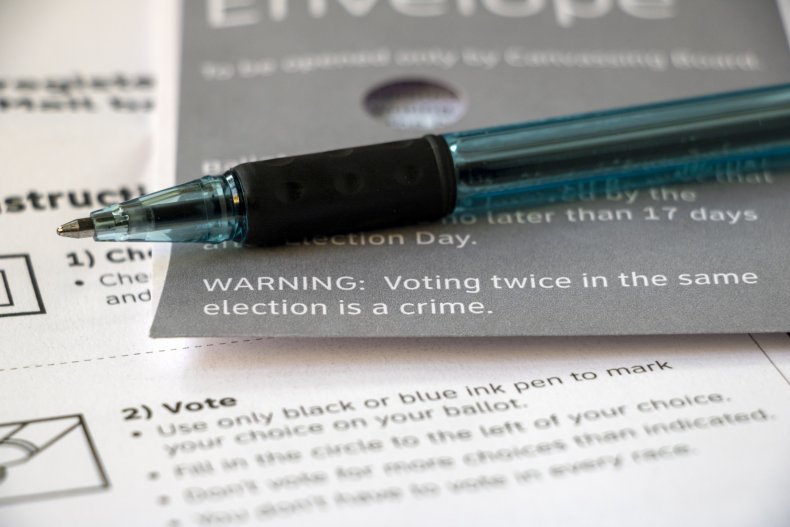 Bartman faces two felony counts of perjury and one count of unlawful voting.
Bartman's illegal vote in the presidential was not the only one recorded by Pennsylvania authorities. In November, criminal charges were filed against Malvern resident Ralph Thurman after he attempted to vote twice. After casting his own vote, Thurman returned to the same polling place wearing sunglasses and made an attempt to vote in his son's name. Thurman's case is still pending. Though it was not reported who Thurman voted for, he is registered as a Republican. His son is a registered Democrat.
Luzerne County, Pennsylvania man Robert Lynn was arraigned in October after he filled out an absentee ballot application for his mother who died five years ago. Lynn used a typewriter to complete the application. Election officials flagged the application and reported it to authorities. Lynn was charged with forgery and interference of an election.
"All such incidents we are aware of have been referred appropriately to law enforcement for investigation and prosecution as warranted," said the Pennsylvania Department of State in a statement emailed to Newsweek on Wednesday. "Penalties for conviction of these types of crimes are punishable by up to seven years imprisonment and up to $15,000 in fines, and attempts such as these occur extremely rarely due to the extensive checks performed by county election offices and the stiff penalties incurred."
Trump's attorneys have alleged fraud on a grander scale in Pennsylvania. On Sunday, Trump's campaign alleged that the tabulation of Pennsylvania's mail-in ballots had been fraudulent.
"The petition seeks all appropriate remedies," wrote Trump's personal attorney Rudy Giuliani in a Sunday statement, "including vacating the appointment of electors committed to Joseph Biden and allowing the Pennsylvania General Assembly to select their replacements."
Pennsylvania certified its election results for Biden in November, allocating its 20 electoral votes for Biden. A candidate must receive at least 270 electoral votes in order to move forward in the electoral process. Biden received 306 electoral votes to Trump's 232.
Even if Trump's lawsuit proves successful, the subtraction of Pennsylvania's electoral votes would leave Biden with 286 votes in the Electoral College. That would still be more than enough to move Biden into the White House.
Update (12/23/2020 10:52 p.m. EST): This story has been updated with a statement from the Pennsylvania Department of State.