Man Claiming to be German Soldier Arrested After Video 'Warning' Against COVID Restrictions
A man claiming to be a soldier in the German army has been arrested after posting a video making vague threats against government COVID restrictions, authorities announced Thursday.
The video included the man, who said he was an officer around the rank of a staff sergeant, voicing his opposition to vaccine mandates for service members and health care workers and saying they should be lifted. He said they had until "tomorrow" at 4 p.m. to revoke the rules, though it was unclear what day he was referring to, or what retribution he was threatening in his ultimatum, according to German news outlet DW.
The man said that "this is a warning." Text that accompanied the video said "soldiers are prepared for dialogue until 16:00 tomorrow."
"A video of a supposed soldier, which has been shared here a lot, is currently circulating online," the Defense Ministry wrote on Twitter, according to DW. "It contains threats against the rule of law that are unacceptable. The consequences are already being examined," it added.
Police said the man was arrested in the Munich area Thursday.
"Officers of the Munich Police arrested a Bundeswehr soldier in the center of Munich who is suspected of publicly inciting people to commit crimes. The further processing of the case lies with the Criminal Investigation Department Rosenheim, which has taken custody of the arrested man," police announced on Twitter, DW reported.
Protests have intensified over COVID restrictions in recent weeks, including several incidents like when six people were arrested on December 15 in the German state of Saxony for alleged online threats against several government officials and the possession of weapons like crossbows.
Hundreds of people participated in protests against recently announced restrictions on things like indoor gathering sizes across Germany earlier this week, according to CNN.
Twenty-three of the several hundred protestors in Saxony received criminal charges for physical confrontations that broke out with police that reportedly injured 12 officers and caused damage to at least 12 emergency vehicles.
Saxony currently has the lowest vaccination rate of any German state at about 63 percent, compared with the nationwide rate of just under 71 percent, CNN reported.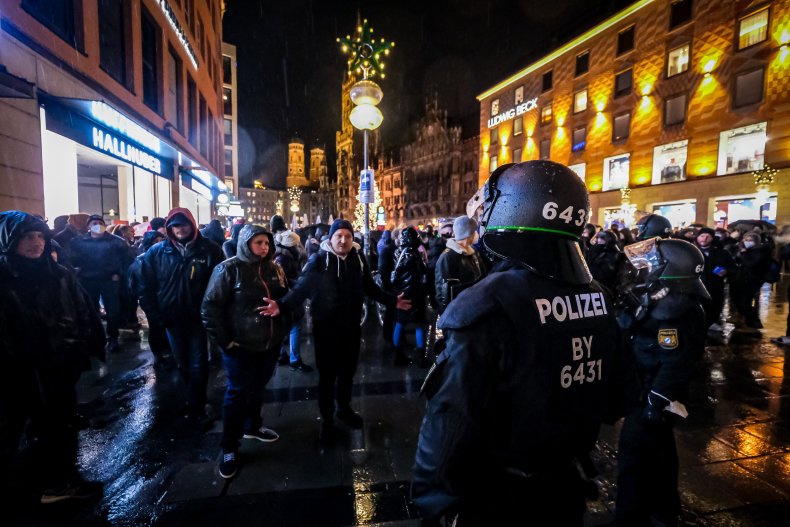 Police cars had been deployed to the area following a large demonstration on Wednesday by critics of coronavirus policies, in defiance of a ban.
Defense Minister Christine Lambrecht wrote that the military needs "upstanding people who stand firmly on the foundation of our constitution." Anyone who doesn't share those values "has no place in our Bundeswehr," she added.
The Associated Press contributed to this report.