Man Claims Cops Seemed 'Disappointed' They Couldn't Arrest Him on DUI
A driver detained for a potential DUI recorded the police's reaction to his breathalyzer test, claiming they were "disappointed" when they couldn't arrest him.
In a video with 1.5 million views on TikTok, anonymous driver @antenahethio showed a female officer ordering him to blow in a breathalyzer on Monday. She and other officers in the footage wore the emblem of the Hamilton Police Service in Hamilton, a city in Ontario, Canada.
As the driver attempted to use the breathalyzer, the officer repeatedly told him to blow again.
"If you're not able to do it, it's a refusal, okay, and that's an arrest," she told him.
The man kept blowing. After a few more breaths, she told him to "try it again."
"Okay you do it, let me see you do it," said the driver, becoming frustrated. "Because I'm trying my best to actually take all my breath and I run out of breath, right, eventually."
"It seems like you're trying to beat [it]," said the officer.
"Beat? No, no, I'm trying to do it the right way," said the man.
At that point, another officer said something and the female cop realized that she had set the breathalyzer wrong. She administered it again and the machine beeped, revealing that it hadn't been working before.
"Zero," the officer read quietly to the other cops.
"I got nothing, man," the man said. "I'm working, actually, I'm doing Uber. I wouldn't do that."
A second video with nearly 800,000 views showed the officers continuing to ask him further questions about his driving, suggesting that he had been distracted by Uber messages. The driver captioned the clip, "She really wanted to arrest me...Damn this cop looked disappointed that it's zero."
"You just wasted your time and my time," said the increasingly irked driver. "I'm actually at work right now, I'm working Uber, like I'm making money."
A male officer snapped back, "Yeah I get that, but would you consider her doing her job and ensuring that the roads are safe...?"
"I think she was racially profiling me, honestly," said the driver. "She was following me all the way around the block. You have no reason to pull me over."
The man was finally allowed to leave, but not before the male officer approached his car window and challenged him to say anything further.
The Hamilton Police Service confirmed to Newsweek that a driver was stopped early Monday morning for "driving in an erratic manner."
"The officer conducted a traffic stop to check on the wellbeing of the driver. Through interaction with the driver the officer developed suspicion that alcohol may be a factor in the driving behavior," said a spokesperson.
They concluded, "The officer administered the Approved Screening Device which determined that alcohol was not a factor."
Thousands of viewers reacted with disgust at the videos, which several users described as demonstrating a police "power trip."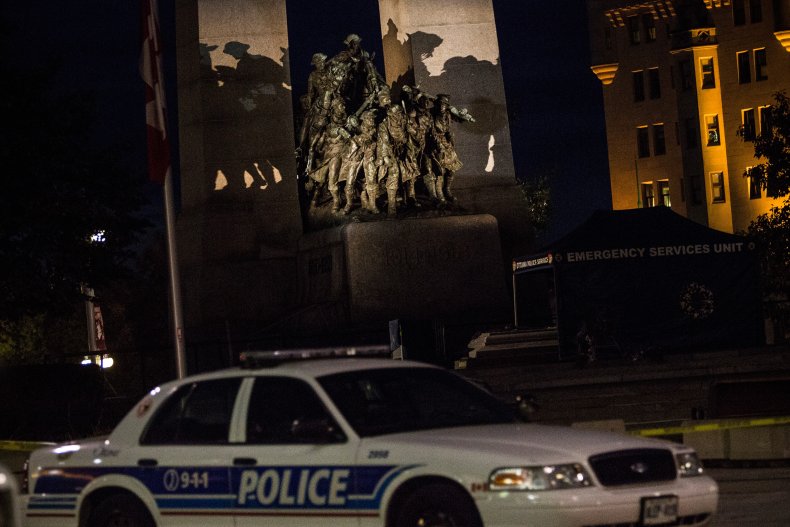 "All the cop had to do is to say, sorry I made a mistake, have a good evening. But she just stood there like a plant," fumed one comment.
"It's ridiculous, she would [have taken] him to jail if [the] other officer wasn't there [to] put the machine on [the] right setting. These [people] have too much power over us," said another viewer.
The Hamilton Police Service has recently come under fire for accusations of systemic racism.
Members of the city's Indigenous community have demanded changes after an officer allegedly assaulted an Indigenous man during an arrest in May. Video of the incident prompted a Hamilton police investigation and Constable Brian Wren was charged with assault on June 16, according to Global News.
Audrey Davis, executive director of the Hamilton Regional Indian Centre, responded to the incident by calling for a requirement that all officers wear body cameras and that all police vehicles carry dashcams.
She told Global News that many other Indigenous people and non-white Hamilton residents have experienced similar violence, arguing, "This is an incident that finally got some attention because there are charges laid—because of the video."
In Thunder Bay, another Ontario city, a scandal emerged in July over images of a police officer taking photos with a bride at the scene of an Indigenous woman's death. A Thunder Bay police spokesman told Newsweek the photos were taken in an "impromptu situation" and "there was no intent to cause any indignity or disrespect."
However, the Thunder Bay Police Service has also been previously accused of systemic racism by the Ontario Civilian Police Commission (OCPC). In March, Ontario's Officer of the Chief Coroner detailed the police's mishandling of investigations into the sudden deaths of nine Indigenous people, CTV News reported.
Meanwhile, in Montreal, Canada, a video of a police officer kneeling on the neck of a Black teenager drew outrage and calls for an investigation in June 2021, as many said the image reminded them of George Floyd's killing.