A video has gone viral after one TikToker shared his experience reporting his Uber driver after suspecting the driver exposed him to COVID-19 due to improper mask wearing.
Markus Harwood-Jones, an author based living in Canada, posted the video to TikTok which has now been viewed over 53,000 times.
Harwood-Jones told Newsweek in an email that he and his roommate had no outside contact for the week prior to the Uber, which was a ride back from their booster shot appointments. He says in the video that within two days of the ride, his roommate began to experience symptoms of COVID-19 and shortly after so did Harwood-Jones.
From there, Harwood-Jones says he decided to report their ride to Uber saying the driver's mask was not "over their face properly, and the whole car kind of smelled like smoke — it seemed like they had just been smoking in the car."
He shows screenshots of the exchanges with Uber in the background of the video. The initial response said Uber would send a reminder to the driver about mask usage and that Harwood-Jones would not be matched with this driver again.
"If you come across a driver not wearing a mask, feel free to cancel the trip and let us know," the message continued.
According to Uber's policy, both riders and drivers are obligated to wear masks while riding — no matter their vaccination status.
Though at least one commenter noted that showing symptoms two days following exposure is "quite unlikely," according to the CDC symptoms can appear anywhere from two-14 days after exposure.
In screenshots provided to Newsweek by Harwood-Jones, after the initial response from Uber stating that a message had been sent to the driver, he discloses that both he and his roommate had tested positive and that they believe the exposure occurred during their ride. His only request was that they refund him for the ride.
"I'm not interested in getting the driver fired, but I was hopeful they might offer a gift certificate or refund given the fact that we were most likely exposed in that car ride," Harwood-Jones told Newsweek in an email. "Unfortunately, I just got a very generic message that locked my account and did not reply to any of my messages."
It was after he disclosed that both passengers had tested positive for COVID that Uber responded to alert him that his account had been placed on a temporary hold for 10 days to "ensure the safety" of all users.
After attempting again to get a refund for the ride, Uber declines but adds "Please know that we take all safety related feedback seriously."
According to a statement from Uber provided to Newsweek, when the company learns that a rider or driver tests positive for COVID, their account is automatically waitlisted for the required isolation period starting from the time the report came in.
Uber also says that both drivers and riders can cancel a trip if the other party is not wearing a mask.
Commenters on the post are mixed over Harwood-Jones' actions questioning how he could know the driver is who exposed him.
"[Y]ou maybe have been exposed where you get your booster u know," one commenter said.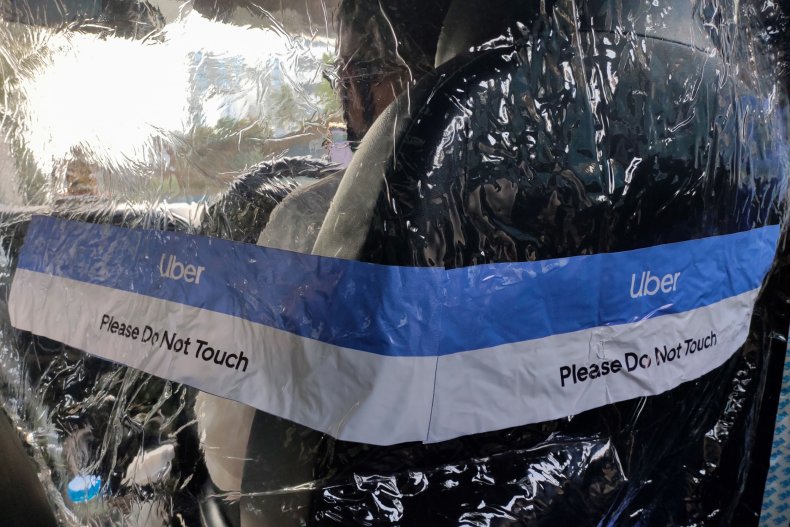 Harwood-Jones told Newsweek that he believes the ride was in fact where he got exposed because those at the clinic where he received his booster were distanced, in masks and there were not many indoors.
"You're taking a risk everytime you use Uber to be in an enclosed space with a stranger," one commenter wrote. "They're not going to give refunds so easily for this."
"Normally I'd agree but the face that the drive also had the mask below their nose puts the onus on the company, in my opinion," Harwood-Jones responded.
Others supported Harwood-Jones, tagging Uber in the comments to attempt to bring the issue to their attention.
Newsweek contacted Uber for comment but they did not respond in time for publication.
Update 12/30/21 3:55 p.m.: This story has been updated to include information provided by Uber.