A couple from Paradise, California, is facing scrutiny after filing an insurance claim that demands compensation for the destruction of a 500-pound emerald during the 2018 Camp Fire, according to the Sacramento Bee.
Larry and Alysia Biegler claimed that the gemstone, described as a "solid block of black schist and quartz with green crystals," was worth $280 million when the fire ravaged their home. That claim was among a selection presented by Pacific Gas and Electric in a filing on Friday to argue down their financial responsibility in the conflagration, which was ignited by a faulty electric line and caused $16.5 billion in estimated damages.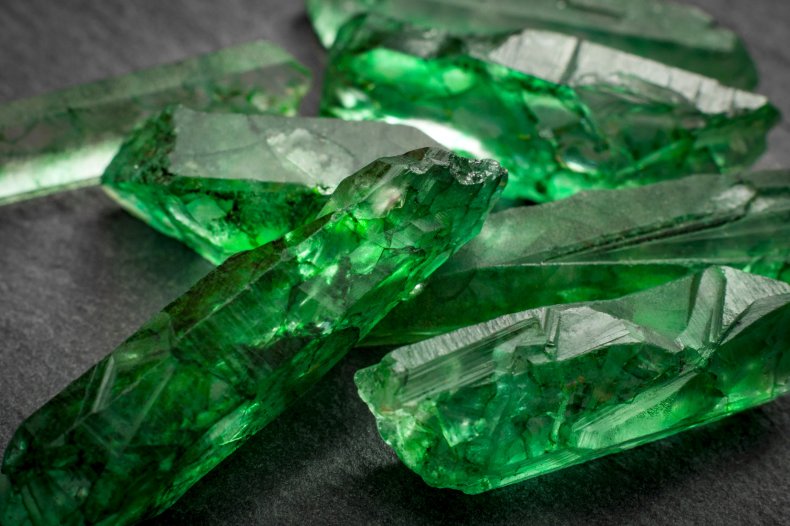 In the filing, the Bieglers call the stone the "Beleza emerald," but in Biegler's past he had possession of a very similar stone with a different name.
The Bahia emerald was originally mined in 2001 in northern Brazil. It is known as a "conglomerate," a mineral aggregation that includes precious gems embedded in less valuable material—in this case, schist like the purported Beleza stone. The Bahia was bought by a California investor for $60,000 and shipped to the United States in 2005.
That's where Larry Biegler came in. Allegedly, he made a deal with the buyer to help him resell the stone, to no avail. At one point, the Bahia was listed on eBay with a "buy it now" price of $75 million.
In 2008, Biegler called police and claimed the rock had been stolen by the Brazilian Mafia, which had also kidnapped him. The kidnapping is unconfirmed, and a court ruled that there was no theft—that the two men Biegler said had stolen the gem, Jerry Ferrara and Kit Morrison, had purchased the stone. The country of Brazil has requested the stone be returned, as they claim it was removed illegally.
Biegler claims that the Beleza emerald was mined in Brazil in 2017. That year, a large emerald was reportedly unearthed at the Carnaiba Mine. That stone, a chunk of schist with fragmented emeralds embedded, weighed in at 794 pounds and was valued at $309 million. It was allegedly purchased by an unidentified private collector with the initials "FG."
The Bieglers filed four additional duplicate claims against PG&E, each one for $4.5 million. PG&E has requested documents proving that the Beleza Emerald was in the Biegler's possession at the time of the fire, that it was kept in secure conditions and that it was actually destroyed in the blaze.
PG&E's response letter includes five other disputed claims, including a destroyed mobile home valued at $1.3 million and several wineries.
Correction, 11/21; 9:45 a.m.: This story originally said Ferrara and Morrison had stolen the stone; a court found they had purchased it in good faith. Newsweek regrets the error.