What Is the Age of the World's Oldest Living Man Who Has Celebrated Another Birthday?
The man who has been officially confirmed as the world's oldest still alive has celebrated his 113th birthday.
Masazo Nonaka was born on July 25, 1905, the same year that the then Japanese empire destroyed Russia in the Russo-Japanese war.
Flight had only just been invented with the Wright brothers taking off from Kitty Hawk, North Carolina, only two years previously. He was born months before Einstein's theory of relativity was published.
He lived through the collapse of the Japanese empire, two world wars as well as the rise and fall of communism. He has also outlived two of his five children and his wife.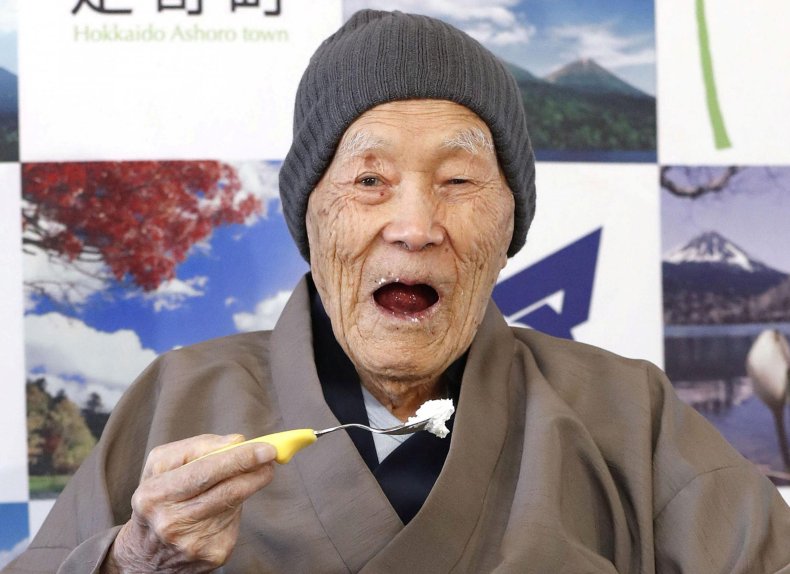 The father-of-five from Ashoro on the island of Hokkaido, attributed his longevity to soaking in hot springs and eating sweets, according to the Guinness World Records website.
When he got his award in April, Guinness World Records' editor in chief Craig Glenday said in a statement: "He can teach us all an important lesson about the value of life and how to stretch the limits of human longevity."
Now Nonaka spends his retirement watching samurai dramas and sumo wrestling and is still mobile, with the aid of a wheelchair.
Yuko Nonaka, his granddaughter, told Agence France Presse in April: "He needs a wheelchair to move but he is in good condition. He loves eating any kinds of sweets- Japanese or Western style. He reads newspapers every day and often soaks in the hot springs."
In April, he was confirmed as the world's oldest living man, after the death of 113-year-old Spaniard Francisco Nunez Olivera.
The oldest man ever recorded was also Japanese—116-year-old Jiroemon Kimura, who died in 2013. Japan is renowned for the longevity of its population with its government saying there are around 68,000 centenarians.
French woman Jeanne Louise Calment holds the record for the oldest person ever, living to 122.
Guinness World Records is currently investigating contenders for the title of oldest living person to take the mantle after Violet Brown from Jamaica died in July 2017, aged 117.