Man Covers Yard in 800 Pride Flags After Display Destroyed
An attempt to deface a Pride display outside an Albuquerque home has ultimately backfired and now the yard is covered in almost 800 Pride flags.
Addison Foskey set up a human rights sign and Pride flag outside his New Mexico home last week to celebrate Pride month and the upcoming local Pride parade. On Sunday morning, however, he awoke to discover that someone had destroyed it overnight, ripping the flag in half and dumping it on the grass.
Foskey took to his TikTok account to share his upset at the act, filming the aftermath and warning: "To the person who stole our human rights sign and tore up our Pride flag, I have two words for you: wait and watch."
The post went viral and gained over 2.9 million views with people just as outraged by the incident as Foskey himself, who decided he wouldn't let it be the end of his Pride display and that it would actually be the start of an even bigger, brighter one.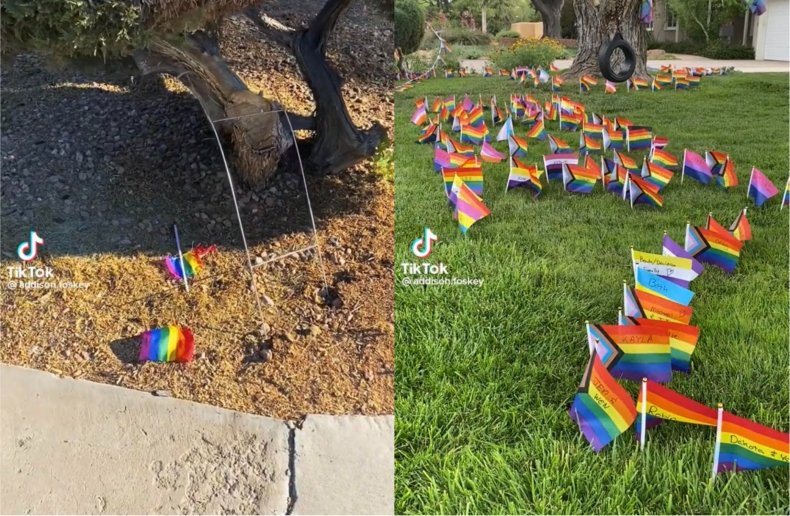 "My initial reaction to seeing the damage was a bit of anger, but a half second later I realized what the ONLY valid response was gong to be," Foskey told Newsweek.
"I'm a big ally of the LGBTQ+ community, very near and dear to me, but also a good friend of mine had actually given that flag to my 3-year-old son. Some hate-filled individual came onto our property, stole one thing and destroyed another. So TikTok and I got together and gave them more flags to admire."
Thanks to the internet, Foskey predicts there will be between 700 and 800 flags in his yard after viewers sent him hundreds of new ones; it took 16 hours to put them all up. Foskey has even scribed the names of followers on the flags.
So far, he's written around 500 names on the flags, many of which he did on TikTok Live.
Foskey took to TikTok yesterday to show the newly decorated yard, with hundreds of small flags lining the outskirts of the grass, up the trees and even in garland form. "We did this," he captioned the clip, which he paired with the song "We're Not Gonna Take It."
The main symbol of Pride, the rainbow flag, has vibrant colors that reflect the movement's diversity and denote the sheer spectrum of gender and sexuality
Foskey plans to keep the display for a week and then take the flags to the Pride Parade in Santa Fe, New Mexico.
"I can honestly say this was one of the most extraordinary experiences I've had," he told Newsweek.
Update 6/29/22, 6:40 a.m. ET: This article was updated with comment, video and photos from Addison Foskey.