Man Creates QR Code for Dad's Grave to Share His Incredible Life Story
A man has created a 3D-printed QR code and placed it on his father's gravestone so that any passerby can scan it and learn about his life.
Michael Bourque, 55, an inventor, engineer and self-described futurist, from Boston, Massachusetts, came up with the idea after his dad passed away in April 2017 at the age of 87.
"After he passed away, we put a little marker down on the ground, and I kept thinking, 'Wouldn't it be interesting if someone could scan this?'" Bourque told Newsweek. "I thought it was a neat idea."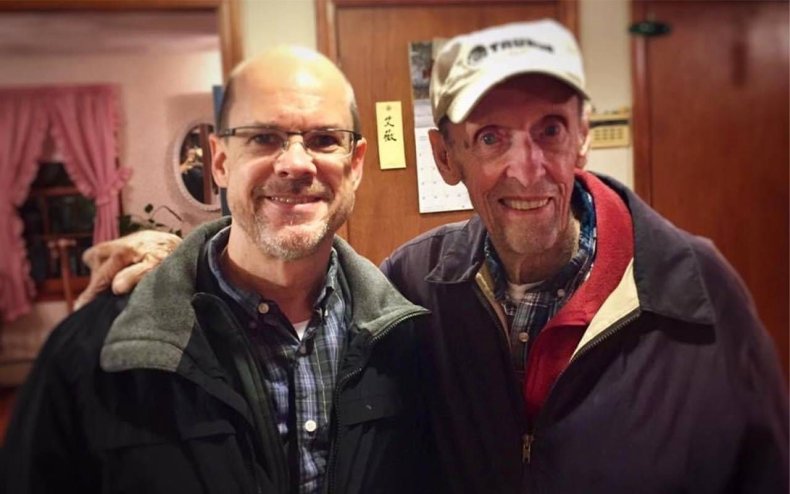 Bourque used some design software to create a virtual model of the QR code. He then 3D-printed the item using a waterproof plastic and glued it to his father's headstone, which is located in Stoneham, Massachusetts.
"It'll last forever," Bourque said of the QR code, adding that it even glows in the dark.
Anyone who scans it is taken to a bespoke website containing information about the life of the inventor's father—John Harold Bourque.
Visitors to the site will discover that the elder Bourque was born in Melrose, Massachusetts, during the Great Depression.
He was "a devoted husband and father," spending the last few years of his life taking care of his wife, Elizabeth, a dedication on the website reads. "He will truly be missed by his loving family."
John Harold Bourque enlisted in the U.S. Army in 1951 and fought in the Korean War. He was also an "atomic veteran," participating in nuclear-weapon tests at Camp Desert Rock, Nevada. The elder Bourque was a carpenter by trade, and one of his jobs during these tests was to construct houses that would be blown apart by the bomb.
"He would hide in a bunker when they blew up the atomic bomb," Bourque said. "He said it was the craziest thing he ever felt or heard—it scared the hell out of him. But God protected him. He didn't die.
"They actually put animals inside the houses to act as humans, and he had to go in and see what the after-effects were. God only knows what his eyes saw, but he said it smelled terrible. He was very brave," his son added.
The younger Bourque said that he had a "wonderful relationship" with his father, who had a good sense of humor.
"You know what my dad would be saying right now? 'This is one of those products that people are dying to use,'" Bourque said.
The inventor said his father had a workshop in the basement where he learned everything from carpentry and woodworking, to plumbing and other practical skills.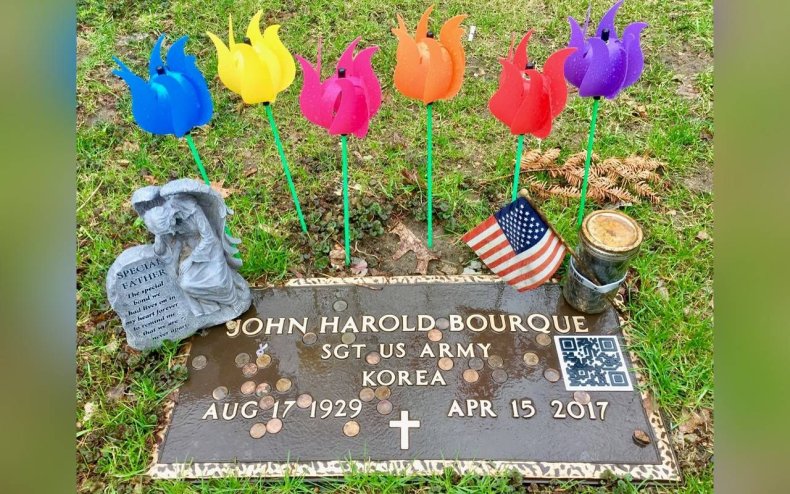 "He taught me all sorts of things. He was a masterful person," Bourque said. "I was this young kid that always had to hold the flashlight while he fixed the house. He was too cheap to hire anybody, so he did it himself. That's the way I grew up. If something broke in my family, you went down to the basement and you made a new one out of wood."
The 55-year-old said his father had lived a good, long life, maintaining his mental faculties right until the very end.
"It's very difficult to see him go. I miss him a lot but, boy, would he be thrilled with this story right here," he said.
Bourque did not tell anybody about the QR code initially. Then, one day around a month ago, he decided to post a picture of the object on his LinkedIn account, explaining its purpose.
This post went viral, and Bourque received a flood of messages from people expressing their interest in the idea. Some even asked the inventor if he can make them similar QR codes for their own loved ones.
"People have been saying what a great idea that is. 'I want that. How does it work?'" Bourque said.
Many people have scanned the QR code through the image. Some of those who did contacted Bourque to share that they were also atomic veterans just like his father.
"Because this is all connected to the web, I happen to know anytime anybody has scanned this and where they are in the world. Almost every country in the world has scanned this, including Korea, which is a place my dad fought. He'd be thrilled to know that his QR code reached that far."
Among the people who contacted Bourque were representatives of companies interested in collaborating with him, including Darren Evans, from U.K.-based firm After Cloud.
The company provides a platform that enables users to store securely memories, thoughts, wishes and important or meaningful information in various media formats—a kind of digital memory box that preserves your life story for future generations.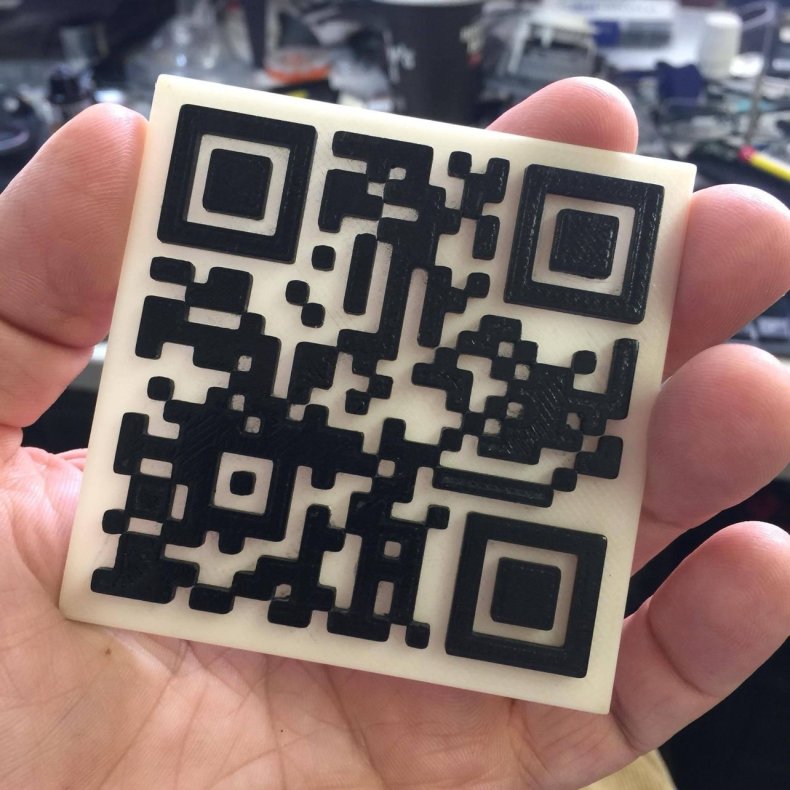 Using the After Cloud service, you can create a chronological timeline of these memories, which generates a unique QR code when it is published. This can then be shared with loved ones. You can also create a timeline retrospectively in remembrance of the deceased.
"[Darren] is doing the stuff that I would like to do more of. In other words, my system just redirects you to a website," Bourque said. "But, with his technology attached to the thing that I've done, we could make a total immersive experience where, when you visit a grave, you could drop a photo, listen to something, or record something."
Bourque is not the first to have come up with the idea of QR codes for dead people. A handful of companies and initiatives providing a similar service have sprung up in the past few years. But the practice is not yet widespread, and the inventor sees potential in this technology for the future.
"The QR codes for dead people could be the next interesting experiment. You find yourself in a cemetery, you walk around and you wonder, 'Who is this person?' If they all had QR codes, just imagine the type of experience it could be," Bourque said.
"I think that people today want to preserve themselves. I hope in the future when I'm gone that my kids can look on me and see something good that I've done. I used to think going to the grave site is a morbid thing. But, actually, now I'm not sure. This [QR code] may be that transformative technology," he added.
Evans, who is now collaborating with Bourque having appointed him to After Cloud's U.S. advisory board, told Newsweek that there are other potential applications for QR codes like these.
"QR codes are portable. So, if you've got a meaningful place for a loved one, anywhere in the world, you can place that QR code somewhere that is specifically meaningful for that individual," Evans said. "As technology evolves, who knows what's coming next?"