Man Crushed to Death by Sand Dune While Filming Sunrise: Police
A Florida beachgoer was crushed to death by a sand dune while he tried to film the sunrise, according to police.
The Martin County Sheriff's Office said a person found a body buried in the sand as they walked along Rock beach on Sunday morning.
Detectives later learned the body was that of a 35-year-old man from Stuart and said the remains were found just south of the House of Refuge on Hutchinson Island.
They added the death was likely an accident.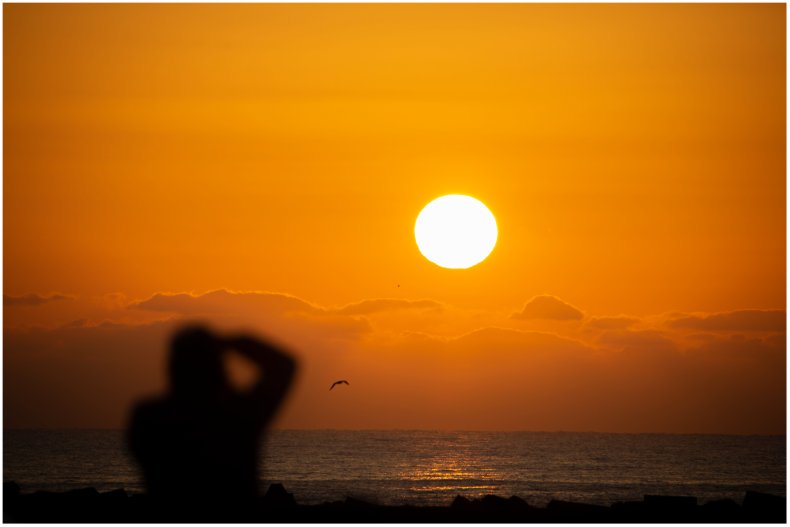 According to NBC affiliate WPTV, the man was identified as Sean Nagel and he died between 5 a.m. and 6 a.m.
In a Tuesday, August 9, Facebook post an MCSO spokesperson said: "An early morning beachgoer noticed a portion of the victim's body protruding from the sand and called for help. It appears the man died hours earlier from asphyxia as a result of being trapped underneath the sand.
"Detectives say no foul play was evident and it appears that the victim was resting underneath a sand dune while taking a video of a sunrise, but the dune collapsed trapping him underneath.
"Investigators are awaiting toxicology tests, which is standard. Those tests, however, are not likely to change the outcome of this incident being a tragic accident."
Sheriff William Snyder told WPTV: "It was an unusual scene with his feet sticking out of the sand and then of course we had to dig down and find the body. It revealed some sand in his lungs."
Snyder told the network he had never seen anything like this in all of his years in law enforcement.
Newsweek has contacted the MCSO for comment.
There have been numerous occasions across the U.S. and abroad where human remains have been found on a beach.
Earlier this year, a body without a head was found in the water close to Toco beach on the Caribbean island of Trinidad and Tobago.
The body was found floating in the water by two people who were fishing from the beach and it was ultimately retrieved by a man who swam out to sea and tied a length of rope to it.
It was only when they came close to the body that they realized it had no head.
The body was that of a slim man who had a light brown complexion, according to police. Officers also noted the body had a tattoo with the name Leonora Isabel on the back.