A man's dating app profile has been met with shock online, with observers saying it contained "all the red flags."
The profile was shared on Reddit by someone with the username Piney630, who captioned it: "I'm actually a pretty nice guy. Maybe even too nice."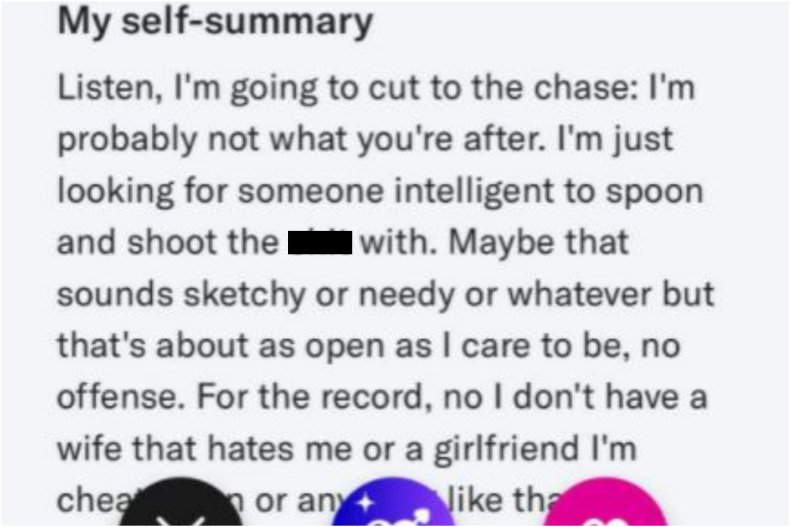 Piney630 posted a series of nine screenshots—due to the profile's incredibly long description—to the r/ChoosyBeggars subreddit.
It starts off by stating the basics; he's 38, doesn't smoke, is six feet tall, employed and of average build.
The profile goes on to state his "nays" and "yays," as he claimed he wasn't "Prince Charming or your soulmate or whatever stupid cliches you've heard before."
Among his turn-offs are too much make-up, wet bath towels, teen pregnancy, social media and Snapchat filters, tobacco, the word "swag," foodies, stickers on fruit, mushrooms and slowing down at yellow lights.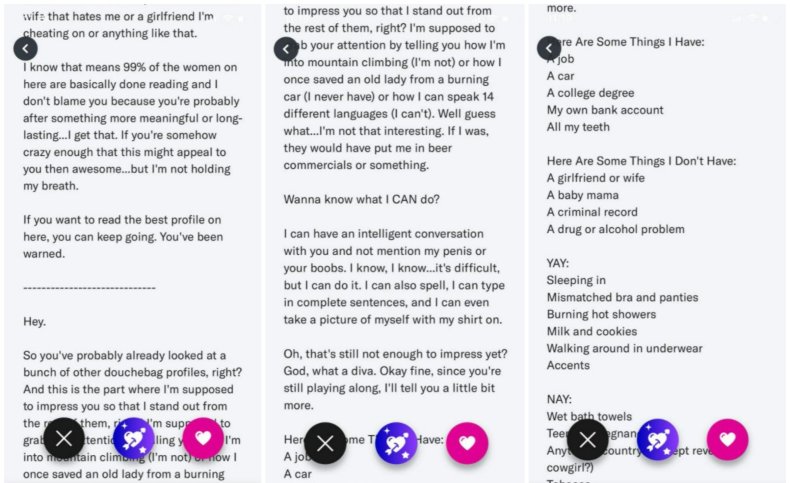 He also dislikes pics of "you boozing it up, skanking it up, flipping the bird, flipping the double bird, little kids in your profile."
Potential suitors should also avoid "subtle but desperate shots of your cleavage," and omit photos "after one of those stupid color runs or warrior dashes or tough mudders."
He also lists his best assets and qualities, which include having a job, a college degree and a car.
He also has his own teeth and his very own bank account, while potential dates can be rest assured he doesn't have a criminal record, a girlfriend or a wife.
"Listen, I'm not for everybody. I'm not super attractive, I'm not ripped, I don't like going out and I'm not going to spend my entire bank account on a fancy handbag for you," he clarified.
He continued: "We're not going to have a midnight passionate love affair and we're not gonna get married and we might not even get lunch (even though I could totally afford to buy.)"
Piney630's post amassed more than 12,000 upvotes since being shared on Monday. The 31-year-old told Newsweek: "You can tell the guy is smart and has somewhat of a good sense of humor, but half way through, his lists and other comments turned into major red flags.
"I was just astonished he thought it was a good idea to put all of that hatred on his profile in the attempt to meet someone to at least spend some time with.
"There were no photos of him. Just a landscape of maybe a pond as the only photo because you have to upload at least one image."
While she also added in the comments: "Having intelligent conversations without mentioning penis or boobs - then goes on to mention cleavage and sex position and mismatched bra and panties. Something tells me he's definitely going to mention boobs in conversation."
Numerous people were horrified by the profile, as Katzabar pointed out: "38 and has an entire novel on how he's a special, mature guy full of underlying messages about women being sluts and guys being douchebags. What a catch."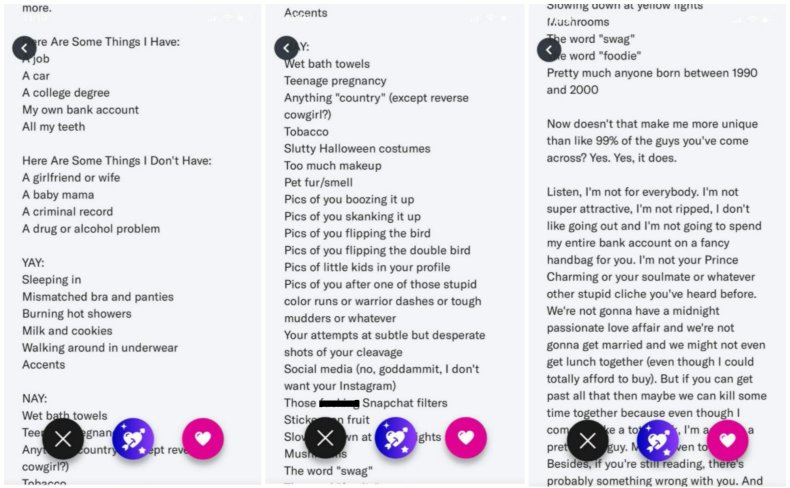 Aaahhhh pointed out: "He says one fancy handbag is his entire bank account."
Oysteinda commented: "Hell, even my 7 year old son has his own bank account and bank card."
Modi13 quipped: "He can totally afford to buy lunch."
Melodyknows thought: "Yeah, the fact that his "nay" section is so much longer than his "yay" section tells me everything I need to know about him."
Macdawg2020 said: "The fact he said he wouldn't talk about dicks or boobs and then sprinkled in "reverse cowgirl" and "cleavage" made me believe he's the kind of guy who would just ooze what he thought was really intelligent, but actually mortifying, innuendo."
Ash356 scoffed: "As if anyone is sending this guy their Instagram. Also he dislikes 'stickers on fruit'? Well gee, now I'm really turned on.
JockBbcBoy thought: "Guys like this are all red flag, and all depressing. This isn't about confidence. At best, they're being told by other people what kind of woman is "worthy of their time" (hence, the nay section) and at worst, they are forming these opinions on their own."
While Xxsicksadworld added: "Thanks for all the red flags!"