Man Dies After Falling Down Stairs During Minnesota Vikings Game at U.S. Bank Stadium
A man attending a Minnesota Vikings game last month has died after an accidental fall down a flight of stairs.
Josh Engle, 45, had been attending a football game on November 21 with friends, which saw the home team taking on the visiting Green Bay Packers. The group was seated in the 300 level of the stadium.
At some point around the first quarter, Engle reportedly got up and went to get food at the concession stand, according to Fox 9 News. It was then that he fell down a set of stairs, hit his head, and suffered a traumatic brain injury. He was taken immediately to a nearby Hennepin Healthcare hospital for treatment.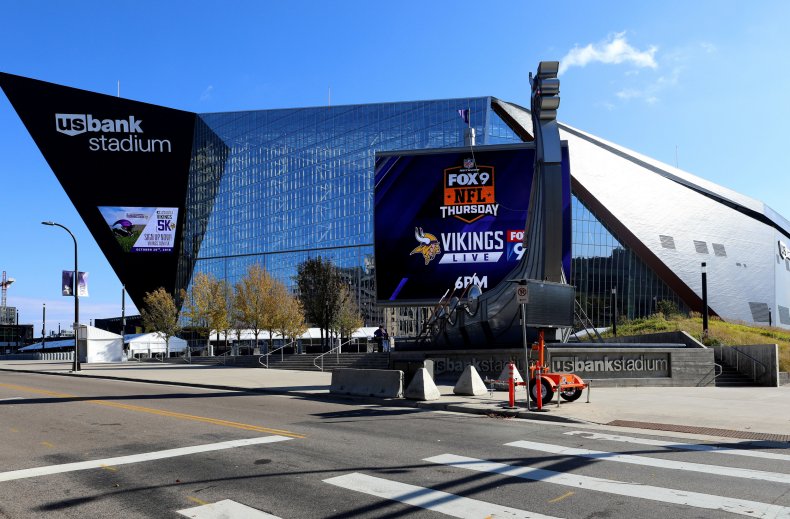 Engle's wife, Amber, said that she was at work when she was called about her husband's accident. She rushed to the hospital and found that he was in the emergency room.
"By the time I got there, I was being rushed into the room, and they let me know that he needed to have emergency surgery," Amber Boyd explained to Fox 9 News. "It wasn't to fix anything, but it was to save his life, at that point."
Amber Boyd also described seeing the footage of her husband's accident, which did not help her or his doctors deduce what had caused his fall.
"I watched him just kind of step into another seat, and I don't know what happened from there, but he was literally flying down the stairs after that, and then I saw him crash onto the bottom," she explained.
Engle remained in a coma for three weeks after the accident before his family made the decision to remove him from life support. Shortly afterward, on December 14, he was pronounced dead. Engle reportedly opted to be an organ donor in the event of his death. Hennepin Healthcare put on a walk in his honor.
The Minnesota Vikings and the company that manages U.S. Bank Stadium, ASM Global, released official statements on Engle's death to Fox 9.
"We are deeply saddened by the recent death of Josh Engle, who experienced a tragic fall during the first quarter of the Packers-Vikings game on November 21," the Vikings' statement read. "Josh was a passionate Vikings fan, but more importantly, based on our conversations with his family, he was a loving husband, father, and friend. Our hearts go out to the entire Engle family during this difficult time."
"Shortly after kickoff on November 21, Josh Engle, a spectator, fell down the stairs of a seating section and sustained a head injury," ASM Global said in its statement. "Following the accident, medical staff rendered first aid and Josh was transported to Hennepin County Medical Center. We have been in contact with the family since the accident and we are saddened to learn of Josh's passing earlier this week. Our thoughts are with the Engle family, and we respect their request for privacy at this time."
A Gofundme fundraiser set up for Amber had received over $14,000 in donations at the time of publication.