Man Dies in Automated Car Wash After Exiting Vehicle for Unknown Reason
A man died on Saturday after exiting his vehicle during an automated car wash for unknown reasons, police reported.
The incident began at Pearl Car Wash in Escondido, California, a little before midnight on Friday, Sergeant Chris Leso of the Escondido Police Department told NBC San Diego. The 56-year-old man, whose identity has not been released to the public pending the notification of his family, exited his Scion xB hatchback vehicle and became pinned between it and the facility's machinery.
Once the man became stuck, police told Fox 5 San Diego, an alarm went off for around 30 minutes until another customer noticed what was wrong and called for help. Police arriving on the scene were able to free him and administer CPR, but he later passed away from his injuries at the nearby Palomar Medical Center.
The car wash location where the man got stuck allows drivers to pull through a wash corridor as various jets of soapy water and large brushes clean the vehicle. Unlike other types of automatic car washes, which pull vehicles forward on a track, the Escondido location requires drivers to continue driving forward. As such, the incident is being considered a traffic collision as opposed to an industrial accident, police explained to Fox 5, because the man was in control of his car.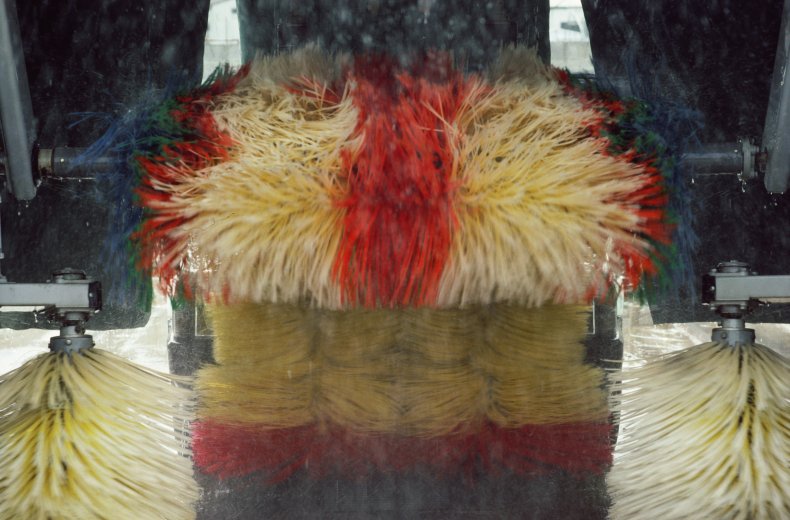 Police are currently working to review security footage from the area to determine how and why the man exited his vehicle in the middle of the wash cycle. Authorities also confirmed that the driver had no other passengers in the car with him at the time. No foul play from other parties is suspected either at this time.
Escondido is located roughly 30 miles north of San Diego.
Newsweek reached out to the Escondido Police Department for comment.
Deaths related to automated car washes are not entirely uncommon. In July 2019, Adam Cerceo, a 45-year-old employee at Chicago's Express Car Wash, was killed after accidentally becoming "entangled" by the business's washing machinery and getting crushed, the Chicago Sun-Times reported. The incident occurred a little before 10 p.m. while Cerceo was working a shift.
In December 2020, another similar incident occurred in Garland, Texas. A 39-year-old car wash employee, Luis Enrique Acosta Medrano, got his legs caught in the location's machinery while working near them, NBC Dallas-Fort Worth reported. He was later freed by police, who applied a tourniquet to his leg and administered CPR, but he eventually passed away from his injuries at the hospital. The case was deemed to be an industrial accident.